CAclubindia in an interaction with Lucia Real-Martin, Director, Emerging Markets, ACCA
Conversation with Lucia Real-Martin, Director, Emerging Markets, ACCA on career in Finance & Accounting and importance of Global Accounting Certification!
Lucia Real-Martin has been with ACCA since May 2010. She started as Director of Emerging Markets – Asia for ACCA and in October 2013, was appointed Director, Emerging Markets encompassing emerging markets in Asia, Europe and Latin America. Her role as Director, Emerging Markets entails the successful delivery of the strategic objectives and performance of ACCA's emerging markets.
Lucia is a graduate of Stirling University (UK) with a BA Hons and ESIC (Madrid Business School) with a BA Business Management. Since graduating, Lucia has always been involved in international development and relations. She is currently undertaking a Masters of Entrepreneurship and Innovation at the University of Swinburne, Melbourne.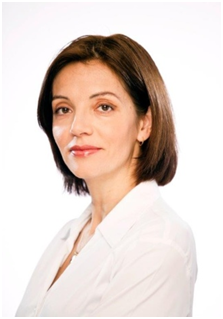 1. What are ACCA's - Future plans, associations and partnerships for Indian market?
Ans: ACCA has already a number of partnerships in India. ACCA's business model and engagement relies very strongly on partnerships and associations. As a global body, we collaborate and want to have a role in the markets that allow us to work with the local partners. So, from a professional and industry point of view, we have a partnership with the Institute of Cost Accountants and we have recently signed an MOU that includes reciprocation of membership as well as joint collaboration to promote the profession in India and to the Indian youth. We also have a partnership with the Confederation of Indian industry (CII), which shows the important links between finance and industry.
At an academic level, we have quite a number of partnerships with more than 20 top universities in India. Currently, we are associated with universities and colleges like Manipal University, Loyola College(Chennai), St.Joseph(Bangalore), Symbiosis College(Pune), Christ University to name a few. These partnerships are very important to ACCA as we want to inspire and encourage the Indian youth to first choose Accounting and Finance as profession and then choose ACCA as a professional qualification.
We also have partnerships with leading employers globally and we consult regularly with the employers to ensure that ACCA Qualification meets their needs in a rapidly changing and competitive environment. It means that ACCA members can work at the highest level in every sector.
2. Moving forward, what do you think of the importance of Accountancy convergence at a global level, growing needs for adoption of global standard and professional education in accounting that is in IFRS?
Ans: Since its inception, ACCA has been an advocate for global standards and International Financial Reporting Standards (IFRS), and was the first professional body to adopt IFRS as early as Oct 1996.In the last 10-12 years, there has been a huge shift to IFRS where upto 113 countries have adopted and converged to IFRS.
The benefits of converging to IFRS is that it really eliminates the difference between national standards and creates a global common language on financial reporting for organizations, wherever they might be. That means that investors and potential business partners can compare and contrast organizations from different countries on equal terms and platform.
Converging with IFRS should therefore enable more businesses to attract foreign investments because there is a reduced risk. From a business point of view, it also gives more opportunities to a corporate or an organization to expand globally as financially because one can have a more open access to other markets and with time there is no double compliance cost. So over a period of time, the compliance costs should decrease because there are not a range of standards to comply with, but one global standard. One set of standards also enables finance professionals to enjoy the opportunity of greater career mobility around the world.
3. What would be the Global impact of the implementation of IFRS in India?
Ans: India is already a very important economy on the world stage. While many multinational businesses have already expanded their operations in India, many more corporates are looking at the Indian market with a view to establishing a presence here too. With further implementation of IFRS in India, I feel, more global companies would want to have an access to the Indian market and importantly, to the Indian talent pool - which is very beneficial for any fast developing economy.
There is also a bigger impact of adopting IFRS which is that by joining the number of countries implementing IFRS today, as a country, one is really endorsing the implementation of IFRS globally. This also gives greater confidence to the other countries to be a part of the change too. Today there are more than 116 countries globally which have converged the financial reporting standards, so India adopting IFRS is going to give even more confidence to the international community. It will give greater access to foreign direct investment and greater access to the Indian talent pool. And there's no doubt about that, there is a huge talent pool in India.
4. I won't deny the last point J. So, now if we talk about global accounting bodies like ACCA, what do you think is the overall impact of all these accounting bodies in emerging markets?
Ans: ACCA is committed to working in partnership with professional bodies to develop the profession and I believe that we can collaborate to bring in new practices like IFRS, to further mobilize the talent pool and build capacity.
When it comes to taking up accounting as a career or profession, today's generation is very clear that they would like to have a lot of options and they do not need to take up a local professional degree to work in that market. Hence,a global professional body like ACCA brings more relevancy and flexibility in many sectors for young professionals to work in public or private sector; as an auditor or as a strategist.
We also bring a belief that the profession is changing very rapidly; so the profession is no longer focusing only on reporting but it is also looking ahead into the future. As a professional accounting body, ACCA aims at preparing young professional accountants and finance professionals who are equipped to be at the fore-front of leading businesses so that they can be CEOs, leaders and can drive a strategy in a larger role in any business.
ACCA and other global professional bodies can contribute to emerging markets where the role of a professional accountant is mainly seen as of a traditional model kind of accountant, so we need to inspire the new generations towards the opportunities for the young professionals in India. It's very clear that today's young people are extremely ambitious and want to have their own business, want to be entrepreneurs, and want to work for corporate. So, the global and the local professionals' destinations need to provide an avenue to fulfill those dreams otherwise they will go and choose other career options. So, I think these are some of the impacts that global accountant bodies can bring in to an emerging economy.
5. So, now we spoke about accounting professionals, we spoke about the young generation, who all want to fulfill their dreams in accounting & finance industry. My question to you is what are the steps Global Accounting bodies are taking for the accounting profession? How a global finance qualification like ACCA fills the skill gap?
Ans: For ACCA, the promotion of accounting profession is certainly a priority and is very important, as it is for other accounting bodies. It is very important as I said earlier that we inspire young people to join the profession. There are a great many career choices today so we really need to provide a career path for young people where they see accounting and finance as an exciting career option, one that can give them many options.
In the past, when one would choose accounting, it was seen as offering limited opportunities of becoming either an auditor or an accountant recording financial statements for a corporate. Today the scenario has completely changed, a professional accountant can today choose from myriad career options like finance, banking, risk management and can also become a CEO. So,as a professional accounting body, we just need to ensure that we are able to provide career avenues to young professionals by relating and enticing young people. Therefore, ACCA has partnered with several universities globally to ensure that ACCA curriculum really provides that skill set that employers want. We work very closely with employers to reflect and examine that our curriculum fulfills the need of today's new business professional accountants so that they are able to cater to their role not just today but in future too. We believe that it is impending for a professional qualification to offer the skill and application and not just the knowledge. That's a very big emphasis on to take the next steps.
6. You have mentioned very insightful points. So Lucia, as you are in India. Are there any steps ACCA is taking or how do you see ACCA can help Indian chartered accountants?
Ans: ACCA seeks to always have a relationship with local professional bodies and certainly with the Institute of Chartered Accountants of India (ICAI). We have a relationships and partnerships at a global level where we work together on international forums as well as at a regional level too for a CA to have a pathway for pursuing ACCA. So, ACCA actually has a channel by which a CA gains upto 9 exemptions from the fundamental level to go into a professional level.
7. Lucia you yourself are very young & dynamic leader. So what are your comments on changing play script of Women in leadership in Asia?
Ans: Its privilege for ACCA as an organization to have so many women choosing accounting and finance as a profession and ACCA as their professional designation. We also see women having a greater role to play in leadership today. But traditionally, for over 20 years, accounting and finance actually have been one of the most preferred professions for women globally and we have come back to the study where we have seen how that has happened. It's a combination of flexibility that an accounting and finance career offers to a women where it is very much based on the skills, and the ability to apply those skills; where you can take a number of breaks in your career.
We are seeing more women opting for roles in finance and have an access to leadership efficiently. Research has shown that many women in leadership roles often cite their financial background as being the springboard to success, so it shows that accountancy provides real opportunity for young women. In the case of ACCA, nearly half of our membership and more than half our student population are women-so it could be argued the future of accountancy is female.
Very correct! In-fact to add further ICAI also has separate women empowerment cell for women charted accountants which is working very effectively in this direction and we wish that a lot of women leaders will emerge from India at global level.
Lucia, it was really a very wonderful and insightful conversation with you and I once again thank you on behalf of CAclubindia members and the whole CA fraternity.
Tags
Professional Resource