Alone we can do so little; together we can do so much - Helen Keller
The COVID-19 pandemic hit the world and halted our ways in a way one could never fathom. However, just when we thought that the worst was behind us, the second wave of the COVID-19 pandemic hit the country and bought our healthcare sector to its feet.
As we know, the current COVID situation in India remains severe as the country is continuing to fight a battle with daily and increasing rise in new coronavirus infections. It was recently reported that more than 3,70,000 new daily infections were registered in India.
The second wave is deadlier as India is literally fighting a very tough task for controlling the virus outbreak. As per a WHO report, currently, India is reporting the highest number of daily cases in the world with almost 50% of new cases reported in the world. Moreover, India is reporting the fourth highest number of deaths in the world with the current case fatality ratio (CFR) standing at 1.12%.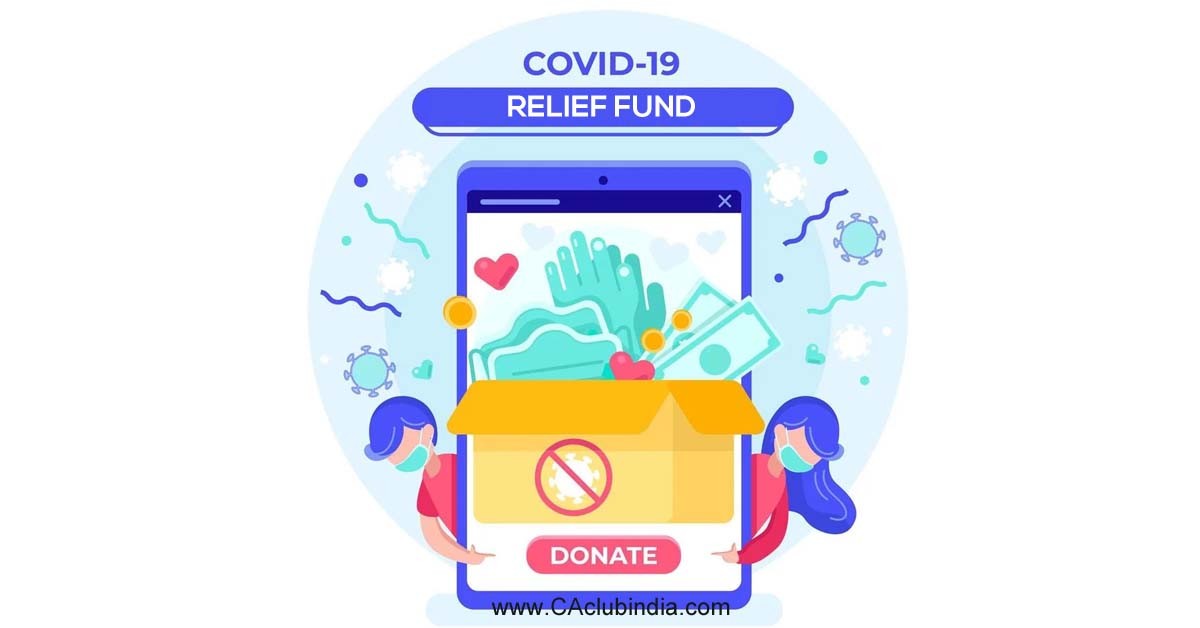 There is a terrible collapse of our health infrastructure, with horror stories coming from all around the country of people dying due to lack of hospital beds, oxygen, medicines, etc. The nation currently is literally gasping for breath. We cannot even imagine the situation in the interior areas of the country. Numbers have been increasing over more than two months and with inadequate testing and contact tracing, it is difficult to stop the spread.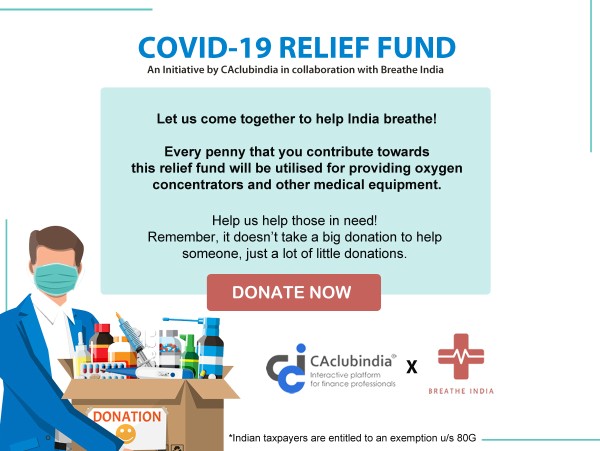 Fundraiser for COVID-19 - An Initiative by CAclubindia
As the cases of COVID-19 are increasing with each passing minute, we as a nation must stand together and help each other, especially the underprivileged strata of the society.
Taking forward the belief of Ibrahim Hooper - 'Making a donation is the ultimate sign of solidarity', CAclubindia in collaboration with Breathe India has decided to raise funds for those infected with the virus and their families.
The fundraiser is being conducted on Milaap - India's largest crowdfunding platform for Medical and Social Causes.
How are we helping people?
The entire amount collected from the fundraiser will be utilised towards buying concentrators, cylinders, oximeter and other medical equipment as required.
All the documents (our update, SLF/RWF update, POs, Product Specifications), etc regarding the funds donated. can be accessed at:
https://drive.google.com/drive/u/1/folders/1Nm8ntSk_FuzklPBF82eSLdrAnl8DRJza
About the Breathe India Campaign
PHASE I: The Breathe India Campaign was initiated by a bunch of us (IITK Alumni) as a necessary initiative to aid in the current ongoing COVID crisis. Phase I of the campaign, in collaboration with SaveLife Foundation has successfully raised an amount of Rs 2.5 Cr in 4 days, connected with 10+ vendors and closed deals to procure ~250 concentrators (details in annexure 2) with an expected delivery before May 10th for distribution in Delhi NCR.
PHASE II: For Phase II, we have partnered with RightWalk Foundation (RWF). RWF is a lucknow based NGO which works with slum communities in eleven districts of UP. During Phase-2, we will work in collaboration with RWF for providing oxygen concentrators, oxygen cylinders, medical kits or any other medical equipment as required in the eleven districts of UP.
An Appeal to you!
In these ever so challenging times, we appeal everyone to come forward and contribute towards the well being of our nation and our people, who really need your support during this crisis.
Every penny of donation to this fund will help empower the needy and the underprivileged who are fighting the battle with the virus.
EVERY PENNY COUNTS. REMEMBER, IT DOESN'T TAKE A BIG DONATION TO HELP SOMEONE, JUST A LOT OF LITTLE DONATIONS AND GIVING IS NOT JUST ABOUT MAKING A DONATION, IT IS ABOUT MAKING A DIFFERENCE!
Let us together make a difference!
Tags :
others
coronavirus