Continuing with our series,
In previous four articles (Published on CAclubindia), We had discussed:
Article-1: Basics of Financial Analysis
Article-2: Basics of Understanding Business and Industry
Article-3: SWOT Matrix as a tool for systematic understanding of a business
Article-4: PESTEL Matrix as a tool for systematic understanding of a business
In the last article, PESTEL Analysis was discussed. The Same way SWOT & PESTEL matrix are used, Porter's 5 forces model is used to understand the competitiveness of any organization in Industry. It specifically takes into consideration only 5 factors which are of prime importance to any business which shapes any industry and helps in determining an industry's weaknesses and strengths which in turn also affect operations of any entity. In that way, this model differs from SWOT and PESTEL matrix.
PORTER'S FIVE FORCES
Following five factors are considered, of which intensity is identified as High/Low/Medium:
Threat of new entrants
Threat of substitutes
Bargaining power of customers
Bargaining power of suppliers
Industry rivalry
THREAT OF NEW ENTRANTS
This factor takes into consideration probability of entry of competitors in the market. It is very obvious that highly profitable markets with high returns on investment may attract more and more new entrants until industry reaches to perfect competition.
E.g. more and more companies entered in the auto sector is due to increased demand for cars, another example could be of telecom sector wherein Reliance Jio has disrupted the whole industry so there will be no new entrants being survival and profitability in question rather one may be forced to leave the industry.
How much threat new entrants my pose depends on several factors, some of them listed below: (Source: wikipedia)
The existence of barriers to entry (patents, rights, etc.). The most attractive segment is one in which entry barriers are high and exit barriers are low. Few new firms can enter and non-performing firms can exit easily.
Government policy
Capital requirements
Absolute cost
Cost disadvantages independent of size
Economies of scale
Economies of product differences
Product differentiation
Brand equity
Switching costs or sunk costs
Expected retaliation
Access to distribution
Customer loyalty to established brands
Industry profitability (the more profitable the industry the more attractive it will be to new competitors)
Network effect
THREAT OF SUBSTITUTES
This factor takes into consideration tendency of Consumer, how they percept or to think or consumption or usage habits etc.
E.g. Chinese mobile industry disrupted Indian smartphone market. More and more people turning towards that brands as compare to well establish brands being a Lower price, not much quality variation, increasing innovation etc.
There are other numerous factors like quality, price, availability etc., which directly affect the tendency of consumers, some of them are:(Source: wikipedia)
Buyer propensity to substitute
Relative price performance of substitute
Buyer switching costs
Perceived level of product differentiation
Number of substitute products available in the market
Ease of substitution
Substandard product
Quality depreciation
Availability of close substitute
BARGAINING POWER OF CUSTOMERS
As famous saying state that "Customer is a king" but not all the time, but majorly. This factor takes into consideration customers' sensitivity and willingness to pay for. If more substitutes are available then bargaining power of customer will be high. The company needs to take various measures to retain its customers.
Some of the factors are,(Source: wikipedia)
Buyer concentration to firm concentration ratio
Degree of dependency upon existing channels of distribution
Bargaining leverage, particularly in industries with high fixed costs
Buyer switching costs relative to firm switching costs
Buyer information availability
Force down prices
Availability of existing substitute products
Buyer price sensitivity
Differential advantage (uniqueness) of industry products
RFM (customer value) Analysis (it is a method for analyzing consumer behavior)
The total amount of trading
BARGAINING POWER OF SUPPLIERS
To produce output, every company requires certain resources like raw material, labor availability, electricity etc. They have also command on price if there few substitutes.
E.g. every company requires electricity to run plant and machinery if the price is hiked by electricity companies then very few option left with the company or pay a higher price for electricity.
Some of the factors are,(Source: wikipedia)
Supplier switching costs relative to firm switching costs
Degree of differentiation of inputs
Impact of inputs on cost and differentiation
Presence of substitute inputs
Strength of distribution channel
Supplier concentration to firm concentration ratio
Employee solidarity (e.g. labor unions)
Supplier competition: the ability to forward vertically integrate and cut out the buyer.
INDUSTRY RIVALRY
This factor takes into consideration intensity of competition prevailing presently in the marketplace. I.e. no. of competitors, their products and services status, their strategies etc.
E.g. Think almost similar product is sold by two companies. One of them, spending a huge amount of product branding and marketing so as to reach end customers. In that case, even though similar price and quality of product, company who has strong marketing campaign will be a winner.
Some of the factors which help in understanding competitiveness.(Source: wikipedia)
Sustainable competitive advantage through innovation
Competition between online and offline companies
Level of advertising expense
Powerful competitive strategy
Firm concentration ratio
Degree of transparency
EXAMPLE
Porter's Five Forces for Pharmaceutical Company (source: IBEF)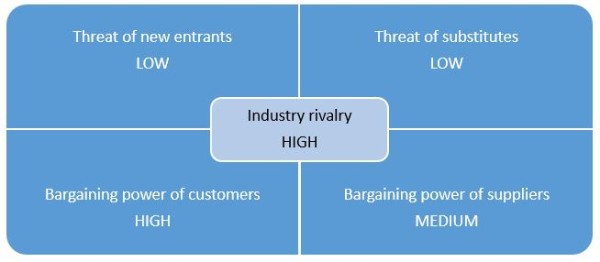 Threat of New Entrants
Strict government regulations thwart entry of new players
Difficult to survive because of high gestation period
Threat of substitutes
Threat to substitute products is low; however, homeopathy and Ayurvedic medicines can act as substitute
Bargaining power of customers
Generic drugs offer a cost-effective alternative to drugs innovators and significant savings to customers
Bio-similars offer significant cost saving for insurance companies in India
Bargaining power of suppliers
Difficult-to-manufacture APIs such as steroids, sex hormones, and peptides give bargaining power to suppliers. However, generic APIs do not have much of that power
Industry rivalry
Growth opportunities for pharma companies are expected to grow in next few years, with many drugs going off-patent in the US and other countries, thus increasing competition
Indian pharma companies will face competition from big pharma companies, backed by huge financial muscle
IMPORTANT RESOURCES
https://www.ibef.org (freely available government source, major Indian industries covered)
https://www.mindtools.com/
The author can also be reached at tehsinblog@gmail.com or https://knowledgekhan.blogspot.in/
Note: No part of this article or any article in series is allowed to be copied and share in public (e.g. on any blog or website) without written prior permission of the author in whatsoever manner and, this article strictly meant for Personal use only, not for commercial purpose.
Tags
Audit