Let me start with a question - Who is it to have set the bar/standard for an activity, so that the outcome is decided to be a success or a failure?
It is none but YOU!
To get to it straight, there is no particular guidance or standards to segregate outcomes as success or failure!
So now to define a failure - It is when a person's (own) expected outcome or results are not achieved or are not met.
We have heard the story of - Amitabh Bacchan. He faced several rejections during his initial screen tests,rejected for having an un-suitable voice. The initial loan proposals of Dhirubai Ambhani (Reliance)were not accepted by Banks.
These events would have definitely proved to act as major failures in their lives because they could not meet their expected set of outcomes. But did these events stop them from moving ahead? Absolutely no! We know them as global personalities now and they have set new records of success. Which only means, though the outcomes were failures, they moved past it, learnt from it and achieved the outcome they desired to achieve!The several initial rejections would have only led Mr. Bacchan to sharpen his skills further; The several loan rejections would have made Mr. Dhirubai improve his presentation skills and place realistic projections. They made way to success.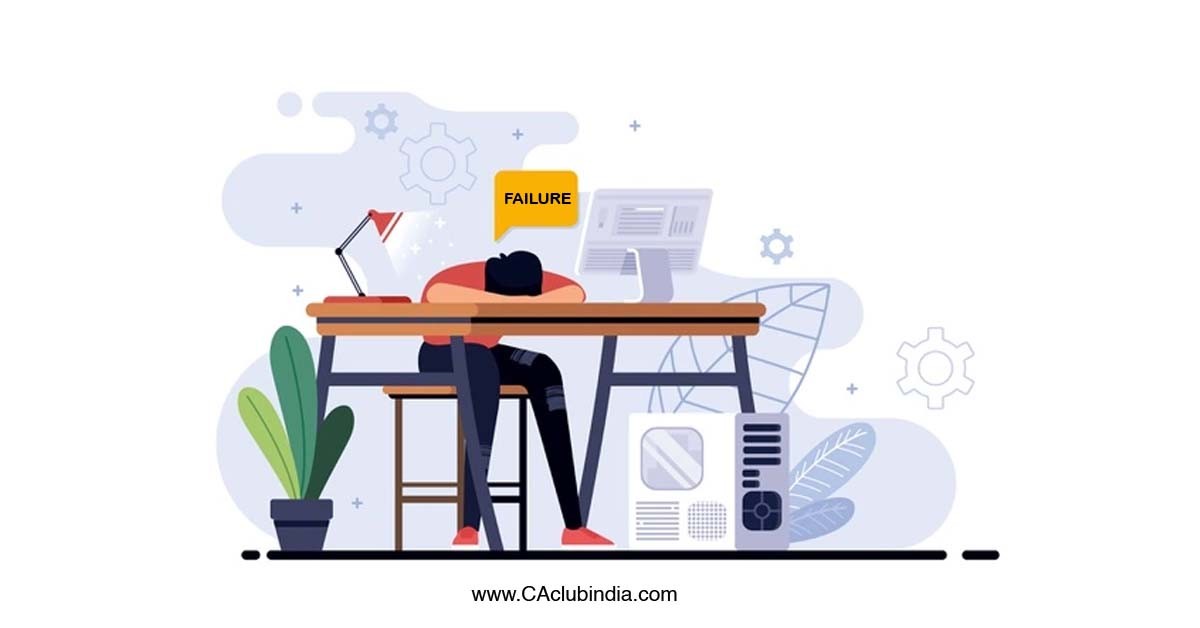 Many CA, CMA, CS Students would have faced failures by not clearing the exams. Not being able to pass CA exams could be due to various factors such as pass percentage. But the success achieved by a CA student of passing the exam, after one or several failures will give extreme joy, which only that person can relish!! Not once but through his life thereafter!!!
"Failure should be our teacher, not our undertaker. Failure is a delay, not a defeat. It is a temporary detour, not a dead end. Failure is something we can avoid only by saying nothing, doing nothing, and being nothing." - Denis Waitley
The topic headline is in plural. It is NOT failure only once but multiple times! The 's' can be seen in smaller font which is meant to denote that once you overcome a 'failure!', you are prepared to face it as many times if it happens thereafter! is it not?
We read or hear in print and social media about a handful IAS students who succumb to failuresnot able to face it. IAS exams are tough. The fact is, in the recent exam about 5 lakh aspirants took up IAS exams and interview and out of which about 900 -1000 get selected to enter the services. But, a total of about 10 Lakhs who aspired did not even get into the exams (prelims). This reflects that about 50% of them gets to take up the exams, which itself is a very great achievement in a person's life. What more success do you want to have in life? The selection rate to enter the services is only about 0.1%. Pat your back and try again!
So let us face it! Success may be delayed but not denied! And so, let us be prepared to face the peer pressure, parental pressure, societal pressure, pressure from our partner on any matter, pressure from a colleague upon a job loss, as the case may be.
ISRO & NASA also face failures in their space launches. They saythey achieved success rate is about 94%, remaining 6% being unsuccessful attempts or 'failed' attempts!!In spite of having the world's best brains working on it their success rate is not a perfect 100%. That 6% failure is important for them so that they can learn what can go wrong and improve.
"If you're not prepared to be wrong, you'll never come up with anything original." - Ken Robinson
"When you take risks, you learn that there will be times when you succeed and there will be times when you fail, and both are equally important." - Ellen DeGeneres
Let us be prepared to face the 'FAILURE'. Let us develop a sense of pride by overcoming it! Let us not succumb to a FAILURE!
Also, let us replace the word 'FAILURE' with 'SETBACK'; A Setback is only a 'check in progress'.
LIFE is full of success and it will have a few Failures too - which we shall anticipate and prepare to overcome the same!
Some more quotes on failure from personalities on closing -
"Failure isn't fatal, but failure to change might be" - John Wooden
"Success is not final; failure is not fatal; it is the courage to continue that counts." – Winston Churchill.
"Failure is so important. We speak about success all the time. It is the ability to resist failure or use failure that often leads to greater success. I've met people who don't want to try for fear of failing." - J.K. Rowling
The author, V Murali Dharan is a Chief Financial Officer in a Real Estate Firm and has industry experience of over 30 years in various fields say, Direct, Indirect Taxation, Company Law, Accounting - including identifying revenue leakage, Audit and General Management & Human resources.
"Loved reading this piece by
Mrudula M,Co-founder-KaizenEdu
?
Join CAclubindia's network for Daily Articles, News Updates, Forum Threads, Judgments, Courses for CA/CS/CMA, Professional Courses and MUCH MORE!"
Tags :
students