CAclubindia in an exclusive conversation with CA CS Anuj Khandelwal who shares with us his journey of getting into the investment banking and private equity sector and how this career option can prove to be a turning point for CA, CS, and CMA professionals and students.
Anuj has over 10 years of progressive experience in Private Equity, Investment Banking, Corporate Finance, and Auditing, working out of cities and countries across the globe. He is currently working with Affirma Capital which is a spin-off of Standard Chartered Bank's emerging market private equity business. Anuj has hands-on ground-level experience in sourcing deals, managing portfolio companies, dealing process management, pitching to internal Investment Committee, term sheet negotiations, due diligence, and deal documentation. He is also one of the youngest Visiting Faculty at ICAI.
In our conversation with Anuj, he spoke about different kinds of opportunities that are available within the Investment Banking vertical together with the different set of skills required to make it big in this sector. He also shared with us some of the career tips that can help you in getting a kickstart in this industry.
Here is the detailed interview of CA CS Anuj Khandelwal
One of the most important phases of the CA profession is the 3-year articleship period that students have to undergo. Can you throw some light on how articleship helped you with your journey?
So, I would say that articleship is the only period that you see around, be it any degree, where at the age of 19-22 you get a hands-on experience and that is extremely similar to working in a corporate sector later on, and if you do it really well, it actually adds a lot of value to you. So, just to give you a couple of skill sets that I've learned over the period of time while going through my articleship period. I did my 3-year tenure with KPMG.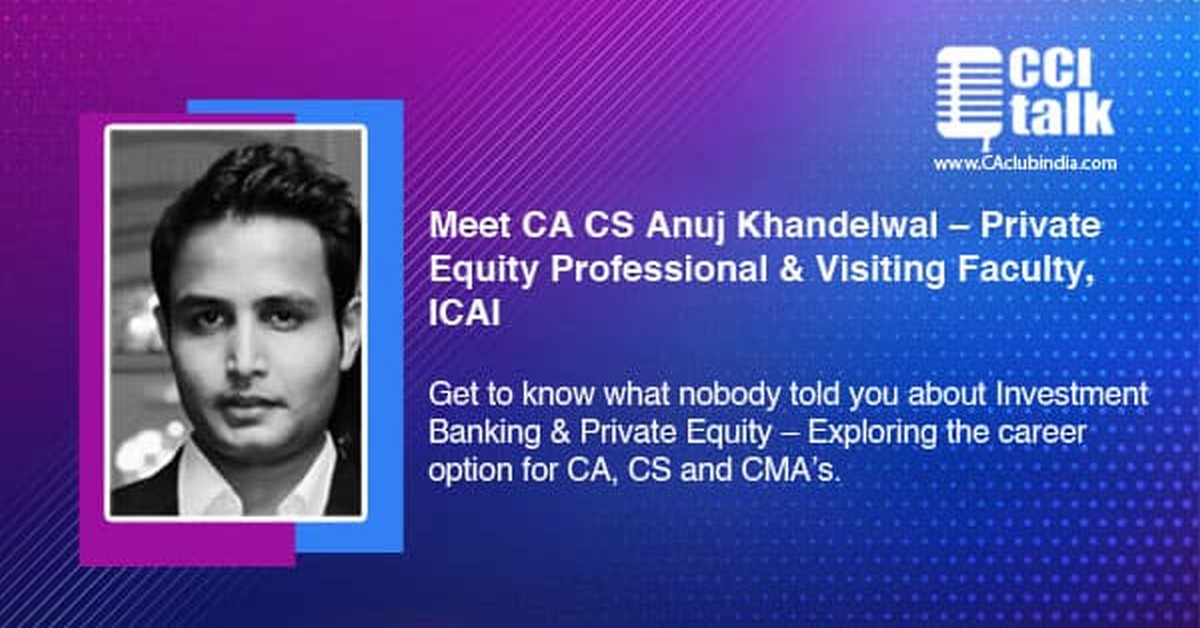 First of all, it gives you a client front-facing experience, so fortunately or unfortunately you would see that people don't like these experiences because here, you have to deal with the finance team directly including CFOs and other team members. Here, as an article, a 19-year-old, who has come right out of school gets direct exposure into the whole wrestling space of the finance team where he/she can interact directly with a lot of professionals
Second, in my articleship days, I was really lucky that I got mentors who advised me towards the academic path to achieve my CA degree faster, plus also gave me professionals insight into the real world
Thirdly, after spending my 10-year-long corporate journey across different areas, what I have realized is that articleship is the most intimate level of interaction of a professional with the financial statements.
The whole experience is super critical but it has helped me to actually fasten up my journey towards becoming a CA. People who typically invest more time in actual ground level work have a higher probability of clearing CA in the first attempt.
So, how exactly did you make a switch from Audit to Investment Banking and Private Equity?
It looks like a very linear path and a very well-crafted strategy that I have used. Unfortunately, there wasn't any strategy in my mind. When I joined commerce and developed my interest in CA, that's when I went into Audit and it gave me good exposure, but after spending 3 years I didn't get (what I was looking for). Every individual has a different aspiration and different kinds of values they can provide to society, so for me personally, I wasn't contributing much to the audit field. I wanted to grow further so as a general protocol for me, I would always speak to people who are 10 times smarter than me. I reached out to a lot of folks and seniors and they guided me that if I work in management consulting, corporate finance, or investment banking, then that might give me a slightly provide me a bigger picture in the oral scheme of things.
That's when I made an internal move within KPMG and worked in the corporate finance department for a brief period. There, I learned about how to make a financial model and if I am evaluating a company in the auto-component sector or in the FMCG Sector for example Nestle, then I need to know how HUL is performing on a certain financial metric so that I have a benchmark. It's like a report card that you prepare and you see that where your company stands. So, these concepts one studies in FM but getting it applied (in the practical world) and having discussions with CFOS regarding these, you actually learn those principles.
Then I moved on to the Investment Banking Sector in 2015, which is divided into 3 components.
Mergers & Acquisitions and Private Equity Advisory
Equity Capitals Markets Division
Institutional Sales and Research
In all these three categories, you would typically find an MBA or a CFA. What I see with CAs is that they think that this field is not for them and they are more suitable for Audit and Tax. However, that is not true.
Can you please provide a landscape of different kinds of opportunities that exist within the Investment Banking Vertical?
So, I was explaining about the three different types of verticals that are in the Investment Banking and Private Equity Sector. You have these opportunities I would say with Indian Banks. If I may name some of them, you have IDFC, Edelweiss, JM Financials, Motilal Oswal, and Anand Rathi, etc. In the foreign shops, you have JP Morgan, UBS, Nomura, and CLSA, etc. These are all investment banks essentially. Now, CA's also get an opportunity to work with Morgan Stanley.
Are there also a different set of skills required in the case of Audit, Corporate Finance, Investment Banking, and Private Equity. Can you please share some of those sets of skills that students must possess?
Here I would like to start off by saying that typically MBAs get on to the other side which is the investment banking and private equity. They leave aside corporate finance and audit for CAs. That is a soft line that has been drawn and I don't know why that is because I'm a Chartered Accountant and in all the 3 divisions I have seen that my degree has given me sufficient quotient to actually come out of any kind of problem that I have faced.
So, if you ask me in terms of technical knowledge, I don't think that any more understanding is required. Now, in terms of other skill sets that you would require, one is developing your inter-personal skills, how you interact with the management and promoters is of utmost importance. You know this is a deal business and inter-personal stuff and it's a matter where a huge amount of money is at stake, so the client really needs to be comfortable with the partner who is stepping in. So, inter-personal skills remain very important.
After this, your extensive reading and research, because you can't be a shallow person. In this business, you need to do your homework really well and try to validate your facts. This includes doing a lot of ground work, bottoms-up analysis of a lot of things, and data checking on your own because you are putting your money. When you move towards investment banking and private equity, you have to bring more creativity into your skillset.
What career tips can you give our viewers to make it big in the investment banking and private equity sector?
1. One thing that I've realized is that we typically don't pay attention to our own personal career. Interviews are actually about me – I'm selling myself to a company for a prospective opportunity that can increase my economic value. Take your interview preparation as your core job – as an assignment and you have to practice it regularly. Form a group and within that group, do a lot of mock interview sessions.
2. We are taught about the concept of finance in a very limited fashion in the Financial Management Course in CA Finals. However, once you move towards corporate finance, investment banking or private equity the complexity of those levels of knowledge increases significantly. What the employers want is that you should be thorough with the technical knowledge because there is a lot of money which is getting involved and you can't be making errors, so your concepts around corporate finance and its practical aspects should be very clear. This is extremely important.
3. The last point is basically the most important one, which is Networking. I think networking has to be the core, not just for interviews but beyond that as well because, after a point of time, networking is very important to get business. You get certain jobs because of laws and regulations around it, but once you move to the investment banking and private equity sector, you have to actually scout for your meal.
Thank you so much for sharing your journey with us Anuj. I'm sure our viewers have gained a lot of knowledge from you regarding the career opportunities that lie ahead of them in the Investment Banking and Private Equity sector. Thank you for giving us your valuable time.
My pleasure!
This interview was taken by Aishna Kukreja, Assistant Editor - CAclubindia
Tags
career