ERP programme assurance key to saving money
The mantra for every senior management is to ensure that every penny counts in the management of their company. Instead of looking for various cost saving measures, one could increase the return on investment and maximise business benefits with the Enterprise Resource Planning (ERP) programme such as SAP, Oracle or PeopleSoft.
ERP is the lifeline of every company, irrespective of size. Nowadays, most industries and organisations use ERP, which integrates resources, data and processes in a single application, unifying them for easy access and work flow. ERP systems typically handle business activities as varied as manufacturing, logistics, distribution, inventory, shipping and accounting for a company.
According to the U.S. research and analysis firm Gartner, until the 1990s only manufacturing and industrial companies used ERP applications. Since then, the popularity of ERP has spread to other industries and has come to be embraced even by the public sector.
In the financial world, ERP could incorporate functions such as general ledger, accounts payable, accounts receivable, fixed assets, cost accounting, joint venture accounting, cash management, funds management and budgeting.
ERP applications are typically customised for each business and implementations of ERP often vary even within business units of the same organisation.
This is one reason to understand how your business is using ERP. Another is that large multinational companies can spend anywhere from US$1 million to US$500 million or more implementing ERP applications, but only a few run an independent quality assurance programme to ensure that the business benefits are delivered. Experts in the field estimate that a good 10 percent to 15 percent of the ERP implementation cost is wasted. A significant number of ERP programmes exceed the original budget by 10 percent or more, are not completed on time and do not deliver the stated business benefits.
This is partly caused by the lack of an ERP quality programme assurance to align the ERP programme with the business strategy and the absence of proper checks and balances during the implementation.
In one example, a global company spent approximately US$300 million on an ERP programme over a three-year period, but the company's management deemed the programme a failure in the end. The company then sued the system's implementation firm for US$375 million in compensation. Such an incident could have been avoided if independent experts were engaged early on to perform quality assurance.
It is the collective responsibility of a company's board of directors, chair of audit committees and heads of internal audit, finance and information technology to ensure that the company has an assurance programme for their ERP programme.
 
Assuring ERP Quality
A comprehensive 'ERP programme assurance' should enable alignment of the ERP programme with your business strategy. It should be flexible and bespoke assurance service that covers: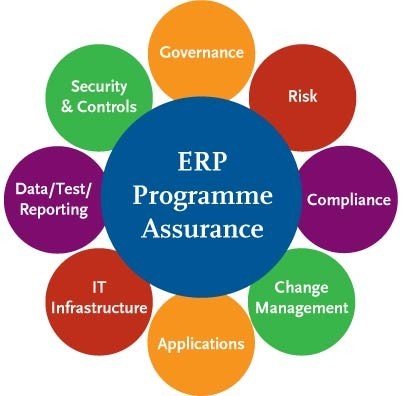 Corporate and IT Governance
ERP programme assurance should focus on establishing and maintaining a strong governance structure along with effective communication channels to ensure that the ERP programme delivers its objectives and stated business benefits.
Business and IT Risks
Working closely with the business leaders and programme management to ensure that the entity (Corporate) level business and IT risks, and company level operational risks are well-managed in the programme.
Regulatory & Corporate Compliance
ERP programme assurance should ensure that the ERP programme is designed effectively to fully comply with all regulatory and corporate compliance requirements.
Change Management
Embedding effective Change Management processes within the ERP programme is critical for the success of the overall programme. ERP programme assurance should specifically focus on people, processes and programme changes.
Application Assurance
ERP programme assurance should ensure that the ERP landscape and non-ERP applications are compatible, consistent, integrated, and use effective configuration management.
IT Infrastructure Assurance
The approach should ensure a focus on the IT infrastructure and architecture as required by the ERP application. This includes third party service management and integration, Business Continuity Management, design of networks, databases, operating systems and hardware.
Data, Testing & Reporting
Appropriate tools and techniques are indispensable in providing ERP assurance over data, testing and reporting. Data assurance includes data cleansing, data mining, reconciliation, data migration strategy and data profiling. Testing assurance cover test strategy, plans and test processes. Reporting assurance ensures all the mandatory and business critical reports are adequately covered within the ERP programme.
Security & Controls Assurance
The security & controls programme should cover the security landscape, authorisation and authentication, access controls, segregation of duties, and business process controls including detective controls, preventative controls, manual and automated controls (configurable controls).
With an effective ERP programme assurance in place, a company's management stands a much greater chance of minimising delays and cost overruns while maximising return on their ERP investment.
Author - Hari Iyer
MBA, FCPA (Australia), CISA
Hari is the founding partner of Hadigy Limited, a management consultancy firm in London specialising in ERP applications.

Hari has over 25 years of financial and IT auditing experience gained partly with the Big 4 professional accountancy firms (EY, Deloitte & PwC) in the UK. This includes audit assurance reviews, SAP project assurance, business process reviews, IT audits, financial audits, business continuity management, and SAP governance, risk and compliance (GRC) implementation & reviews.

Hari.iyer@Hadigy.com
www.Hadigy.com
Tags
Info Technology