Entrepreneurship in India is growing more than ever before. People are quitting jobs to start their business. They don't hesitate to take risk. They understand the concept of "higher the risk, higher the return." The maximum number of new startups generally belongs to IT sector. Even Prime Minister Narendra Modi also stated the word "Digital India" during his speech at the Independence Day.
The foreign relations of India with other countries are on all time high, this means a lot of investment will pour into Indian economy. With the average age of 24.9 years, India is the youngest country in the world; India is set to grab the opportunity. Also, India has set aside Rs.10,000 crore for entrepreneurship in India in his Lok Sabha budget, 2014.
With all these benefits, Entrepreneurship will boom into the country, however, there is a BIGGEST UNREVEALED THREAT for the startups in India. Indian startups don't take their legal part seriously and that is the main reason why India rank 2nd in the world, when it comes to unregistered businesses in India. According to the UK study, India is a home to second highest number of unregistered business and this figure is actually neither good for the country nor for the entrepreneurs. Having unregistered business could mean the following:
1. Unlimited liability, personal assets are not safe.
2. Not paying proper taxes
3. Not complying with the basic laws of the countries.
4. Not registered under Service tax and hence, not paying service taxes,
5. Not registered under Director General of foreign Trade (DGFT)
6. Not registered under Sales tax
Even many other laws that could hit the business, now this could hit the business hard and may also affect the going concern of the business. Not complying with above laws can result into serious action like heavy penalties and prosecution. Some people might also think that, how the authorities can will find us because we have no existence; this could be right 10 years ago, but not now. Legal authorities are very aggressive now days. They have world class technologies and they have their all the information about what you do in your personal life. All the information routes through your Permanent Account Number (PAN), any transaction you do through banks passes to the tax authorities. Let us understand it diagrammatically;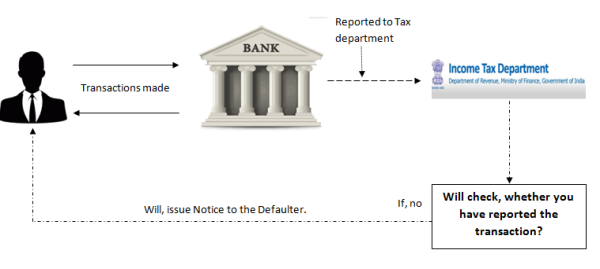 So, are you still having unregistered business? If yes, then go limited. Choose your form of business. It can be partnership (not recommended), Company or anything. But it should be legal and do take care that you disclose your every transaction in your returns. Also, there are many benefits of registering your business. One of the main reasons is the limited liability. Also, according to the statistics, every year, start ups loose US $ 3billion worth of personal assets. Can't we do anything to save it? Of course you can do it, just choose a private limited company or an OPC (One person Company) to run your business. To know more about OPC, you can also read this article, http://www.quickcompany.in/advice/10-reasons-why-start-ups-should-choose-one-person-company-opc-as-their-form-of-business
So, entrepreneurs, plan your business well, take calculated risk and do wonders. You can also hire a professional (recommended) to take care of your legal part, because you need it and also you can concentrate on your core businesss activity.
Sources:
http://www.entrepreneurindia.com/news/India-home-to-second-highest-number-of-unregistered-businesses-UK-Study-5107/
/articles/start-up-s-beware-every-year-start-ups-lose-more-than-us-3-billion-21677.asp?utm_source=article_mailer&utm_medium=email&utm_campaign=article_followup#.VBicDfmSxS0
By Paras Mehra
www.quickcompany.in
Tags
Others