Navita Goel CPA (Aust.), a global delivery manager at a leading IT-ERP company in India, is driven to succeed in her career by boosting her leadership skills and enriching her global expertise through a global designation like the CPA Australia designation.
After obtaining her chartered accountant designation from the Institute of Chartered Accountants of India (ICAI) in 2004, Goel landed her dream job as a Financial Analyst (EMEA Region).
"In this role, my manager used to rely on me for financial analysis," says Goel. "Within a year, I realised the importance of analysing various facets of financial data to enhance the decision-making for stakeholders."
"I fell in love with IT services and decided to make a career in the field of fintech," she adds.
Goel decided to join the CPA Program in early 2020 to develop her expertise in global strategy and leadership. "The CPA Program has proved to be a real game-changer for me as it has helped me enhance my global knowledge and broadened my professional skills."
CPA Australia and ICAI entered a Mutual Recognition Agreement (MRA) in 2009. This pathway has benefited many qualified professionals with career advancements locally and internationally.
Goel knew about the MRA through CA Journal when it was first introduced in 2009. However, she was motivated to join the CPA Program after she attended a seminar by CPA Australia in 2020.
"Getting to know the details about the global recognition of CPA Australia designation, the highly-coveted certification and the powerful curriculum helped me make the decision to pursue the CPA Program," says Goel.
A fintech expert, Goel has more than 16 years of experience in ERP consulting, implementations, rollouts, and project and delivery management for global projects across manufacturing, hospitality, pharma, textiles and food & beverage among other diverse industries.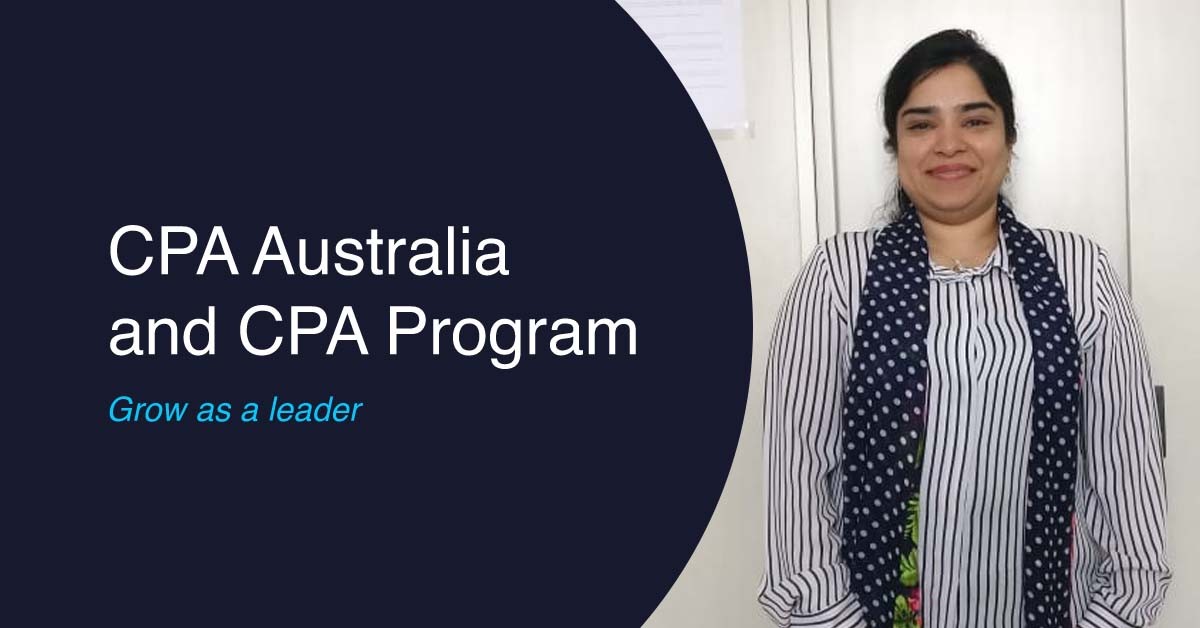 Growing a global expertise
In Goel's mind, the biggest draw to the CPA Program was its curriculum.
"To be effective in leadership roles and situations, you have to master global competencies," says Goel, a well-travelled professional having conducted demos, presentations and ERP implementations of various projects across verticals and industries in many countries.
The CPA Program brings in a variety of accounting and financial concepts and places them within a global context, helping professionals better their understanding of global markets.
"I came to know about the capstone subject Global Strategy and Leadership when I attended the seminar and was interested to know more about this subject and gain knowledge so that I could become more aware of global strategies and become a more strategic fit for senior positions and build my international career."
"The most exciting part for me was when I learned that this subject provides you with the tools, techniques and frameworks to thrive in this ever-changing, dynamic business environment to enable you to become a great leader."
Drawing on real-world lessons from practical case studies, the course expertly blends accounting knowledge with practical business application to enable better decision-making to solve challenges at work.
"I was able to learn by studying real-life industry examples from the who's who in the industry like Google, Uber and Zara," she says. "The case studies in the course curriculum gave me an opportunity to place myself within the set of challenges which those companies face and then understand how to apply that knowledge into practice in real business scenarios."
"I'm glad I have been able to implement this knowledge into real-life business scenarios in my professional journey after completing the CPA Program," Goel adds.
Becoming a leader
Goel believes CPA Australia has opened up leadership opportunities that have accelerated her career growth.
CPA Australia positions its post-graduate CPA designation and ongoing professional development as a foundation for business leaders and those who aspire to lead.
Goel has observed a marked change in the way professional colleagues and management now view her contributions at work. "They look at me in a leadership and mentorship role and they have given me the opportunity to take up my business unit to the next level."
In terms of current and future employability, Goel believes she's being considered for senior-level executive positions. "I'm in a more strategic role than an accountant or a project or global delivery manager," says Goel.
Goel says professionals in India can fast-track their career by enrolling for the CPA program because "after doing the CPA Australia program, it's more likely that you will be considered for leadership within the company and promoted to a better role."
A 360 degree to business growth
In today's fast-paced world, finance and accounting functions are not just focused on accounting advice, but are involved in providing enterprise-wide insights.
While having a solid understanding of the financial technical know-how, Goel felt she wanted to build on her business strategy and leadership skills to get better at management, decision making and business development skills to move up the corporate ladder.
"After being a senior professional for many years and getting globally recognised accreditations, I realised that to be ahead of the curve and stand out from the crowd, global competency is increasingly important for professional accountants like me," says Goel.
Goel is responsible for increasing business for the enterprises she works with as part of her role, and she takes a global perspective while defining strategy and solution by following the step-by-step procedures explained in the global strategy and leadership subject.
"When I do market analysis, I look at the industry, the various aspects of the market and then decide on how we should proceed to increase our business in those particular geographical areas."
Today, Goel uses her learnings in the program to present suggestions for market opportunities and areas for a business to the management and sales team.
In addition to the CPA Program, Goel greatly values CPA Australia's seminars and INTHEBLACK magazine as a source of "enormous knowledge on everything such as the latest trends, procedures, and the financial and strategy concepts."
According to Goel, "Global portability is increasingly important for professional accountants around the world."
She recommends young professionals to keep looking for opportunities and avenues to upskill to grow in their career and adapt to the new normal.
"Today most professionals are doing certification courses and training so that when the world opens up post-COVID-19, they are ready to take up new challenges and stay ahead of the curve."
She adds, "A specialised course like the CPA Program could boost your career prospects for years to come, future-proof your career and increase your earning potential."
Window to international exposure
"Being a member of CPA Australia provides access to a world-class network and opportunities which enriches your learning experience and is an asset in today's fast-changing digital world," says Goel.
As one of the world's largest professional accounting bodies, CPA Australia is well placed to open doors to global career opportunities. Being part of a network that spans the globe, which includes 168,000 members across 100 countries, also provides beneficial professional connections.
"The CPA Australia designation has provided me access to a globally diverse professional network which has given me better visibility both within and outside my organization," she says. "Better networking opportunities and global exposure are the key areas which can help you polish your skills and boost your international career prospects."
CPA Australia periodically organises seminars as well as education and networking events that not only share the latest developments in the accounting industry but also creates platforms for professionals to interact with each other, enhancing careers and sharing knowledge and experience.
As part of a global professional community, Goel has been able to interact with a diverse set of professionals doing different work and with different experiences which have helped her become more aware of new concepts and latest trends.
"I'm really thankful to both ICAI and CPA Australia for this international collaboration as it has helped me fast-track my path to success," says Goel. "With this international designation, I have started receiving overseas career opportunities and global recognition of my skills."
Goel says she looks forward to seeing more partnerships between ICAI and CPA Australia which "can create new pathways for students and professionals for joint credential programs for continuous professional development, practical training on international projects with corporates and further recognition and awareness of joint qualifications across the corporates for more opportunities both within and outside India."
Register now for our complimentary live webinar to learn more about the ICAI and CPA Australia MRA pathway.