Traditional approaches to cost control will not always help to bridge the gap between attempted performance and targeted performance. For that, one needs an innovative and out-of-the-box approach. Moreover, cost cut will only bring short term benefit, for the long term and alluring benefits, cost optimization is more beneficial. A streamlined process needs to be followed for effective cost optimization.
First and foremost, objectives need to be established. The selection of skilled and committed people in the team is very crucial. Once, members are selected, the team should start thinking about viable ways for cost optimization.
Then start with effective brainstorming. An overview of the whole process needs to be given to all the members so that they can come up with something innovative. The primary aim of this stage should be on creating new ideas and not on logical analysis and error detection as this will follow.
As soon as this is done, we can start classifying and filtering the ideas based on sustainability and the more synergistic idea. Around 12 to 20 ideas should pass through this stage. A more detailed analysis of filtered ideas based on benefits and risk, resource requirements and financial payoff needs to be done to choose the best. Now we are ready to develop project plans and implement them in the organization. (Khoury, 2010)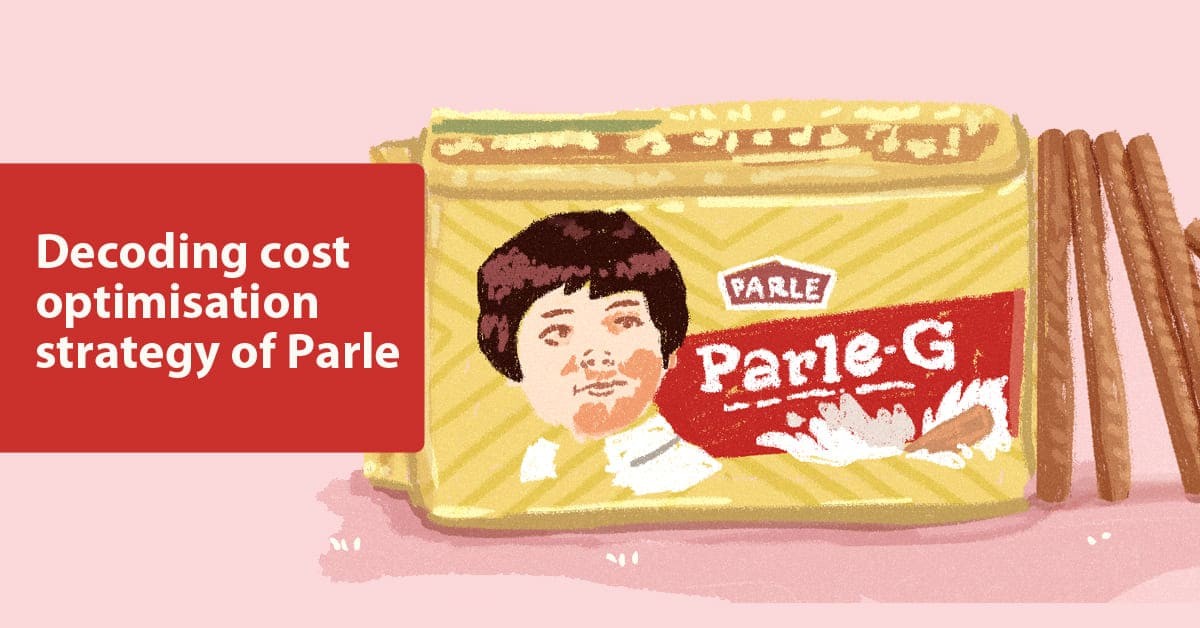 With a 65% share in the biscuit market, Parle is known for its cost optimization strategy. The company believes that whatever they save on the procurement of raw material is their net profit. Their buying intelligence has decreased their cost of production to a great extent as they procure the raw material from direct sources.
Their production and operation department is developed to such an extent that in around 115 tons of output, only 1% of the output is wasted. Additionally, they focus on KRA and KPI which helped them to check employee truancy. Their manufacturing units are located in such locations that they provide strategic benefits in saving costs related to transportation, warehousing, and logistics.
The in-depth understanding of the Indian consumer psyche, extensive distribution network, and efficient supply chain management has helped to keep the consumer satisfied. Also, the replacement of wax packaging with simple plastic has helped them to decrease the cost of the final product.
The technique of just noticeable difference has helped them to cover their cost of production without disappointing the customers as Indian consumers are price and quality cautious. The 100-gram pack of Parle G biscuit which was used to be sold at Rs 5 in around 2003 is sold for the same price today but with abated quantity.
Parle entered into forward contracts with suppliers, outsourced production, increased the number of manufacturing locations to 60, and consolidated buying. Raw material costs account for 60% of the total costs and packaging costs account for 20-25% of this. (Raman, 2014)
Oil companies like Petronas in response to rising costs and declining oil prices launched an industry-wide program, CORAL 2.0 (Cost Reduction Alliance) involving 25 operators. Under this alliance, there are 11 identified initiatives for proactive demand management, spend consolidation, and innovation. This led to an annual cost saving of USD 0.9 to 1.7 billion in 2019. (Bruno Sousa, 2018)
It is evident from the case of Parle that there is a very thin line between cost reduction and cost optimization. Cost optimization is the reason why Parle is able to sustain and survive in the market. Cost optimization is the more holistic and sophisticated approach which helps to achieve long term goals whereas cost reduction will only bring short term benefit and, in some cases, it may adversely affect the profitability of the business.
Bibliography
Bruno Sousa, D. B. (2018). Five Steps For Sustainable Cost Optimisation.
Retrieved from Oliver Wyman:
https://www.oliverwyman.com/our-expertise/insights/2017/jul/five-steps-for-sustainable-cost-optimisation.html
Khoury, G. R. (2010). Innovative Cost Optimisation: A creative approach to finding new cost optimization opportunities.
Retrieved from GK Strategic:
http://gkstrategic.com/pdf_image/Innovative%20Cost%20Optimisation%20-%20Gerald%20Khoury15.pdf
Raman, H. K. (2014). Case Study of an indigenous brand: Parle. New Approach in Human Resource and Marketing Management, 499-507.
Retrieved from
https://www.academia.edu/6323874/Case_Study_of_an_Indigenous_Brand_Parle_G
Tags
miscellaneous