Company registration is a crucial process that requires filling of different applications along with required documents. For your convenience we have mentioned all the documents and process you need to follow to form a company in India.
What is Company Registration?
Company registration is a process of registering your company as per the rules and regulations of Company Act, 2013 governed by the Ministry of Corporate Affairs. Registering your company provides your company a legal identity and makes it eligible to get all the benefits given to a registered company. These benefits involve limited liability, ease in formation, ease in separation and ownership and various tax related benefits.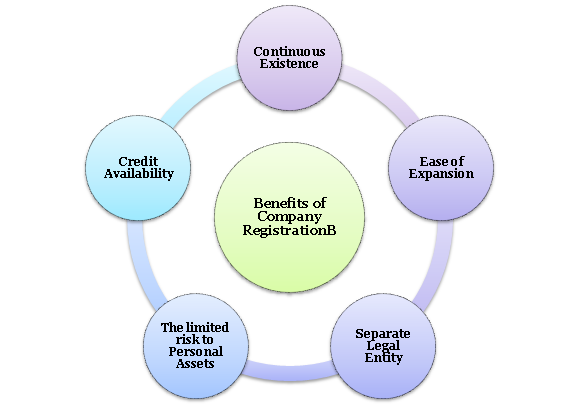 Types of Company Registration
Here are the types of company you can register under the Company Act, 2013:
1. Private Limited Company
2. Public Limited Company
3. One-person company (OPC)
4. Partnership firm
5. Sole Proprietorship
Out of all these company structures, Private Limited Company is the most popular company Structure. Almost 93% of companies in India are registered as Private limited Company. Private limited company has various benefits including separate corporate entity, eases to raise funds, and an ability to transfer equity to potential investors.
Company Registration Checklist
As per the law, a company needs to fulfill below given conditions in order to form and register their company:
• Minimum number of Two Directors: To form a company you need to have at least two directors that can maximize to 15. While in OPC you just need one director and one nominee. At least one of the former directors needs to be resident of India.
• Minimum Capital Contributions: There is no minimum capital amount to form a company.
• Unique Company Name: Make sure your company has a unique name that does not match any of the registered company's names.
• Company's office: It is not at all important that the registered office of the company should be a commercial place. You can even register your company with an office in rented home so as long you have a No Objection Certificate from the owner.
Documents Required to Register a Company
In India you require proper identity proof and address proof to register a company as per the rules and regulations made by Ministry of Corporate Affairs. All the directors and shareholders have to submit scanned copies of their identity prove.
Address and Identity Proof:
• PAN Card
• Passport
• Voter's ID/Passport/Driver's License
• Latest bank statement/telephone or mobile bill/electricity or gas bill
• Passport-sized photograph with specimen signature.
Residential Proof:
It is bit obvious to have a registered office for the formation of company. To prove its admittance, you need to provide scanned copies of below given documents:
• Notarized rental agreement in English
• No-objection certificate from the owner of the property.
• In case of owned property, sale deed/property deed in English.
• Any latest utility bill
Process for Company Registration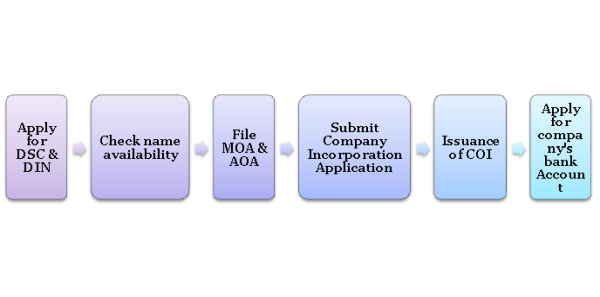 Once you have gone through the checklist and have got all the required documents, you can move ahead to register your company in below-given steps:

• Application to obtain DSC

:

DSC is the Digital Signature Copy that is required to sign the online forms. All the directors need to have DSC.

• Application to obtain DIN

:

DIN stands for Directors Identification Number. You can now apply for DIN along with the SPICe form at the time of company incorporation.

• Submit an application for Name Availability: Submit an application for name availability and reservation with the office of concerned ROC in RUN (Reserve Unique Name) form. You can provide about 3 names at a time. The names should be unique.

• Filling of MOA and AOA: One you are done with the name approval, you need to file the incorporation form with the memorandum of association and article of association within 20 days from the reservation of approved company name.

• Submit the company incorporation application: Now you need to submit all the required documents along with the SPICe form to MCA. A new form named as AGILE (INC-35) is accompanied with the SPICe form.

• Issuance of Certificate of Incorporation: Once you have submitted the application you will be issued certificate of incorporation along with PAN and TAN of the company.

• Opening a Bank account on the Name of Company: The last step you need to follow is to open a bank account at the name of your company and start your business with full enthusiasm.

Tags Corporate Law