Purpose of the Article:- Purpose of the article is to let you know about changes in Companies Act 2013, Internal Financial Controls (IFC), Committee of Sponsoring Organizations (COSO) and effective design of Internal Controls in an organization.
According to Companies Act 2013, the term Internal Financial Controls (IFC) has been defined as the policies and procedures adopted by the Company to ensure orderly and efficient conduct of its business and variety of aspects of business. The purpose of IFC given by Companies Act 2013 is to protect both listed as well as unlisted companies against any kinds of frauds in their books provided done by insider or an outsider.
Companies Act 2013 covers the following 6 steps in an organization:-
Changes in Reporting Framework
Auditors Responsibility under Section 143 of Companies Act 2013
Increased responsibility of Board, Independent Directors , Audit Committee
Push CSR in Companies
More emphasis on Investors Protection, Stakeholders, Shareholders
Ease in restructuring of the Companies
IFC requirements as per Companies Act 2013:-
Section 134: In the case of a listed company, the Directors' Responsibility states that directors, have laid down IFC to be followed by the company and that such controls are adequate and operating efficiently.
Section 177: Audit committee may call for comments of auditors about internal control systems before their submission to the Board and may also discuss any related issues with the internal and statutory auditors and the management of the company
Audit committee should act in accordance with the terms of reference specified in writing by the board, which should, inter alia, include evaluation of IFC and risk management systems
Section 143: The auditor's report should also state whether the company has adequate IFC system in place and the operating effectiveness of such controls.
Schedule IV: The independent directors should satisfy themselves on the integrity of financial information and ensure that financial controls and systems of risk management are robust and defensible.
Growing role of Audit Committee post-Companies Act 2013:-
Audit committees play a critical role in overseeing internal control. Although their primary focus may be on internal control over financial reporting now, more than ever, audit committees are taking the lead in overseeing controls pertaining to compliance and operational matters. Expectations of the audit committee's role have expanded due to enhanced company and external auditor reporting requirements, along with an increased focus on compliance by regulators.
Growing Importance of COSO along with Companies Act 2013:-
The following are the 17 Principles of COSO who are also getting high importance along with Companies Act 2013, Internal Financial Controls (IFC), Audit Committee, Disclosures Committee and last but not the least Internal Controls as per Internal Audit Function.
| | |
| --- | --- |
| Principles | COSO Framework |
| | |
| | COSO Principles – Control Environment |
| | |
| 1 | Commitment to Integrity and ethical values |
| 2 | Oversight Responsibilities |
| 3 | Establishes structures , authority and responsibility |
| 4 | Demonstrate competence to commitment |
| 5 | Enforces accountability |
| | |
| | COSO Principles – Risk Assessment |
| | |
| 6 | Specifies suitable objectives |
| 7 | Identifies and analysis risks |
| 8 | Assesses frauds risks |
| 9 | Identifies and analysis risks |
| | |
| | COSO Principles – Control Activities |
| | |
| 10 | Select and develops control activities |
| 11 | Select and develops general controls over technology |
| 12 | Develop through policies and procedures |
| | |
| | COSO Principles – Information & Communication |
| | |
| 13 | Uses relevant Information |
| 14 | Communicates Internally |
| 15 | Communicates Externally |
| | |
| | COSO Principles – Monitoring Activities |
| | |
| 16 | Conducts ongoing evaluations |
| 17 | Evaluates and communicates deficiencies |
| | |
COSO and the role of the board and Audit committee:-
The 2013 COSO Framework emphasizes the role of the board of directors—and, by delegation or regulation, the role of the audit committee—in overseeing internal control, which remains anessential aspect of effective governance. In particular, the framework highlights:
• The board's role in the control environment, including providing clarity regarding expectations for integrity and ethics, conflicts of interest, adherence to codes of conduct, and other matters
• The board's assessment of the risk of management override of internal control and careful consideration of the possibility that management may override such controls
• The establishment and maintenance of open lines of communication between management and the board, and the provision of separate lines of communication, such as whistle-blower hotlines.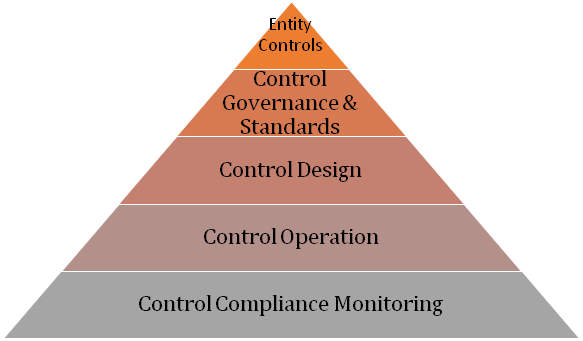 Important Changes in Companies Act 2013 for Listed Companies:-
Listing agreement may be amended to bring it in line with the 2013 Act. In case of any conflict, stricter of the two is expected to apply
Listed companies have to revisit the appointment of independent directors. The timeframe during which data bank has to be prepared has not been defined
Mandatory rotation period is a significant change and is aimed to improve objectivity ofthe independent director. The availability of qualified personnel to act as independent director could pose challenges in its implementation
No clarity provided for stock options granted in the past and remaining outstanding atthe date of enactment
Most of the attributes listed in the code of conduct for independent directors are qualitative in nature and it may not be possible to demonstrate compliance
Class action suit provide empowerment to minority stakeholders to come together and seek action against management, advisors and auditors of the company for
mismanagement. The new risks and liabilities will definitely enforce more responsibility into the role of a director.
Author View:- As we understand that there are lots of frauds are happening around us like Corporates, Banks, Financial Institutions and everywhere henceforth it is very important for everyone to have Internal Controls in place along with continue review of the Internal Controls. We are lucky enough to have specific guidelines covering Internal Controls and COSO.
Tags
Corporate Law