In the recent time, with the rise of ransomware, cyber attacks and work from home age, cloud storage services gained lot of popularity. There are many great tools that can help you to backup your files to cloud storage. But when it comes to cost-effective cross-platform cloud backup software that can work with all major cloud services, than CloudBerry Backup is all you need.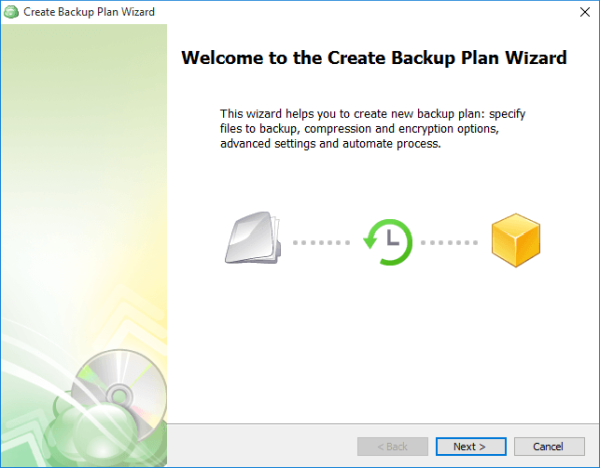 About :
CloudBerry Backup works on a unique model, where you install the software and keep on using any cloud service of your choice on pay as u go basis. Unlike many other solutions on the market, it supports just about any cloud storage provider on the market – Amazon S3, Amazon Glacier, Microsoft Azure, Google Cloud Storage, OpenStack, Rackspace and the list is never-ending.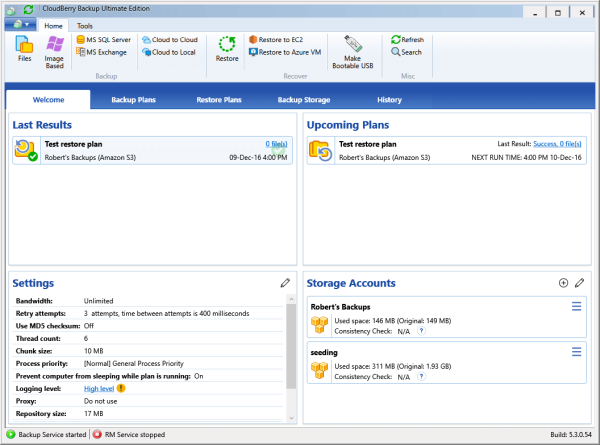 Main Features :
Image-Based Backup
Block-level volume snapshots are taken and sent directly to the cloud, allowing dissimilar hardware or virtual machines restore.
Ransomware Protection
CloudBerry Backup detects encryption changes in files and prevents existing backups from being overwritten until an administrator confirms if there is an issue.
Scheduling and Real-Time Backup
Setup hourly, daily, weekly, monthly backups or specify your own schedule. Real-time backup allows to backup files and folders on Windows Server on change or creation.
256-bit AES Encryption
Encrypt backups with up to 256-bit strong keys on the source side. All data sent to the cloud is also encrypted using the SSL protocols to protect while it is in transit.
Compression
Reduce data overhead, decrease storage costs, aid bandwidth and accelerate backup completion with optional compression.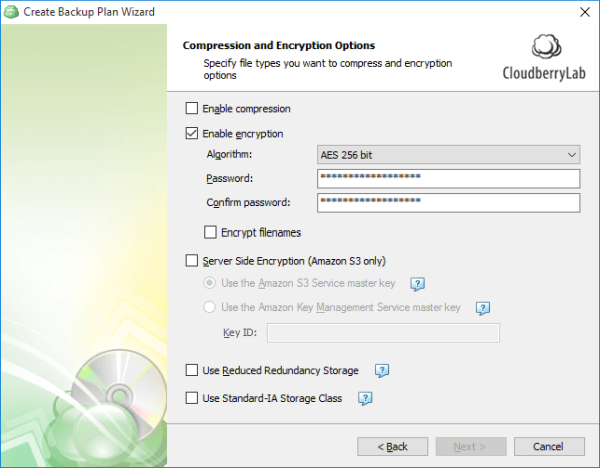 Block Level Backup
Backup only modified or new portions of files to add them to existing online data pool.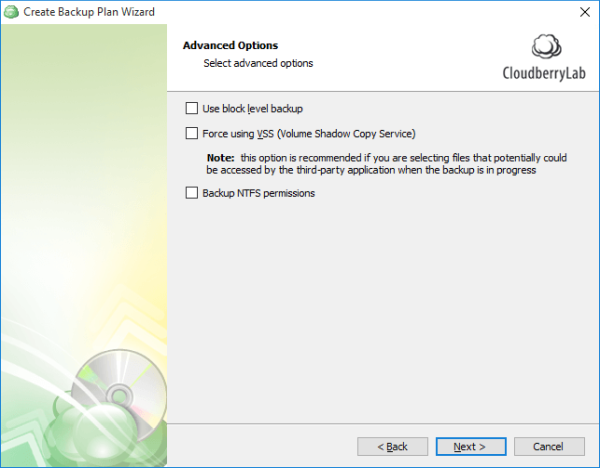 Multiple Cloud Storage Support
Choose one of the supported public cloud storage, including Amazon S3, Amazon Glacier, Windows Azure, Rackspace, OpenStack, Google Storage, SoftLayer, and others.
Command Line Interface
Get backup plan statistics programmatically and use the Command Line Interface to integrate backup with your own routines.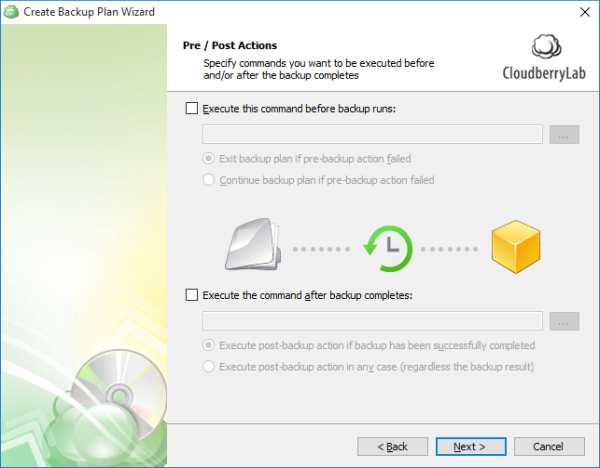 Network Locations Backup
Back up your network locations including network shares, NAS devices, mapped drives, etc.
Cloud to Cloud Backup
Backup data from one cloud storage location to another. Use multiple cloud storage destinations to keep your cloud data backups.
Cloud to Local Backup
Automate backup of the cloud data to local storage, external or network drive.
Email Notifications
Set up customizable email notification feature to track each run of your backup and restore plans remotely.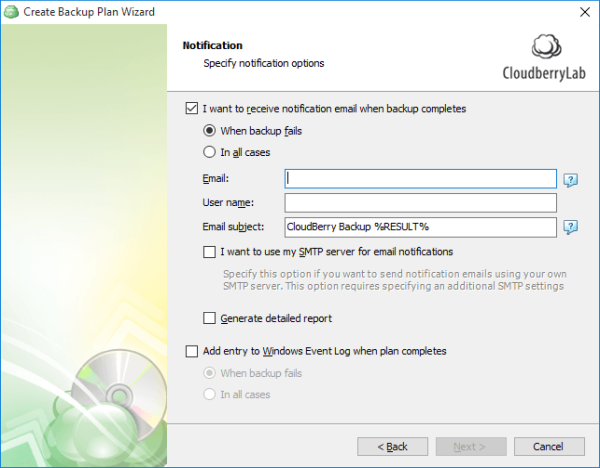 Retention Policies
Set up retention options to enable automated deletion of outdated data from your storage. Keep only actual versions of your backups.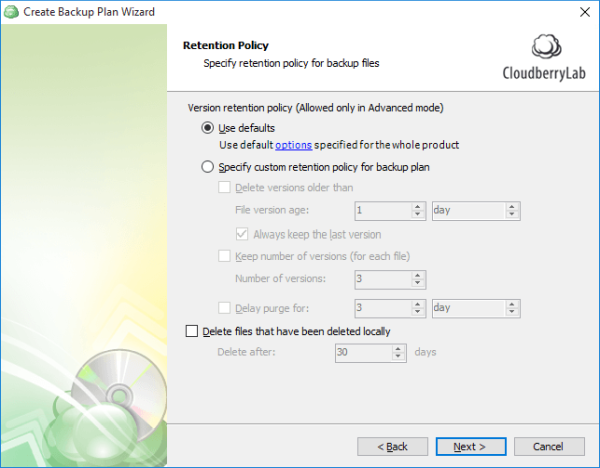 Backup Consistency Check
Monitor your backup consistency in cloud storage.
Advanced options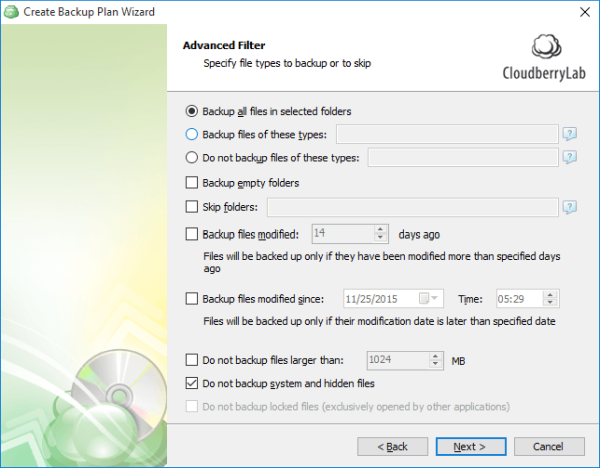 One solution fits all OS:
Windows Server 2003/2008/2012/2016
Windows Server 2008/2012 R2
Windows 7/8/10
macOS 10.8 or newer
Ubuntu 12/14/16/17/18, Debian 7.11/8.10/9.3, Suse 11/12, Red Hat 6.x/7.x, Fedora 25/26/27, CentOS 6/7, Oracle Linux 6.x/7.x
Versions :
Desktop Backup for Windows/macOS/ Linux
Server Backup for Windows Server, Linux Server / CLI , MS SQL Server, MS Exchange, Ultimate
Pricing :
CloudBerry backup software is available in both Freeware and Pro versions.
Windows Desktop Cloud Backup basic is free
Windows Desktop Cloud Backup pro is for 49 USD
Windows Server Backup Software is for 119 USD
Almost all versions comes with comes with 15-day trial.
Conclusion
CloudBerry Backup is the best solution for file backup, and with support for endless cloud services, it's a great choice for both basic and advanced users alike. For starter the Free version doesn't come with drastic limitations, but if you want to reduce bandwidth usage, improve the backup speed and protect and encrypt your files. We have been using CloudBerry backup solutions for some time now and it has helped us in getting rid of the redundant backup method which we used before and saved a lot of recurring $$.
We wish you a Happy Backup !!
Visit : https://www.cloudberrylab.com/backup/windows.aspx
Tags :
info technology