Well, this is my first ever blog to be written on a public forum, so pardon me for my errors if any.
"CA (Exam) results likely to be declared on ____ (date)"
Many of you would be very well versed/well accustomed to this sentence. I am pretty sure it would send jitters down any CA students' spine when he/she glances through this news article, maybe on Instagram post or any friend informing him/her or via any other means as maybe possible.
For the first time (yes, I admit it with full heart) you will read something different, probably. I will not start off with some very much echoing messages.
"Oh, I understand the pain of failure in exam"
"We CA students are born fighters"
"CA - Can do Attitude"
"NEVER GIVE UP"
Okay, let's cut to the chase. We often come across various blog posts/YouTube videos by professors who keep stating the aforementioned points. Has any one of us actually sat and thought through what exactly it is that we are chasing? What do we want to achieve? Have we given our best shot to the maximum of our capabilities?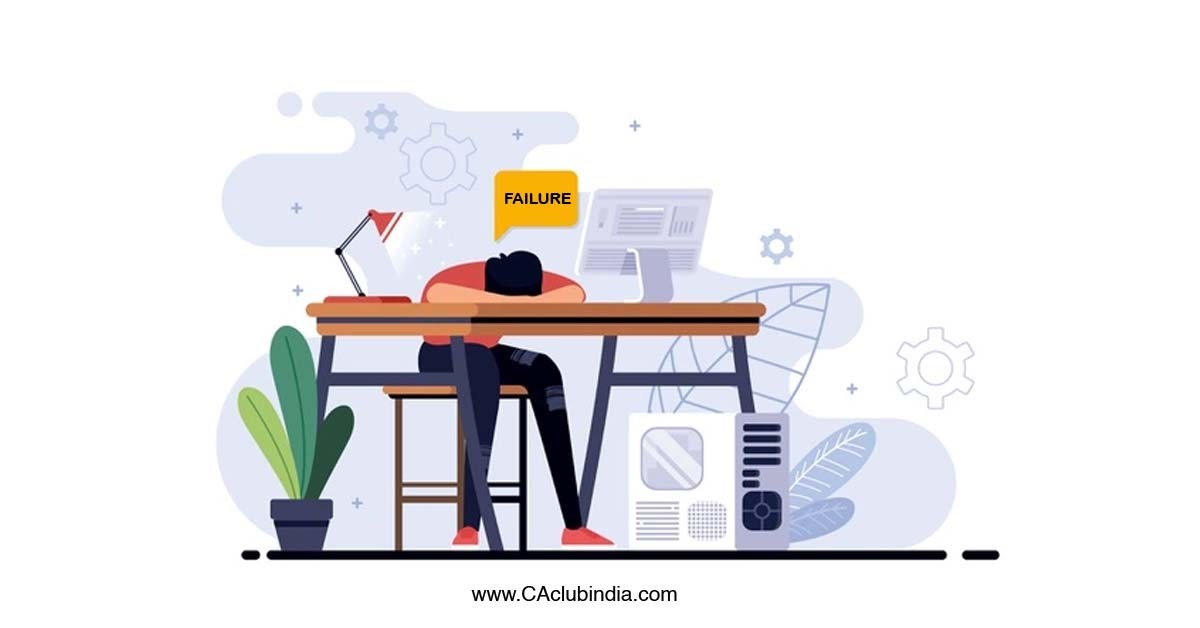 I am pretty sure most of your answers would "NO". Provided most of you have sat and actually done some level of introspection into yourselves, or if you are just wanting to follow the voice of those echoes, please go ahead, nobody can help you.
Okay, prefacing the questions:
What am I chasing in reality?
Is it the awe and certain self-proclaimed elevation of something that someone has just conditioned me to believe it to be true and just so that you remain engaged in it? Where am I actually heading? Is this causing me more of self-harm by me questioning my capacities and me calling myself a misfit for the industry?
Is it really "MY" dream or someone else's?
As mentioned "MY" dream–a lot of us follow our parents' dreams or fulfilment of parents' wishes, but who are you living for in the end? To give an analogy, if there's a race being conducted, would you be the one racing to reach the finishing lap and get the medal or will your well-wisher get the medal? Yes, they may sympathise with you and sob some tears for your sorrow, mind you after that it's your battle and your life. Popular quote "You can find a shoulder when needed but they won't burn with you, you have got to burn for your own life awards". To simplify, ask yourself, is it my dream which I have seen for myself excluding the fact that we are bombarded with so much irrelevant self-inflated ideologies on how CA earns 7-figure salary in 'xx' years or that you would be 'respected professional' of the society ?
What do we want to achieve?
Well, a pretty common question we have faced since childhood and as we grow individually, our answers are a lot more grounded. Is it all ultimately just boiling down to achieve 6/7-figure pay, build a big house and have a big car? Is that what we are meant for? Doesn't mental peace and longevity of a healthy life not really matter? Is my life just to be wasted chasing a degree? Is that all? Am I going to encapsulate my whole life under the pile of books despite giving my best?
Have I given my best shot to the maximum of our capabilities?
Best shot would wary for different people. It's pretty subjective.
Well, for an average CA Student preparing for CA exams following steps can be expected:
Study from your class notes/SM as applicable as per your convenience.
Revise by practicing questions regularly and marking the dicey ones for last moment revision, also referring to RTPs.
Practice mock exams for learning the exam environment and in exam format with time, etc.
I would call a person who has completed at least 80% of the above mentioned steps to have given his 'best shot'. Beyond that, do you think it's really worth chasing something and demoralise ourselves for a thing which is not entirely in our control? Ask yourself deeply, "Have I really given my best?" If the answer comes 'no' please re-appear.
BUT, if you have complete assurance that you have given your best shot and, despite that, you have had to face "FAIL" on your screen on the ever expected day, reconsider what are you heading towards and sit by yourself in silence, de-clutter yourself mentally.
I know that feeling to the deepest. My world shattered in split seconds. I felt incapable of doing anything. I felt like quitting everything and just NOT DO ANYTHING!
It's here where we need to test ourselves how gritted we are to stand our ground and not keep holding on to things which are not meant to be. I did the same thing and called it an end. I prioritized what I was actually meant for and what was fodder to my brain; it was then I told myself "It's enough, I need to explore the other side of the world" I set in pursuit of that. In the long run, no one cares about your university or college. All it matters is how skillful you are and are you of any value else, any degree in world from the finest university would be a piece of paper specifying your birthdate and certain subjects you passed the marking criteria.
Okay, a popular opinion which would probably hurt some cult coaching followers, the coaching industry thrives solely if more students are enrolled in CA course. The more students remain hooked pursuing it, the more revenue they get each year for each attempt in the name of "crash course" That's how marketing is done, rankers are called for interviews with garlands around their necks as if they won an election!
Simple human anatomy, what Mr/Ms XYZ does, not necessarily everyone can, everyone have unique capabilities. To put in perspective, not everyone can remember section numbers in law/audit to learn and reproduce. You do what suits you! But the system itself is such that awards only those who can do this act of reproducing and attached to that are all our emotions towards clearing a damn exam.
Added to that, we have strategies "How to pass CA exam?" "How to secure rank?" "How to remember theory subjects?" "How to memorize answers for CA exams?" I guarantee you those who read until here, you would have binge watched these videos to obviously find answers to the questions. But what these You Tubers obviously miss is the fact that "EVERY HUMAN IS DIFFERENT, NOT EVERYONE CAN STUDY AS PER YOUR SCHEDULE/METHOD" I hope you all understand the purpose behind these videos.
Okay, now coming to the call for action:
What you want to do in the long run? (Find your area of interest which intrigues you that at least makes you feel something in yourself, but ASK!)
Where do you actually see yourself in future? (Ask your authentic self the question, not the bullshit shoved upon by these business minded CA Faculties!)
Start networking on LinkedIn with people in your field (Send connection requests with notes introducing yourself, ask for their time and showcase yourself to them)
Work on your communication skills and building your skill-sets in your area of interest.
Enroll for Certification courses/ other online courses and hone your skills.
The simple point is to look outside the box of "CA". There is an entire world out there, where we have people from what diverse backgrounds are pursuing their dreams! All we need to do is develop is the ABILITY TO LET GO! Have faith, things will work out! Just give yourself sometime and change your mind-set.
Now I am pretty sure those who would have read this would have diverse opinions and some may agree and some may not. I am open to criticism as well, if any. Let me know in the comments.
The author can also be reached at abhishekpanegal4@gmail.com
"Loved reading this piece by
Abhishek Panegal
?
Join CAclubindia's network for Daily Articles, News Updates, Forum Threads, Judgments, Courses for CA/CS/CMA, Professional Courses and MUCH MORE!"
Tags :
students
ca exams