According to a recent survey that polled over 900 CFOs and senior finance professionals across the world, CFOs worry about all manner of reporting obligations, keeping them awake at night. The survey brought into light some interesting facts –
55% CFOs aren't confident that the internal financial controls are working properly.
More than 50% of CFOs said reporting involved huge amounts of manual checking every time a change is made.
60% of senior finance officials said they spend too much time cleaning and manipulating data.
43% of them are caught in a spreadsheet-spiral due to too many spreadsheets to work with. (71% of organizations depend on spreadsheets for collecting data across the majority of their business units).
The major concern here is not knowing where your data is.
Spreadsheets are a major part of the financial reporting process and they are used for a fair amount of data modelling, manipulation and aggregation. Too many spreadsheets touched by too many hands may often result in an uncontrolled reporting environment. There is room for potential errors. It becomes difficult to ensure that only current and accurate data is being fed into the spreadsheet models.
If you are unable to tell which source gave you what numbers while looking at your reports if you are unsure whether all the numbers are validated, this leads to hours of manual verification. While the willingness to burn the 'midnight oil' to ensure the financial reports are delivered accurately and on time is admirable, this is not sustainable.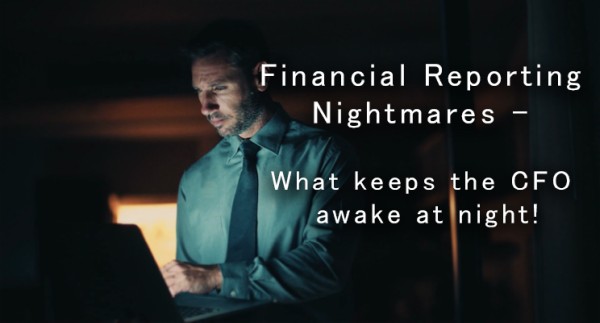 During audits, way too much time goes in tracing back data to the source, understanding adjustments that were passed, how ledger accounts have been grouped, keeping an audit trail of grouping changes, reconciling inter-company transactions, and the list goes on.
Instilling a disciplined operational process and a choice of good financial reporting software can both go a long way in introducing much needed internal controls and a predictable reporting process. The trick is to find a way by which you can have end-to-end holistic visibility of the financial reporting process and most importantly, confidence in the accuracy of it.
Today, technology can help streamline and integrate the financial reporting processes by providing an audit trail to support and facilitate data accuracy while maintaining data integrity. Such a tool can also help create ad-hoc reports. Thus the use of spreadsheets can be monitored and controlled, letting you join the lucky 3% of CFOs who sleep soundly. So, get the right processes and tools to have total control over your reporting and your numbers!
The author can also be reached at kganeshan@gmail.com
Tags :
career