Meet CA Sandhya Sharma, CFO of Schindler India Pvt. Ltd, who, unlike most finance professionals, is a die-hard optimist and strongly believes that people create organizations that further helps the organization in building strong core values.
With more than 20 years of experience in the finance industry, CA Sandhya Sharma knows and understands the value of giving it back to society, hence for her, CSR is not just a compliance requirement, but a way through which she can help the underprivileged strata of the society.
She also believes that people must always take breaks and refresh their minds, to function efficiently. One such way that she follows is by doing Yoga and Meditation on a regular basis.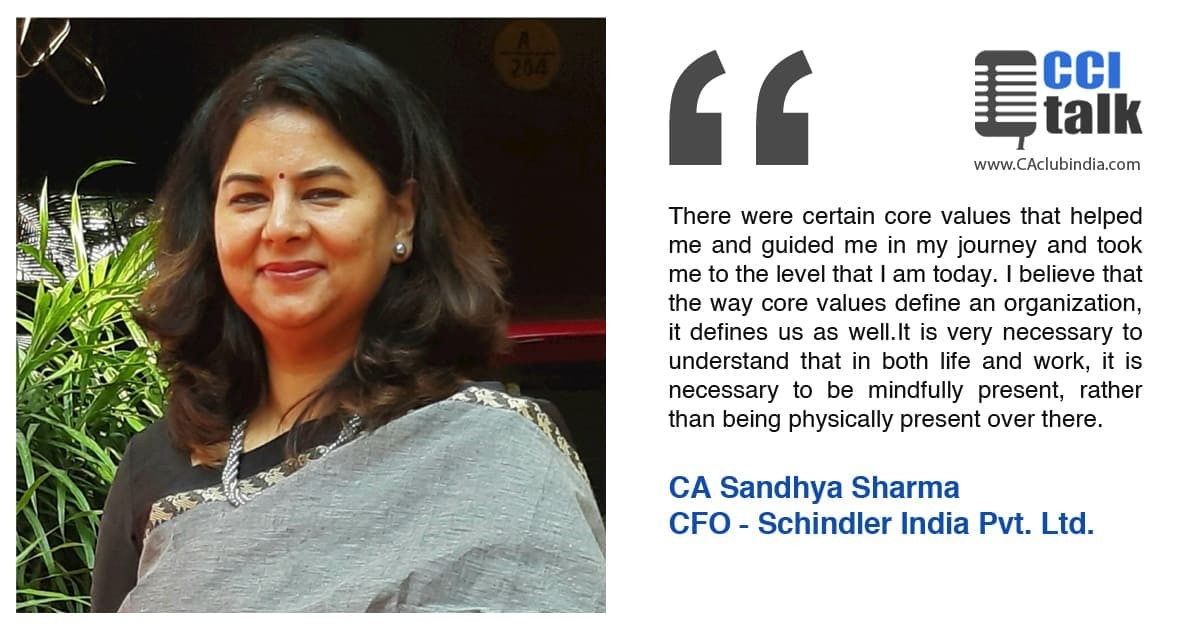 It is without a doubt, that CA Sandhya Sharma is one of the most hardworking and empathetic professionals that the finance industry has seen. Thus, CAclubindia did an exclusive interview with her, the excerpts of which are highlighted below:
Ques. Ms. Sharma, you have an abundance of experience in the finance industry, can you walk us through your academic and professional journey over the years?
CA Sandhya Sharma - My academic journey is till B.Com. I was a very average student, not because I was dumb, but because I was never interested in studies. After my B. Com, I got married at the age of twenty. However, my in-laws were either from IITs or IIMs, so they kind of forced me to choose CA. I received immense love and support from my parents and from my in-laws as well. After the completion of CA, my first placement was at Bombay Dyeing. 2 years over there in which I did internal audit, and then again with Mahindra and Mahindra, I was in Internal Audit for 5 years. The good part of it all was that I used to travel all over India. Across the different companies and plants of Mahindra, I have done Club Mahindra Audit and Mahindra British Telecom Audit, which is now called Tech Mahindra. It has been a good journey so far. From there I was moved to the factors division in Mahindra where I was in the Budget and MIS team. Then after 4 years from there, I was moved to Schindler. In Schindler, I have been across all the finance functions. I have looked after the factory as well as the whole zone. Overall, it has been a good journey with varied experiences and it also has been a kind of support that I got, both from my family and my professional colleagues which has helped me reach this point in life.
Ques. That was a very interesting thing that you mentioned, that it is not important to be good in studies to succeed in life and I personally believe in that as well. Thank you for saying that out loud. I'm sure that there are a lot of things a CFO has to take care of. So, what are the core roles and responsibilities of a CFO?
CA Sandhya Sharma - I would say the core roles and responsibilities of a CFO has changed over time by a lot. Initially, the Finance Department was for Post mortem analysis I would say, and recording what has already happened; more like a be-in-counter role. As far as the current responsibilities of this position go, it requires one to have an extremely good understanding of business. CFOs today are actively involved in business activities. Personally, I remain a part of every business decision that is taken. I actively work upon new processes, as in how it can support the growth.
I would say that the first requirement is understanding the business well,

The second is being a strong support in achieving the vision and mission of the organization because finance as a part should be involved in the vision and the mission journey which can support the growth well and can lead to better digitization, people support, etc.

Third I would say is people Development, about which most of the finance persons do not work actively but I feel that it is an area we strongly need to work upon.

Fourth is compliance. Of course, it is a part, it is given and with automation, most of the things are getting digitized which has made life easier.

The fifth area that I believe is necessary is called CSR. It should not be done as a requirement by the company's side but more like a larger purpose of our life as well as to give back to the society of what we take. It also takes care of, I would say, stakeholders. It takes care of the business and the shareholders and it should, as they participate in the vision and the mission achievement.
So, the role of the CFO earlier, maybe ten years back, has drastically transformed now.
Ques. So, as you mentioned in today's times, a CFO is actively participating towards the growth of a company, and I'm sure there are a lot of decisions a CFO has to take, keeping in mind the profitability of the company. So, while calculating the profitability of an investment or a decision, do you follow a strict process?
CA Sandhya Sharma - I would say yes. Being in an MNC, one has to follow a strict process. In fact, even in Mahindra, we had a strict process. But overall, at a certain level, we take some decisions strategically. Those decisions are not necessarily bound by immediate profitability but to the goal and purpose of the business.
Ques. Some decisions are based on your experience or your gut. If we talk about CSR, it is still a very new thing and people generally take it as a compliance requirement and not something that we should do to give it back to society. Do you also take decisions from your gut as well?
CA Sandhya Sharma - Yes, as a person I make decisions from my gut as well. I wouldn't say those decisions aren't backed up by data but yes, I do make decisions based on my gut as well. There are some specific areas where I do it more often than in the others. If it is related to employees, CSR, or customer satisfaction, I take such decisions.
Ques. We are in the middle of a pandemic and it has changed the way businesses were supposed to function, over the globe. We were all shifted to a work from home situation, something that was rarely advised in the past. So, do you think, when the COVID crisis is over, a work from the home situation will still benefit some companies?
CA Sandhya Sharma - I wouldn't say for companies, but employees definitely. I would say, it is taking the best of both worlds. It is not entirely beneficial to work from home but it is however beneficial for those employees who need to be at home to take care of their loved ones who are in need. I personally feel that this pandemic has been easier for the ones who trusted their colleagues, more in terms of work. Moving away from an employee's in and out time, the focus has been shifted to their work and objective and their role requirements. It is mostly centered on their contribution to work.
For example, I have two colleagues, a lady, and a man. The lady's father in law got detected with cancer. Her husband used to take his father to the hospital and she had to do the house chores. She used to work at night. She was completing and managing her work efficiently. I never had an issue with her or her work. The other person lost his mother and got diagnosed with COVID, but he also managed to complete his work efficiently. I would say that during the pandemic, we have started to trust our colleagues more and it has also taught us that the best of both worlds can be achieved.
Ques. I totally agree that it is, in fact, the best of both worlds. However, there have been many complaints from the employees that they have not been able to maintain an optimum work-life balance. Maybe because the line between work and personal life has blurred. So, do you believe that maintaining a work-life balance is important, and what do you do to achieve that?
CA Sandhya Sharma - I would say it's crucial, however it is completely dependent upon us to maintain that balance. I wouldn't blame anyone for disturbing that balance. Like anyone can choose to mail me during midnight, it is up to me to respond to it or not. I would say that, yes, the on mode is a little overwhelming these days, but few mindful practices can help us maintain a good work-life balance. It is very necessary to understand that in both life and work, it is necessary to be mindfully present, rather than being physically present over there.
There are certain practices that I follow like "take five". Like I take 5 minutes to process the feeling I'm going through, either while working in the office or in the kitchen. I have also been practicing yoga and meditation since the pandemic and trying to channelize my thought process efficiently. So, I believe that it is up to us to maintain such a balance rather than being burdened by everything around us.
Ques. So, is there a mantra that you followed early-on in your career that has helped you reach where you are today?
CA Sandhya Sharma - I wouldn't say so. My early life was a little different. I'll be honest, I never thought I'd reach this level. But at the same time, there were certain core values that helped and guided me in my journey and took me to the level that I am. I believe that the way core values define an organization, it defines us as well. It is just like never taking a benefit out of just being a female colleague. Instead, one should focus on being an equal contributor. The other important thing is not getting too much into groupism. I thoughtfully do not follow any certain person in an organization. I remain independent, I do my work and so far, it has worked fine for me, and I hope it works fine for everybody else.
I also had good mentors during my journey, although I would say they came a little late in my life but extremely helpful mentors, right from Mahindra to Schindler, and excellent coaches, who have helped me reach where I am today.
The experience and values that CA Sandhya Sharma carries with herself is truly commendable and Team CAclubindia wishes that all the people aspiring to be in the finance industry, follow her advice and make it big.
This interview was taken by Ms. Aishna Kukreja, Assistant Editor, CAclubindia.
Tags
career