Documents to be furnished electronically along with the return of income –
Scope expanded by the Central Board of Direct Taxes ('CBDT')
Existing Rule
As per Rule 12(2) of the Income-tax Rules 1962 ('IT Rules'), every assessee is required to furnish the following audit report/ documents (as may be applicable) electronically.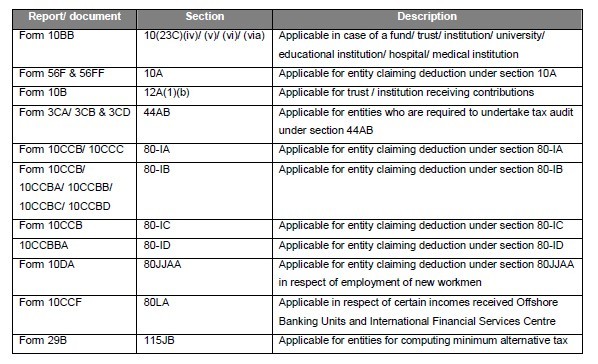 Amendment to Rule 12(2)
On May 30, 2014, the CBDT has issued a notification (Notification No. 28/2014 dated May 30, 2014) amending the Rule 12(2) of the IT Rules (referred as Income-tax (6th Amendment) Rules, 2014).
As per the said notification, the assessee is also required to file the following audit reports/ documents (as may be applicable) electronically from AY 2014-15 onwards.

Note: Therefore, for AY 2014-15, in addition to filing of other documents (as mentioned in earlier page), the assessee should also furnish the abovementioned documents electronically.
Disclaimer:
The information contained in this is note is intended for general guidance only and hence should not be considered as an advice or opinion. We do not accept any responsibility for loss occasioned to any person acting or refraining from action as a result of any material in this note. On any specific matter, reference should be made to the appropriate advisor. In case of any question, please feel free to contact us.
Mukesh, Manish & Kalpesh
Chartered Accountants
Email: mukesh@m2k.co.in
Tags
cbdt
Income Tax