A Cancer Fighter, A GST Practitioner, and A Social Worker
Dedication, Determination, and Discipline - Meet Mr. Arun Gupta, a CA, CMA, and ACCA who is an embodiment of these three words. Arun was working as a CFO when life made different plans for him. He got diagnosed with Leukemia, which is a rare type of blood cancer. It is a slow-growing cancer, but one that is uncurable.
Soon after, he lost his job to cancer and had to choose between exhausting all his savings on his treatment or leaving something for his family. However, his never give up attitude made sure that he fought the disease even if it offered him only a 10% chance of survival.
During his treatment, he came across various problems faced by cancer patients. Instead of ignoring the plight of others, Arun looked forward to helping them, and this is how he and his wife Mrs. Kavita Gupta conceptualized Win Over Cancer, a not-for-profit organization - in a hospital room.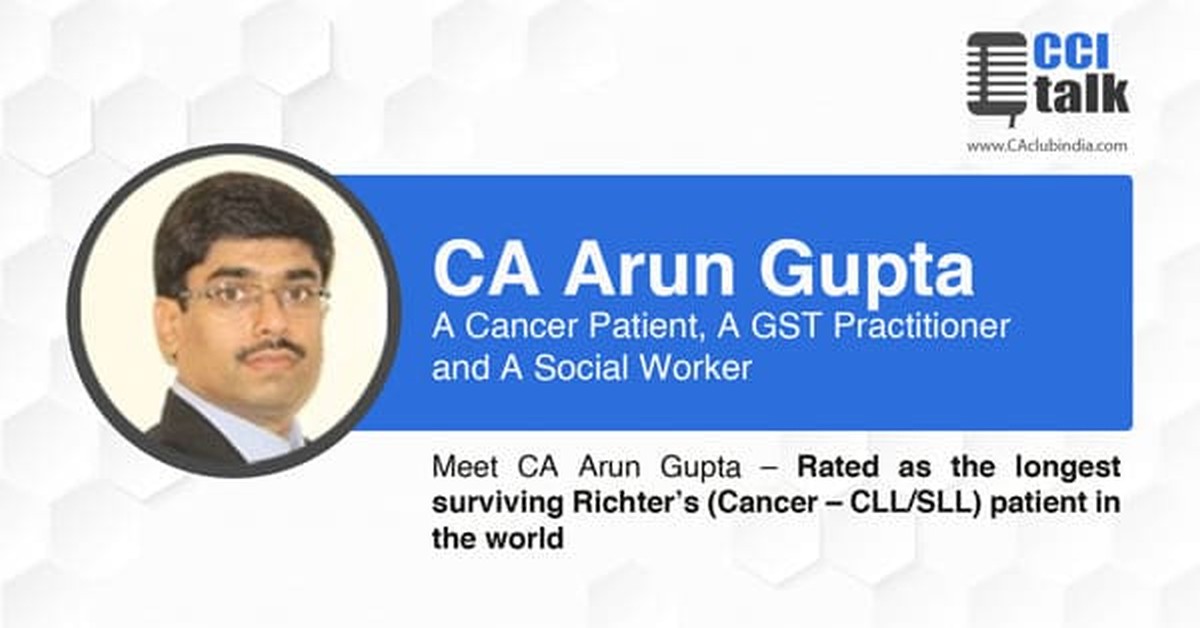 CAclubindia, in an exclusive conversation with CA Arun Gupta, brings to you, the journey of a man who hit rock bottom and instead of giving up, shined bright like a diamond.
Talking about his educational qualifications, Arun told us that he did his Cost Accountancy in 1990 and Chartered Accountancy in 1995. Thereafter, he did a diploma in IFRS from ACCA UK. For the initial 18 years of his career, Arun worked in the corporate world primarily in the manufacturing, and service sectors. He then became a part of a boutique tax consultancy group, BMR Advisors, and was heading their automated service tax compliance division. In 2011 he joined another corporate, which was into business development, i.e. identifying new projects and creating new business opportunities.
In the year 2013, he conceptualized Win Over Cancer, which was formally registered as a Charitable Trust in 2015. In 2016, Arun's cancer treatment began. You would think that he must have taken a break from the professional world, but his inner strength arose and instead of succumbing to the treatment, he started his own GST practice.
While talking about his treatment, Arun told us that because he was diagnosed with a slow-growing cancer, it gave him time to explore his treatment options and complications that may arise during and after the treatment. During this time, he spoke to various patients and realized that the complications faced by most patients were similar in nature and had a solution, but because people, when diagnosed with cancer are in a negative frame of mind, they weren't able to focus on the solution.
Thus, he started counseling fellow cancer patients and writing blogs. One fine day, he was advised to do a compilation of his blogs and this is how Win Over Cancer was born. The projects of Win Over Cancer have been designed keeping in mind the issues faced by cancer patients. One such issue is that of cancer patients losing their source of livelihood. Thus, he partnered with NSDC and other skill development providers to start a project wherein, members of cancer impacted families or cancer patients themselves can undergo a skill development course, thereby creating alternate livelihood opportunities. The cost of such training is borne by Win Over Cancer.
We noticed that the projects of Win Over Cancer were extremely well researched, strategically planned, and offered very unique solutions. Thus, we asked Arun if his experience in the finance and taxation industry helped him conceptualize projects for Win Over Cancer. To this he replied,
"Definitely. The biggest lesson that I have learned in my career is that your professional knowledge helps you in crafting out an intelligent solution. It is basically a structured thought process that matters. Your professional qualifications supplement that thought process. The first prerequisite is to have a structured thought process so that you can identify a problem and then have a positive frame of mind to look at solutions to that problem. This is something that you learn when you're working with corporates and industry leaders. That experience, together with my job profile definitely helped in structuring Win Over Cancer. This is the reason I have been running Win Over Cancer as a corporate and not as an NGO. Thus, a lot of emphases is there in developing proper internal control and a transparent structure."
Arun also told us that he was invited at a Global Conference in Upsala, Sweden wherein, a discussion was done on how his projects can be replicated in other parts of the world.
Mr. Gupta worked in the corporate sector for around 20 years. On his transition from the Corporate Sector to the Social Sector, he said
"Well, one thing I realized as to why the social sector is different from the corporate sector is, when you're working in a corporate sector you are being paid for the goods or services provided, so there is a consideration flowing out and money coming in. In the social sector, one of the important stakeholders are the beneficiaries - they are not paying you anything. They are getting the benefit, but they are not paying you anything. Similarly, your donor or the sponsor who pays you, he's not getting a direct consideration. So that is a very important distinction between the corporate sector and the social sector and that is why I feel that working in the social sector is much tougher than working in the corporate sector. Practically I don't see much of a challenge, except this one deviation."
Arun is currently managing his own NGO, his own GST Firm, and fighting 4 types of cancers. This is something that requires extreme emotional strength and willpower, thus we asked him for a piece of advice or mantra that keeps him going every day, to which he replied
"So, my case has already been classified as a medical miracle in this category of disease. The American journals have already marked me as the longest surviving person in the world in my category and it is of course a bliss of God and the blessings of our beneficiaries that is helping me get going. What I will say to everyone is that you have to make your passion your profession. The moment you make your passion your profession, nothing can stop you in the world and you never feel tired. You feel self-motivated to work. People often back down by uncertainties so you have to always structure your uncertainties between things that are in your control and things that are out of your control, and after that, focus on things that are in your control. It is all a factor of self believe, belief in God, and trying to identify and structure the challenges around you. Trust people and work in a collaborative environment. You will find good people who are ready to help you out. Yes, there will be bad people, there will be bad experiences, but they will be EXPERIENCES and ultimately, they are going to help you out. That is my mantra and advice to all of you"
CA Arun Gupta always believes that to succeed, one has to dream big, plan wider, and execute in small steps. He believes that there is always scope for improvement and one must always strive to improve their performance. I'm sure this is something we can all learn and implement in our lives.
This interview was taken by Aishna Kukreja, Assistant Editor, CAclubindia.
To know more about CA Arun Gupta and Win Over Cancer, visit www.winovercancer.net
Tags
career