Hello readers!! Trust everyone is fine, safe and sound. The intent behind writing this blog is to make it more like a series of blogs on AIFs if you like it. The idea is to start with very basics and take each aspect of it one by one, little by little. Never heard of AIFs? No worries. Heard but don't know what they are, and they function? No issues at all. This is my opportunity to share the knowledge on this aspect with the readers and I hope everyone who reads and follows this series learns something out of it. So now, without dangling around further, let's get started.
Alternative Investment Funds or AIFs as they are commonly known, are a privately pooled investment vehicle registered with SEBI. There are 2 key parties which really bring the AIF into existence – General Partner (GP) and Limited Partner (LP).
General Partner
GP is basically the person who conceptualizes the AIF. Basically, the AIF is a brain-child of the GP. To put in terms of an example, a GP is like a founder to the company, a Dhirubhai Ambani to Reliance, a Steve Jobs to Apple and so on. So, for the purpose of our story on AIFs, I will call this person as Mr. Warren. So Mr. Warren basically decides everything about the AIF. What will be the capital of the AIF? Who will be the target investors? Where will the AIF make investments? For how long will the AIF be in existence? How will the returns of the AIFs be distributed? And so on.
So, to put it in crude terms, you can assume AIF to be more like an entity engaged in the activity of investing and GP as the promoter of this entity. Under the AIF regulations, GP is referred to as the 'Sponsor'. Whilst there are some specific obligations attached to the sponsor, we can discuss them later in this series. For now, let's just say sponsor is another word used for the GP.
Limited Partners
So now that we know AIF is engaged in investing activity, it is obvious that it will require funds to make investment. Mr. Warren is an expert investor and knows the best of investment strategies. So, here arises an income opportunity. Some investors say Mr. Bill and Mr. Steve want Mr. Warren to manage their money so that they can have great returns on their investments. So, they reach out to Mr. Warren requesting him to manage their money. Mr. Warren agrees to do so. But as any businessman would do, he asks the investors that he would charge some amount to manage their funds. So, like we already discussed above, Mr. Warren is the General Partner (GP) and Mr. Bill and Mr. Steve who reached out to Mr. Warren for managing their income are basically called as Limited Partners (LPs).
So, to put it in other words, AIF is the entity, GP is more like the promoter / brain of the AIF and LP is more like the shareholder or financer of the AIF.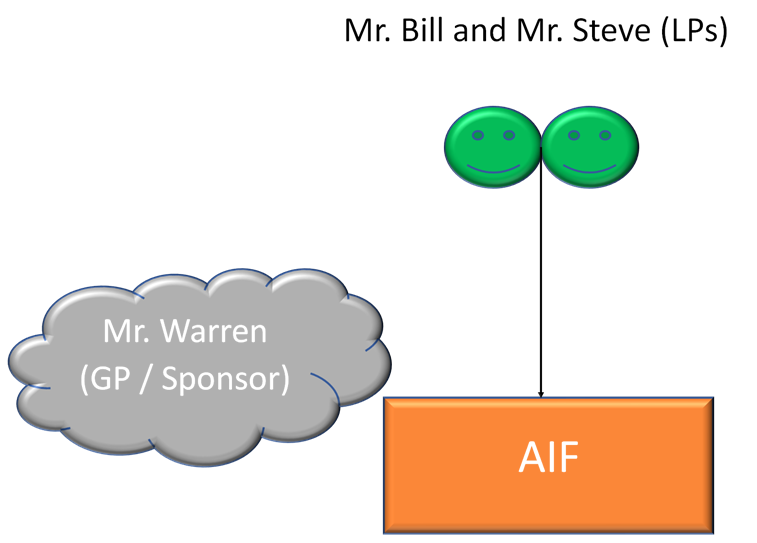 Form of AIF
Now that we know the key parties that bring the AIF into existence, before moving ahead it is important to understand the form of AIF i.e. how an AIF is constituted. Technically, an AIF can be constituted in the form of a trust or a company or limited liability partnership or a body corporate. Practically, AIFs are constituted in the form of a trust of LLP and the trust structure is the most prevalent one. So, lets focus our discussion mainly on the Trust structure for now.
Trustee
What is a Trust? To keep it simple, a trust is more like a pool of funds which is to be governed in accordance with its governing document i.e. the Trust Deed. The trust does not have its own employees. So, you basically need someone who can carry out its duties or in other words, administer the Trust. The party who administers the functions of the Trust is called the Trustee.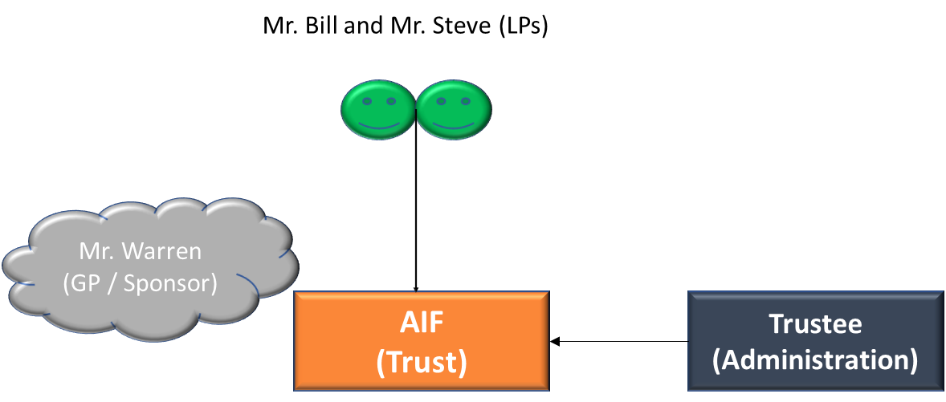 Investment Manager
Now that you know the AIF is engaged in investment activities, you need someone who basically does research, monitors when to buy an investment, when to sell it and so on and so forth. The person / entity that carries out these functions is called the Investment Manager. You may ask that is what even the Sponsor can do. Yes, he can. Technically, the sponsor and Investment Manager may be the same or different entities. There are reasons why having them as different entities may be advantageous in some cases. However, that is a different thing altogether and we will discuss about in the subsequent blogs of the series. So for now, lets assume that they are different entities.

Now we have covered all the key parties that form an AIF. So, I will wrap up this first blog of the series for now. But before that below is the summary table for your quick reference:
| | |
| --- | --- |
| Party | Key Function |
| AIF | Entity engaged in Investing activity |
| Sponsor | Brain of the AIF |
| LPs | Investors in the AIF |
| Trustee | Administrator of AIF (Trust) |
| Investment Manager | Manages investment activities |
Hope you guys liked my blog. In case you have any queries, feel free to put it in the comments below. If you like my blog, please like the article, follow me and let me know in the comments section, it would really motivate me to write more and more. Signing off until next time!!!!
"Loved reading this piece by
Dhruv Nandani
?
Join CAclubindia's network for Daily Articles, News Updates, Forum Threads, Judgments, Courses for CA/CS/CMA, Professional Courses and MUCH MORE!"
Tags :
professional resource