BARBEQUE-NATION HOSPITALITY LIMITED - IPO REVIEW
Background of the Company
The Company was originally incorporated as Sanchi Hotels Private Limited on October 13, 2006 at Indore, Madhya Pradesh, India as a private limited company under the Companies Act, 1956. Subsequently, the name of the Company was changed to Barbeque-Nation Hospitality Private Limited and a fresh certificate of incorporation consequent upon change of name was issued by the Registrar of Companies, Madhya Pradesh and Chhattisgarh, located at Gwalior on February 18, 2008. Thereafter the Company was converted into a public limited company and the name of the Company was changed to Barbeque-Nation Hospitality Limited and a fresh certificate of incorporation consequent upon change of name on conversion to a public limited company was issued by the Registrar of Companies, Madhya Pradesh and Chhattisgarh, located at Gwalior on March 4, 2008. Subsequently the registered office of the Company was changed from Indore, Madhya Pradesh, India to Bengaluru, Karnataka, India, pursuant to a certificate of registration for change of state issued by the RoC on January 15, 2014, with effect from December 16, 2013.
The Company has been in expansion mode since April 2012 through various acquisitions and has aggressively acquired various barbeque restaurants by deploying cash generated from its operations as well as by way of raising funds. Below is the list of few acquisitions made by the Company:
Acquisition of SHL as on 01.04.2012 for an amount of Rs. 281 million.
Acquisition of FRPL as on January 15, 2015 for a purchase consideration of Rs. 42.71 million
Acquisition of SHL vide business transfer agreement dated September 30, 2015 for a purchase consideration of Rs. 123.80 Million.
Acquisition of AR Hospitality through agreement to take over business for an amount of Rs. 33.60 Million
Acquisition of Red apple for an amount of Rs. 574 Million
The Company is having 147 Barbeque Nation Restaurants (including opened, temporarily closed and under construction outlets) across 77 cities in India and 6 International Barbeque Nation Restaurants in 3 countries outside India as of December 31, 2020.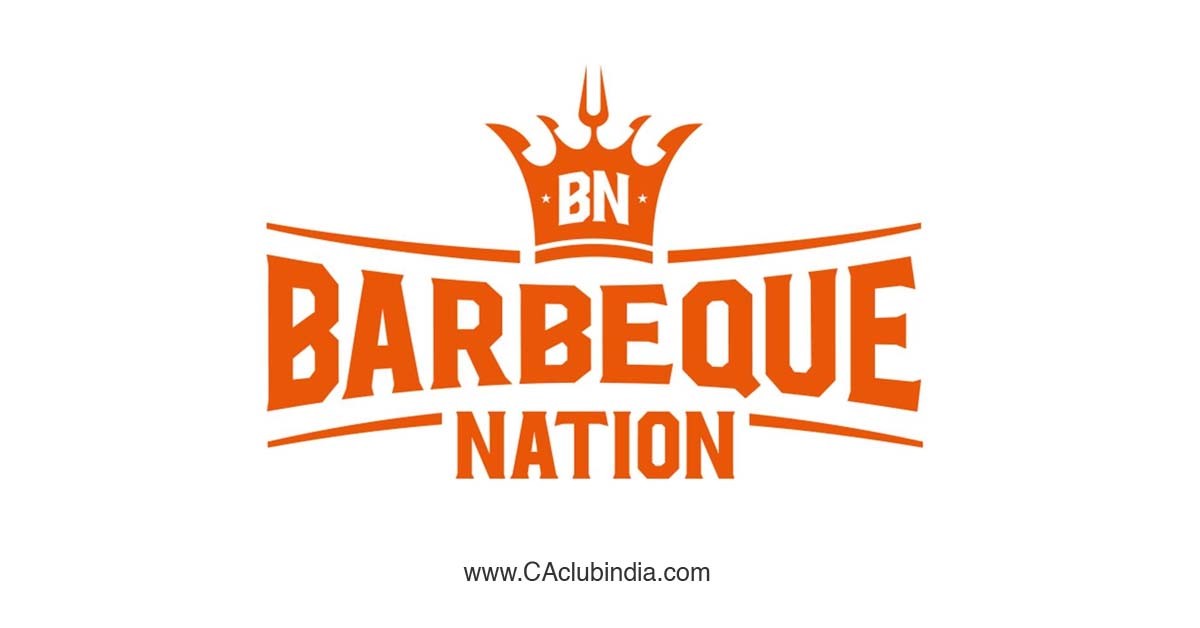 Object of the Issue
The offer consists fresh issue and offer for sale amounting Rs. 180 Crores and Rs. 272 Crores respectively for capital expenditure for expansion and opening of new restaurants (Rs. 54.62 cr.), prepayment/repayment of all or a portion of certain outstanding borrowings availed by the company (Rs. 75.00 cr.) and general corpus fund needs, The company mulls raising Rs. 452.87 cr., at the upper price band of the issue. It has fixed a price band of Rs. 498 - Rs. 500 per equity share having a face value of Rs. 5 per share. The issue opens for subscription on March 24, 2021, and will close on March 26, 2021. Minimum application is to be made for 30 shares and in multiples thereon, thereafter. Post allotment, shares will be listed on BSE and NSE. The issue constitutes 24.13 % of the post issue paid-up capital of the company.
Promoters of the Company
Sayaji Hotels Limited, Sayaji Housekeeping Services Limited, Kayum Dhanani, Raoof Dhanani and Suchitra Dhanani are the Promoters of the Company.
SHL is engaged in the business of constructing and operating, inter alia, motels, hotels, bars, restaurants and clubs, providing lodging and boarding, eating houses, swimming pools and other facilities to the public, including tourists, visitors and delegates coming to India from foreign countries, and ncouraging, carrying on and facilitating tourist trade in India, and there has been no change in the business of SHL since its incorporation.
Key Strengths of the Company
1. Industry Growth and Overview
The size of the food services market in India is estimated at INR 4,236 bn in FY 2020 and is projected to grow at a CAGR of 9% over the next 5 years to reach INR 6,506 bn by FY 2025.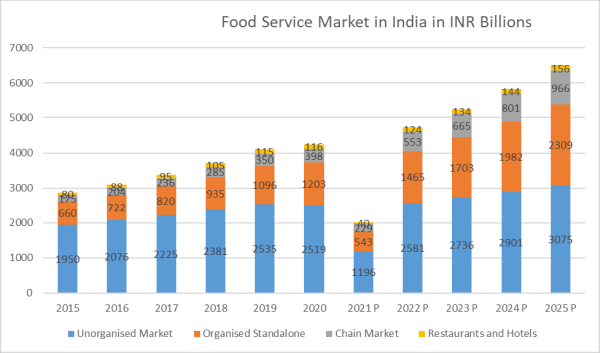 As per the report of Technopak, the Company fall under the chain CDR market and the chain CDR market grew at a CAGR of 19.00% between Fiscal 2015 and Fiscal 2020 and is expected to further grow at a CAGR of approximately 18.00% from Fiscal 2020 to Fiscal 2025.
Chain CDR Market Size in ₹ billion

56

67

81

98

118

134

55

174

209

251

302

Year

2015

2016

2017

2018

2019

2020

2021 P

2022 P

2023 P

2024 P

2025 P
2. Rapid Expansion by the Company
The Company is in very rapid expansion mode and had made several acquisitions in the recent times which gives the Company an edge over the others operating in the same segment and the Company may see the manifold growth in it's revenues leading to higher profits.
3. Strong Customer Base
The Company has built a strong base of customers among the young generations of the Tier I cities predominantly and youngsters are loving their food quality and find these reasonably priced as well helping the company to build the strong customers base and allowing the Company to generate repetitive revenues.
4. Rise in annual earnings of households and change in consumption
The number of households with annual earnings between US$ 5,000-10,000 have grown at a CAGR of 12% during the period of FY 2012-2018 and is expected to grow at the same CAGR of 12%, to reach 153 Mn. by FY 2020.
The households with annual earnings between US$ 10,000-50,000 have also grown at a CAGR of 25% between FY 2012-2018. Increase in number of households with annual earnings of US$ 10,000 to US$ 50,000 will lead to increase in discretionary spending which is likely to create a structural trend of premiumisation, thereby leading to higher expenditure on food and beverages, apparel & accessories, luxury products, consumer durables and across other discretionary categories.
Key Risks Factors should be considered before investing
1. Valuation
The equity price per share @ 500 per share while the company has incurred losses in the current year and in the past years as well makes the valuation of the company very expensive and I do not find any margin of safety at this valuation in the Company.
2. Adverse Effect on Sales due to Covid
The company is operating in the business of Chain CDR and have invested heavily in the past on opening of new barbeques in the Country and the Covid has just arrived resulting into no operations or very lack of operations which can effect the sales volume very adversely for the company.
3. Change in eating habits due to Covid
The world is going through from COVID-19 pandemic, resulting the change of food habits among the people, people have become more health conscious and their consumption had shifted to more healthy foods due to which many people may continue to avoid to have food outside of their homes having adverse effect on the sales of the Company.
4. Continuous losses and negative cash generation by the Company
The Company has been incurring the losses and generating negative cash from all activities due to heavy capital expenditures incurred by the Company in the preceding financial years.
Below tables indicates the summary of profit and loss and cash flows for the Company:
a) Summary of statement of profit or loss for the past period
| | | | | |
| --- | --- | --- | --- | --- |
| Particulars | For the Period 1.4.2020 to 30.11.2020 | For the Period ended 31.03.2020 | For the Period ended 31.03.2019 | For the Period ended 31.03.2018 |
| Revenue from operations | 2,010.03 | 8,469.70 | 7,390.16 | 5,863.37 |
| Total income | 2,366.08 | 8,507.94 | 7,425.41 | 5,904.48 |
| Profit Before Tax | (1,264.97) | (251.36) | (68.22) | 191.63 |
| Profit after tax | (1,006.48) | (329.28) | (383.86) | (58.00) |
| Basic EPS | (35.96) | (11.77) | (14.45) | (2.51) |
| Diluted EPS | (35.96) | (11.77) | (14.45) | (2.51) |
b) Summary of Cash Flows for the past period
Particulars

For the Period 1.4.2020 to 30.11.2020

For the Period ended 31.03.2020

For the P

eriod ended 31.03.2019

For the Period ended 31.03.2018

Cash flow from operating activities

320.99

1,810.53

1,222.54

1,275.48

Cash flow from investing activities

20.62

(1,529.01)

(1,291.02)

(992.82)

Cash flows from financing activities

(411.85)

(265.36)

(247.44)

72.97

Net increase/(decrease) in cash and cash equivalents

(70.24)

16.16

(315.92)

355.63
5. Further Lock Downs in the Country
The Maharashtra, Delhi and many other states are witnessing sharp rise in Covid Cases, and the experts have started to state that this is the second wave of the Covid in the country and now Tier - II and Tier-III cities will be impacted the most due to this covid wave, any further lock down in the nation due to this may
6. Interest Expenses and rise in Debt
The Company has been continuously raising the debt to fund the acquisitions made by it and for further expansion of the business which always comes with the cost of interest and the Company may find difficult to serve the interest payments if situations turn further negative for the Company due to COVID.
7. Market Risk
The Company has launched it's IPO at a time where the Nifty 50 is trading at one of the highest level of valuation, PE Ratio of Nifty 50 itself is more than 40 which doesn't provide you margin of safety, economies are witnessing the a de-growth in their GDP, but the market has seen a sharp rise arising out of the liquidity pumped by the Central Banks of the countries globally. Any bad news may lead to a sharp corrections in the markets which is going to affect the stock as well.
Concluding Remarks
The valuation of the Company doesn't provide the margin of safety and there are uncertainties over the future of the Company due to the outbreak of Covid-19 wave, only risk taking investors should consider the applying the issue and other investors should wait for things to settle down.
Disclaimer: All the information have been compiled from red herring prospectus of the Company, industry reports, and other public reports, authenticity of the content lies on the authenticity of the information processed. No information whatsoever published anywhere here should be construed as an offer to buy or sell securities, or as advice to do so in any manner whatsoever it may be. All matter published here is purely for educational and information purposes only and under no circumstances should be used for making investment decisions. Readers must consult a qualified financial advisor prior to making any actual investment decisions, based on information published here. Any reader taking decisions based on any information published here does so entirely at their own risk.
Tags :
shares stock