I will try to keep this article very short and crisp. Being a CA student, this thought comes to my mind several times that "Are we are doing good to ourselves by taking coachings?". This is not some extra-ordinary question and I am sure that many of you also must have thought about this sometime during your CA course.
Apart from my various pros viz. savings in time, better understanding of concepts, building confidence, exams oriented studies etc. and various cons like time wastage in commutation, spoon feeding, total dependence on teachers, huge costs involved etc., my analysis is totally based on a single factor which is "Transfer of Knowledge".
Recently I came across a teacher in CA Final who distributes the notes which he made in his time (when he was CA student) to the students for quick revision of the subject. While distributing these notes, the teacher himself claims that it took him lot of time in making those notes which students can now go through in a very short time period. Though I sincerely feel that such type of notes are really helpful from examination point of view but at the same time it has forced me to think once again that "Are we are doing good to ourselves by taking coachings?" So, my analysis in this regard goes like this.
This is how the transfer of knowledge is typically taking place: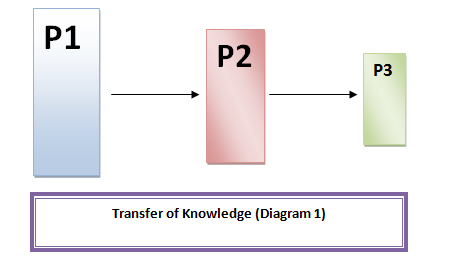 Explanation to Diagram 1
The first person who is studying on his own (P1) is guide for himself. He has to segregate the relevant part and irrelevant part from whatever he studies on the basis of his judgment. This exercise of segregation takes a lot of time but is not futile all together as P1 here learns various things which enabled him to form an opinion about usefulness of information.
At the next stage (P2 taking coaching from P1), P1 is transferring only the relevant part to P1 (which he decided on his own personal opinion) which saves a lot of time for P2. But in this exercise, the leftover part has not been transferred to P2 and also P2 is not aware about the reasoning for classification. Further, he cannot be totally sure that all the relevant part has got covered as the leftover part may also be containing something useful which P1 missed out.
This process keeps on continuing (from P2 to P3 and so on) and every time the information/ knowledge transferred to the next level is definitely lesser than what the preceding person possessed.
I want to represent this situation by way of my favorite diagram which goes like this: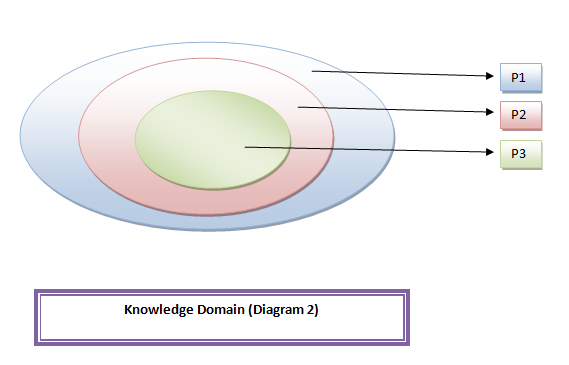 Explanation to Diagram 2
As can be seen from this, at each stage, our knowledge domain is getting smaller and I am afraid that what we are going to pass on to our next level is not really that big and what we are getting is also not the complete packet.
P.S.
1) I am not against coaching classes, I am myself taking classes for CA final but I really respect those who are studying without the help of coaching classes or those who have not made themselves totally dependent upon coaching classes.
2) @the teacher whom I referred above, I think that he is really doing a great job and we students are really happy and satisfied with him. He has just motivated me to write this article which I was procrastinating since long.
3) Agar samajh na aaye to bhi no prob as "Main dil me aata hoon, samajh me nahi!!) ;)