From 10th July KYC Drive through the e-form DIR-3KYC be operational.
MCA is conducting KYC of all Directors of all companies annually through a new eform viz. DIR-3 KYC
Every Director who has been allotted DIN on or before 31st march, 2018 and whose DIN status is 'Approved'.
Due date of filing of DIR-3KYC is on or before 31st August, 2018.
Mandatory Information DIR-3 - Unique Personal Mobile Number Personal Email ID. OTP on Email ID and Mobile No.
Certification of DIR-3 KYC is required by DSC of Director and DSC of practicing professional (CA/CS/CMA)
Filing of DIR-3 KYC would be mandatory for Disqualified Directors also.
If director fails to file DIR-3 KYC the MCA21 system will mark all approved DINs (allotted on or before 31st March 2018) against which DIR-3 KYC form has not been filed as 'Deactivated' with reason as 'Non-filing of DIR-3 KYC'
There will be following Consequences of filing of DIR-3 KYC after due date, After the due date filing of DIR-3 KYC in respect of such deactivated DINs shall be allowed upon payment of a specified fee only, without prejudice to any other action that may be taken.
MCA has notified 5 July 2018 and 15 Aug. 2018 as the Effective Date for Various Sections of the Companies (Amendment) Act, 2017, i.e. the date on which provisions of such sections shall come into force/ effect.
MCA notifies 'Nil Fee' and 'Delayed Fee of Rs. 5,000 for Filing e-Form DIR-3 KYC under rule 12A of the Companies (Appointment and Qualification of Directors) Rules, 2014, applicable w.e.f. 10 July 2018
MCA notifies format of e-form DIR-3 KYC under new Rule 12A (Directors KYC) along with procedure for restoration of deactivated DINs of Directors, applicable w.e.f. 10 July, 2018
Format of Form DIR-3 KYC has been duly prescribed in rules issued on 5th July 2018, these rules shall come into force from 10th July 2018.
PAN is mandatory in all cases to file DIR-3 KYC, if PAN details are not correct it is advisable to first get PAN details in order.
Aadhar number is mandatory to file DIR-3 KYC, if aadhar details are not correct it is advisable to first get PAN details in order.
Mobile no. and email id of shall be of director himself/herself only.
In case of foreign nationals passport is mandatory.
Start intimating your clients about this important compliance, so that it can be done well in time.
Format of eForm DIR-3 KYC is enclosed herewith for ready reference.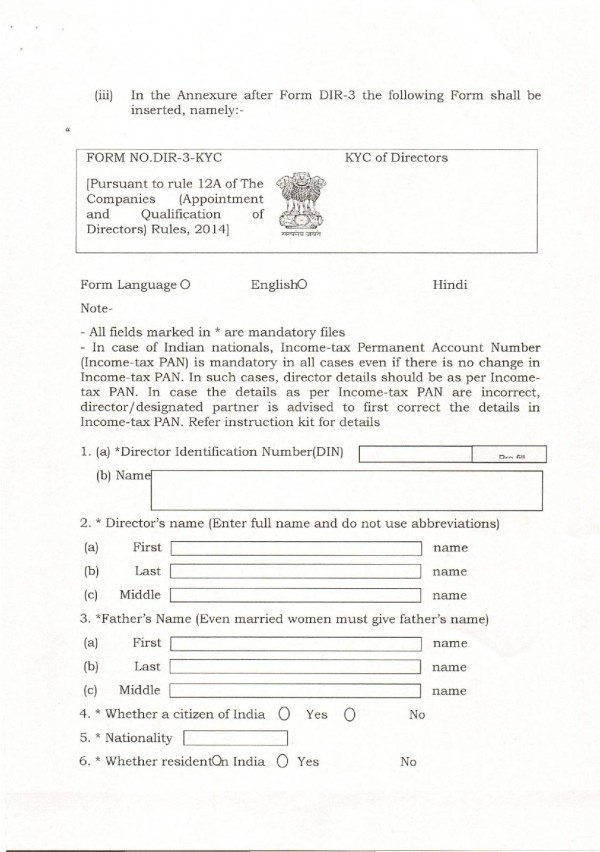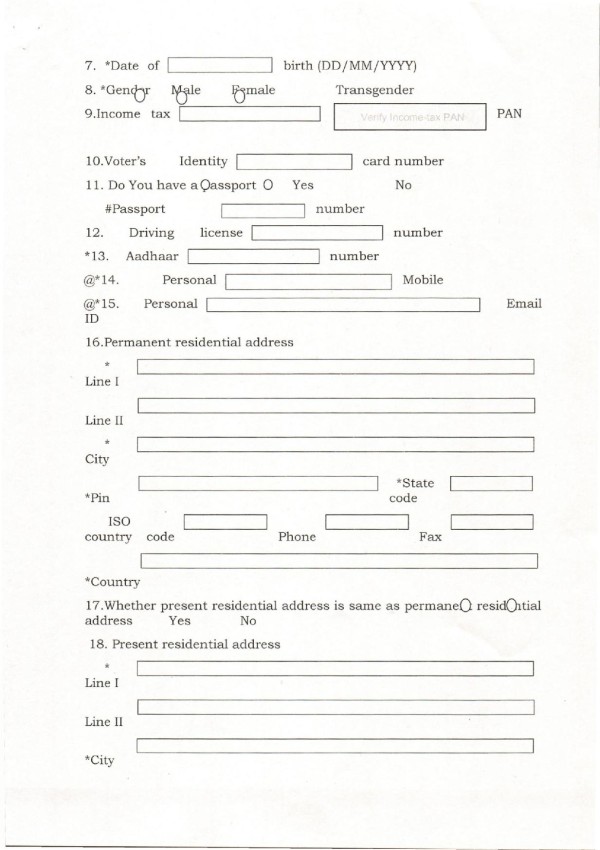 Tags
Corporate Law