Emergency situations do not come with a warning, and it is wise to be always prepared for them. These emergencies could include medical emergency, natural calamity, education expenses, etc. When these emergencies strike, one should always be in a state to deal with them in the best way possible. Some of these emergencies such as medical emergency require urgent cash, which might not be available with everyone at all times.
It's not just the emergencies that require people to dig deep into their pockets; achieving life goals could also require financial backing. Be it building/buying a home, going on a foreign vacation, purchasing the dream car, or children's marriage, everything requires money. While some may require less amount of money, but the amount is still huge and may not be readily available at all times.
So how can a person fulfil their dreams or always be prepared for emergencies? In all these cases, availing credit is a viable option; be it taking a loan from the bank or getting a credit card to enjoy rewards/cashbacks. These credit options can come to aid if a person is facing a cash crunch or is in a need of urgent cash.
So, one should always be in a position to avail any credit option they want at the earliest. And to be in that position, the primary element they should be concerned about is Credit Score.
What is a Credit Score?
Credit Score is a tool used by banks/lenders to assess a person's creditworthiness. It entails all the past credit activities of a person and how they are behaving currently when it comes to credit. It ranges from 300 to 900, with the higher figure deeming a person more creditworthy.
Just like we have different criteria to assess quality of everything, banks/lenders use credit score to assess quality of the prospective borrowers. This helps them analyse how much these people can be trusted with their money. A person who has a good credit score of above 750 can be trusted more than a person with a credit score of 500.
So, if it's the loan these two persons are seeking, the former would be much more likely to get more favourable repayment terms and higher approval chances than the latter. These repayment terms include loan amount, rate of interest, tenure, and pre-closure terms. Hence, if a bank/lender thinks you would be responsible with their money, they would be willing to lend you at a lower rate of interest. Same goes with the credit cards. A person with a good credit score will have many more credit card options available to them than a person with a low credit score.
How is Credit Score Calculated?
There are 4 credit bureaus in India that generate a person's credit score. These are Equifax, CIBILTM, Experian, and CRIF Highmark. All banks/lenders are mandated to report their borrowers' repayment and loan closure status to these bureaus. Also, if a person enquires about a loan or credit card, that enquiry will be reflected on their PAN card and available with the bureaus.
All 4 credit bureaus use the same parameters to calculate a person's credit score, albeit they assign different weight to each parameter, due to which the value of credit score differs for each of the bureaus. But, when banks/lenders look at your credit score, they take into consideration the bureau that has calculated the score and measure the creditworthiness accordingly.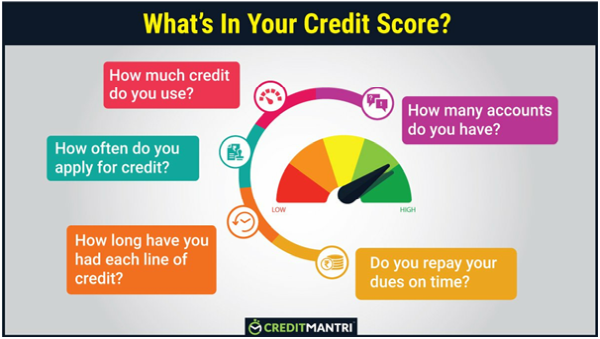 Parameters Used to Calculate Credit Score
Payment History: If you have paid all your loan EMI's and credit card bills on time for your existing/previous accounts
Number of Hard Enquiries: How many times you have applied for a loan/credit card with a bank/lender. The lower the better
Portfolio Age: How old your loan or credit card accounts are. The older the better
Credit Card Utilization Ratio: How much percentage of your credit card limit you have utilized for each credit card. Ideally, it should not exceed 40%
Borrowings Mix: The mix of secured credit (that requires a security) and unsecured credit (that doesn't require a security) in your portfolio. The mix should have both secured and unsecured credit
How to Improve Credit Score
By now, it has been understood that you should always maintain a good credit score (ideally above 750). Although, there could have been some circumstances due to which your credit score might have reduced. So, can you improve your credit score?
According to a survey conducted by CreditMantri in 2018, 61.5% of the people surveyed believe that a bad credit score lasts forever. However, the truth is you can always improve your credit score. Let's look at the ways how you can improve and maintain your credit score.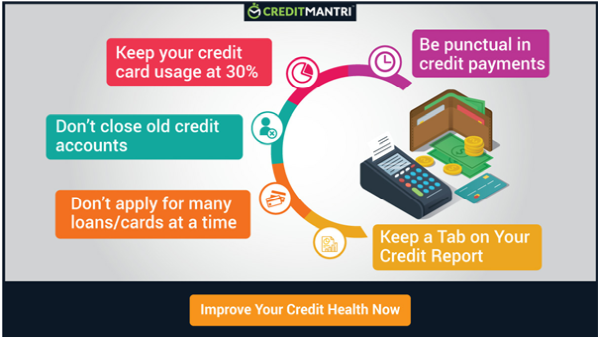 Repay Past Dues
If under any circumstances, you have missed or delayed paying your loan EMI's or credit card bills, then amend those issues at the earliest. Due to these defaults, your account might have been given a negative status by the bank. Negative accounts bring your credit score down. Repay all the missed payments with penalties and stop your credit score from falling further down.
There could be cases where people might not know how to repay their dues or they might not get the best repayment terms. In such cases, they can get the help of a professional organization like CreditMantri. By availing their help, one could get the best repayment terms and these organizations will liaison with the bank/bureau to ensure the clean closure. There could also be other reasons due to which your account might be given a negative status. These organizations would aid on that front as well.
Be Consistent in Repayments
Repaying past dues will only help in stopping your credit score from falling. Now to make further improvement in your credit score, you have to be consistent in your loan EMI and credit card bill payments. It could take 3 to 6 months to improve your credit score as banks/lenders need to be sure that you are consistent in making payments.
Keep a Low Credit Card Utilization
Credit card utilization ratio (ratio of credit card usage to the credit card limit) should be low. Ideally, it should be below 40%. If you utilize your credit limit more, the banks/lenders will deem you as a credit hungry person, which will hurt your loan approval chances.
Do Not Apply for More Credit Lines with a Low Credit Score
Until your credit score gets improved, you should refrain from applying for more lines of credit. There is a high chance that with a low credit score, you credit application would get rejected. The impact of these rejections would be that these enquiries would be counted as hard enquiries. Too many hard enquiries in a given time will hurt your credit score.
Regularly Monitor Your Credit Score
The key to maintaining a good credit score is to keep assessing how you are doing. If you are aware of your credit behaviour, you could take appropriate actions to mitigate the unwanted behaviours that could potentially harm your credit score.
You can check your credit score for free anytime. After checking your credit score, you can also analyse it with your credit report to track your missed payments and track your credit behaviour.
Final Word
Whether you are planning to avail credit or not, it is still imperative to maintain a good credit score as that gives you the strength of tackling any kind of financial emergency or urgent cash crunch. With consistent repayment of your outstanding credit dues and duly managing your expenses, you would be on track with maintaining a credit score of above 750, which will help you get loans easily.
About Us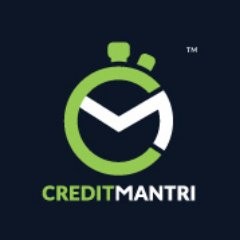 CreditMantri makes Credit Possible. It helps consumers take charge of their credit health and help them make better borrowing decisions. Users can discover loans, credit cards best matched to the credit profile, resolve issues on existing borrowings, and reduce current borrowing costs.
Tags
Income Tax