EVERYTHING is measurable in today's increasingly digital world. Clearly, businesses with a strong analytics program in place have significant advantage over those that don't. The right tracking initiatives help them effectively identify what is working and what is not, and to know whether they are making the right decisions. An effective KPI should be able to reflect, and relate directly to the business' goals. It should be quantitative and quantifiable, and linked directly to the measurement of your business' success.
So, are you being S.M.A.R.T. about it?
When you create KPIs, you should be able to answer these five questions known as the S.M.A.R.T. tips to help you identify the effective ones.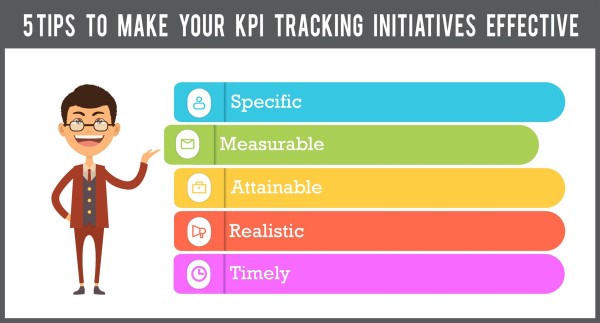 Specific: Is this KPI too broad, or is it clearly defined and identified?
Measurable: Can I easily quantify this measure?
Attainable: Is it realistic for us to obtain this measure? Can I take the appropriate measures to implement this KPI and see changes?
Realistic: Is our measure practical and pragmatic?
Timely: Are we able to look at data for this measure on a monthly or quarterly basis as opposed to annually?
To truly understand the S.M.A.R.T. tips, let us view a list of good measures. Each of these are specific, measureable, attainable, realistic, and timely.
Financial - Net new revenue: This is the difference between new gross sales and costs and is essential to analyse the financial health for the business.
Specific - New sales is clearly defined
Measurable - Can be calculated easily
Attainable - Easy access to numbers from the accounting system
Realistic - This is practical and pragmatic to track
Timely - Can be tracked each month
Customer: Net promoter score. Your NPS score gauges the health of a company's customer relationships.
Internal: Number of accurate deliveries within a service window. This helps to determine the efficiency of internal processes.
Learning & Growth: Employee satisfaction. It is difficult to have timely employee evaluations and not give them unfair advantages. Unlike that, employee satisfaction is a realistic and important measure that adheres to the M.A.R.T. tips.
Meeting strategic goals is nearly impossible without well-thought-out projects, targets, and measures. The best KPIs help you understand what you can influence and what actions you can take through their measurement.
The author can also be reached at kganeshan@gmail.com
Tags :
others