Update:
On the 31st of October 2019 CBDT announced extension of due date to file Income Tax Return/Tax Audit Report to the 30th November, 2019 for the UT of J&K and UT of Ladakh after consideration of reports of disturbance in Internet Facility.
The Gujarat Federation of Tax Consultants (AGFTC) & Income Tax Bar Association (ITBA), Ahmedabad made a representation on behalf of the taxpayers to Honourable Union Minister of Finance, Smt. Nirmala Sitharaman to extend the due date for submitting Tax Audit Reports. The association in the representation said that generally there is a gap of two months between the filing of returns and submission of the Tax Audit Report. However, this year due to the extension of due date to file the Income Tax Return this gap has shrunk down to 1 month which leaves them with less time to complete the Tax Audit. Also the e-filing software were not fully functional before July 31st. Many states in India have also been hit by flood this year and are facing difficulty.
The Chamber of Tax Consultants, Mumbai in their report said that there was a delay in making available the Income Tax Return Utilities by the government. Not only has there been a delay but the Utilities were frequently updated which hampered filing of Income Tax Filing Return for the taxpayers.
On being asked whether or not the due date to submit the Tax Audit Report should be extended the Chartered Accountants replied that the extension of due date to file GSTR 9/9A/9C was very last time and considering the complexities of the GST Forms the government should pay heed to the fact that the Chartered Accountants had devoted their major time in addressing the complexities in GSTR forms for their clients. They also said that since the due date to file the Income Tax Return in non audit cases got extended from the 31st of July to the 31st of August, most of their time was occupied in filing the Income Tax Returns of their clients till the 31st of August. We are incorporating the statements of some of the members of our community requesting extension of Tax Audit Report Submission: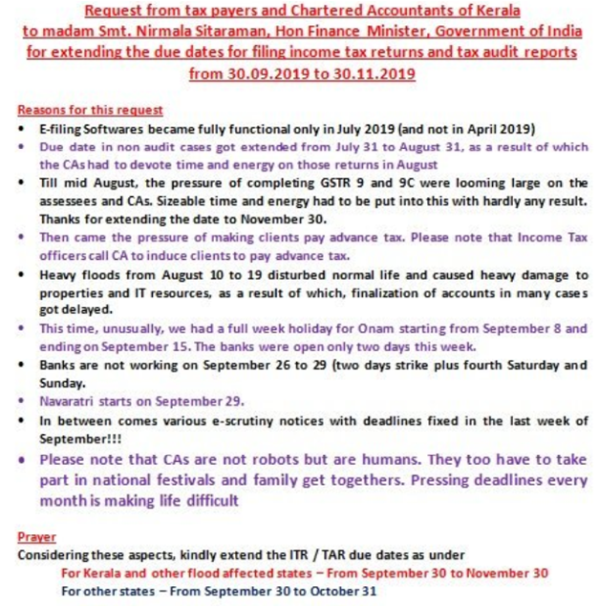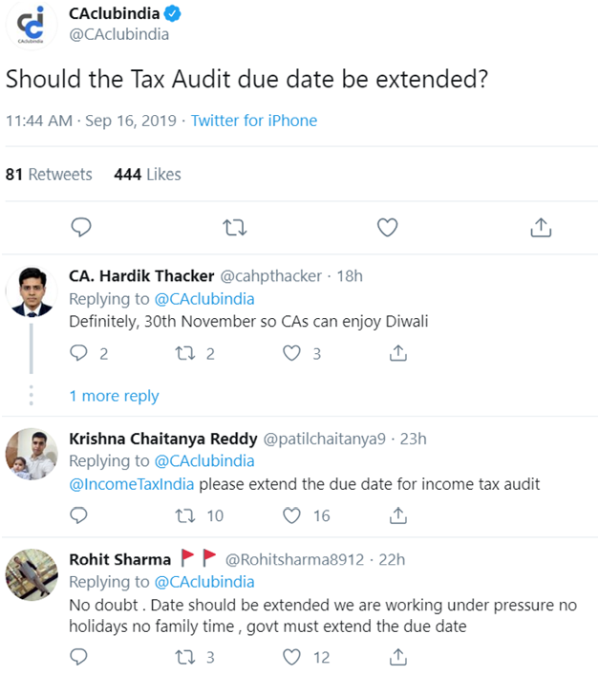 The government in the previous years has multiple times extended the due date to submit the Tax Audit Report for the benefit of the assessees. To save the assessees from the consequences of delay in tax audit and the penalty amount, the government extended the due date to submit Tax Audit Report from 30th September,2019 to 31st October, 2019.
Click here to read the full news.
Tags
cbdt
Audit