A few one-liners:
Current Gig: CFO, NDTV Gadgets360 and Head Finance (Vice President) - NDTV Convergence
One quote that you live by: Work Works
Favorite Book/ Movie:12 Angry Men, Book: Shrimad Bhagwat Gita and Shri Ram Charitra Manas
1. How would you like to introduce yourself to our readers?
I have been working NDTV from last 10 years and currently, I' m heading finance for NDTV.com and Gadgets360. NDTV.com is number 1 destination for online news in India and number 20th in the world. Gadgets360 is again number 1 in India and among Top 10 tech website in the world. (Source: NDTV Q3, FY 17-18 Press release)
2. Tell us about your journey so far
I belong to Delhi and cleared my CA Exams in 2003. The time when I was in school, there were very limited options to go for further studies in Commerce. CA was one of the them and the best one too. Also, CA provided me various avenues to work in like Audit, Taxation or Accounting etc.
I started my career with Deloitte- one of the Big 4s, learnt a lot about variety of industries for 4+ years. Thereafter, I joined media conglomerate and done lot of stuff on a CFO' s bucket list.
Post CA, I have done a course on IFRS from ACCA (UK) in 2008 and Senior Management Programme from IIM-Calcutta in 2015-16.
Initially, when I started working with NDTV, I used work on NDTV24x7 News Channel segment. Slowly, with the rise Internet and tech, our digital business became so big that I had to shift partially to this segment. Later on in 2014, digital business required special attentions and thus I moved completely to the segment.
3. What are your roles and responsibilities as CFO?
Being head of finance the overall responsibilities of managing the finance division is with me which includes treasury, accounting, budgeting, MIS or talking to investors. Basically, everything that comes under the Umbrella of Finance is my responsibility.
4. How was experience with Senior Management Programme from IIM-Calcutta?
It was one-year senior executive programme which requires you to have more than 10 years of work experience. When you do a professional course like (CA/CS/CWA) your circle of acquaintances remain closed to the people from same fraternity.
However, when I did this course, 70-80% of our batch were from non-finance background like doctors, engineers or armed forces that helps you to get a diverse perspective towards things. Also, the course content was really different from what we study in CA with subjects like Operations Management etc.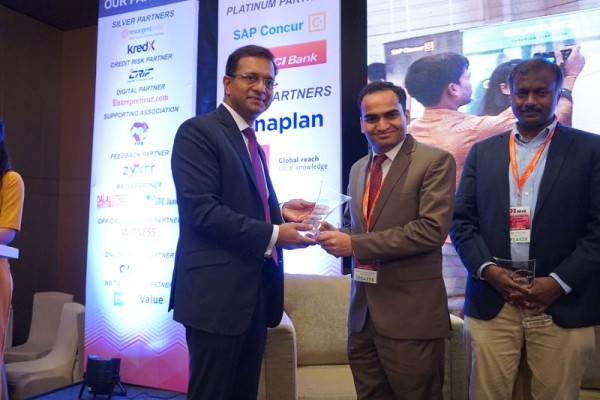 5. Please share some experience from your CA Journey?
CA is a tough course to complete and is a learning experience throughout. Even if one takes more than one attempt to succeed it only adds to the learning experience. However, it is advisable for one to look at the mistakes one made and work on them.
I remember appearing for both the groups in CA final and clearing 1st one. I reflected back and discussed with a few people and come to realize that my reading speed was slower than expected. I worked upon that and improved my reading speed to 350 words per minute. It helped in the way that I could revise the entire course before the exam and cleared it with much ease.
6. What is your favorite stress buster? How do you manage your time during a day?
Doing some kind of physical activity is essential. I walk 4-5 kms a day plus anddo bit of yoga/exercise to rejuvenate myself again. Also, rather than focusing on stress - one should focus on distressing himself like play some kind of sports, paint or dance.
7. What's your secret hack of making office hours super productive?
Have good intentions while you work and witness your time and energy level during the day. Be relaxed and look out for solutions despite the pressure and work load. If you do that it will take care of productivity. Also, plan for the next day in advance, I do it by keeping a to-do list for my work.
8. What is the best professional advice that you've ever received?
"If you have power then be responsible" - At times we make mistakes when we get power, we do not remain as humble as we should be. It' s very important that once we have the power, we should behave responsibly.
If we see here, responsibility is made up of two words - Response + Ability, it means that we have the power/ ability to choose our response. We need not to be reactive to things. We should deliberately choose our responses by taking small pause before reacting to something external.
9. Through the course of your 15 years' plus experience, what have been the key learnings that helped you to create your career?
There is no substitute to hardwork.
Be a business partner. Always look to help and take help. Human beings work and achieve better as a team.
Keep your mind young. Be a student for life and that not only adds to your knowledge repository but also makes one humble!
Stay relaxed and smile, nothing is more important that a good health
10. Have you transferred into a Digital CFO yet?
Fortunately, I had no choice but to transform into a Digital CFO as I have been heading finance for Digital and technology companies for last 10 years.
11. How do you look forward to your CFO role in the next 5 years?
I see adding more and more value to the business than ever before. The role of CFO is a combination of various different roles such as he' s also your Chief Communication Officer as he communicates with various departments within and out the organization. He' s also in some sense Chief Strategy Officer to prepare various strategies and put them in action.
12. Please share some key insights about your leadership approach
Lead by example. People do what you do and not what you say.
Stay very calm. Temper spoils work and health both.
Be a good listener. It' s tough but worth it. You will always get to learn something new.
Stay fit. A good mind resides in a good body.
I also follow the strategy of "Trust but Check" - I trust my team but I check wherever there' s a need of check.
13. Lastly, What will be your career advice for the budding finance professionals who aspire to achieve great heights in their career?
Work hard.
Keep fighting. If you lose a battle then assume / remember life is long and full of opportunities. Look for the next opportunity and fight again. It' s never ever too late.
Don' t compromise your health for anything not even for your ambition. With good health, you can achieve a lot, almost everything under the sun.
Stay ethical. It matters in long run.
Stay tuned with CAclubindia for more such Interviews in the future.
Tags
Career