When being asked about the tentative time of bringing Petrol under the new GST regime, the Goods and Service tax council member and Bihar Dy. Chief Minister Sushil Kumar Modi ruled its possibility out in the near future.
While addressing the PHD Chamber's event, he said: If petrol, diesel are to be brought under the GST Umbrella, in such cases a 28% of the tax will be levied and additionally the states will be allowed to levy additional taxes to prop up revenue. It will take some time to include petrol and great consensus, diesel in GST as the states have divergent views.
He added "45-50% of tax revenues for all the states come from petrol and diesel - that's a big cut on the revenue, if brought under GST. It will result to huge loss in terms of revenue for both Central and States
Modi also said that instead of focusing on petrol and diesel inclusion under GST, GST council on their next meeting on 21st July will be focusing on simplification of the GST procedures and returns. There's a lot to be done to streamline the whole GST infrastructure.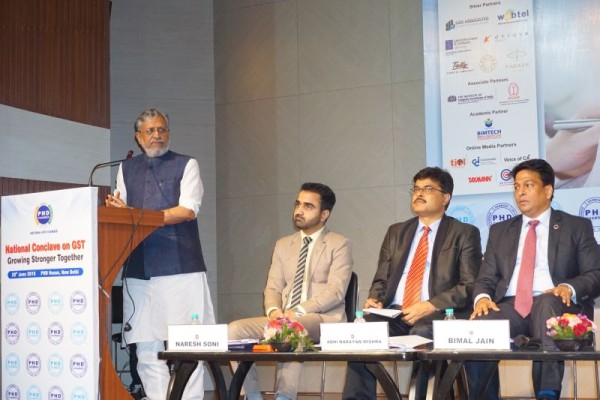 Also, addressing the PHD Chamber of Commerce's National Conclave on "GST - Growing Stronger Together" on the issue of bringing down the 28% top slab of GST for range of products generally used for mass production, Sushil Modi clarified saying that the GST council is determined to do that but due to revenue constraints it will take some more time. The GST Council might take a decision on the issue once the GST collections get stabilized to around Rs. 1,00,000 crores per month.
Also, moving forward, Council along with the support of GST Network will be putting forth new Return format on public domain so that public can try and test them and the issues concerned can be corrected beforehand.
The average monthly GST collection stood at Rs. 90,000 approx. during the year 2017-18 with a CAGR of 14%, which is quite great consider the quantum of reform and its effect on general public.
Tags :
GST