Most Pathetic of All Time Decisions In My Opinion As It Is Now Confirmed.... Few Years Back The Council Announced CPT And Take Back The Exemption Given To Graduates For Applying Directly To Prefessional Education-2.. Even At That TIme The Decision Was Criticised But Afterwards The Quality Of Candidated At Intermediate Level Improved As It Was Expected By Most Of The Practicing Members of The Institute Thought At That Time..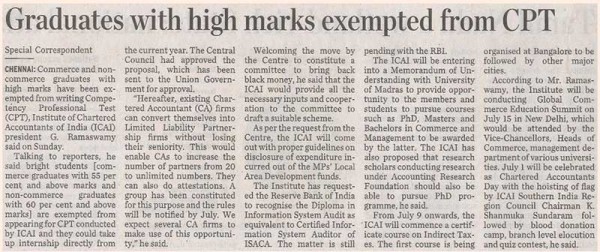 And Once Again The Council Is Back On Track With A View Of Making More & More Money... Because We All Know The Difference Between A College Students Way Of Studying And Our Way Of Studying...
I Did Graduated From A Regular College At University of Delhi And I Know What They Teach And What Not...!!!
But I Want You All To Kindly Have A Look At The Article Printed In An Newaspaper Which Too Is Posted On ICAI's Official Webste And Pay Attention To The 3rd Paragraph... If I Am Not Wrong Then The Statements Means That Te Graduate Applying To The Course Will Be Starting Their Articleship & Simultaneously Preparing For IPCC Group-I Whereas We Who Unfortunately Couldn't Clear Because Of Few Marks Will Not Be Allowed Until Clearing Group-I Though We Have More Knowledge Than Most Of The Graduates...!!!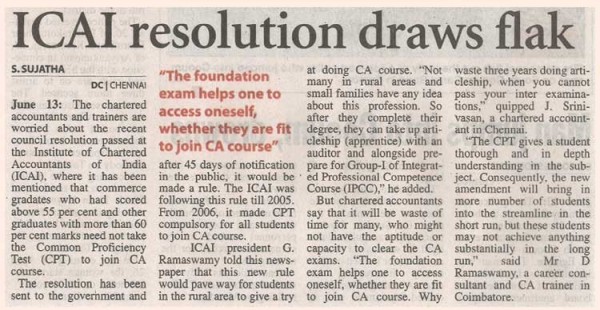 If This Happen Then The Graduates Will Be Doing Articleship And Preparing For IPCC As Well And IPCC Students Will Be Sitting On The Lines Only Preparing And Not Doing Articleship Unless The Passing Group-I.
This Article Is Not A Personal Attack To Any Of Our Graduate Friends...!! So Kindly Be Logical Before Posting Any Replies...!!!
Regards
Vicky...!!!