The Income Tax Department has released a Corrigendum to order under section 119 of the Income-tax Act dated 11/01/2021 which clarified that no further extension shall be made in due dates compliances of the Income Tax Act. Read the Corringedum released below:
F. NO. 370153/39/2020-TPL
GOVERNMENT OF INDIA
MINISTRY OF FINANCE
DEPARTMENT OF REVENUE
(CENTRAL BOARD OF DIRECT TAXES)
(TAX POLICY AND LEGISLATION DIVISION) ***********
New Delhi, 12th January, 2021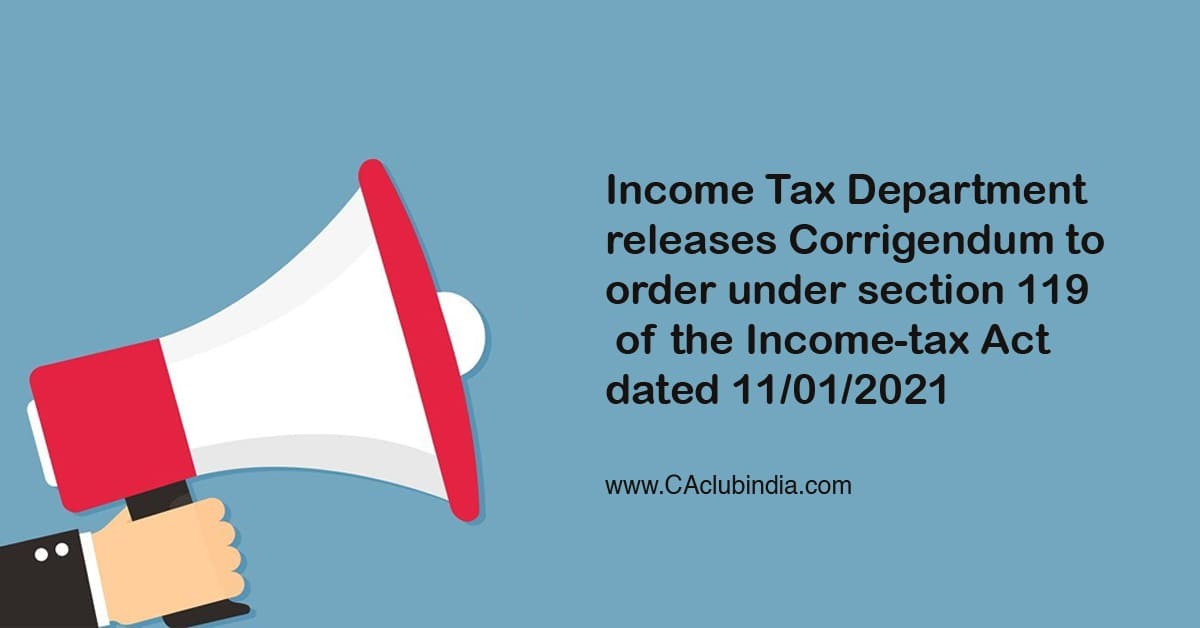 CORRIGENDUM
In the order under section 119 of the Income tax Act, 1961, F.No. 370153/39/2020- TPL dated 11th January, 2021 issued by the Central Board of Direct taxes,-1. in the table at para 7 the rows related to Singapore and Brazil shall be read as follows:

2. the following footnote shall be inserted below para 7,-
"Source -
i. https://www.irs.gov/
ii. https://www.gov.uk/
iii. haps://www.charteredaccountantsanz.com/
iv. https:/ /www.sars.gov.za/
v. https://www.revenue.ie/
vi. https://mffa.nl/
vii. httos://www.iras.gov.sgi
viii.https://www.canada.cai
ix. (a) https://home.kpmg/ (b) http://normas.receitalazenda.gov.bri"
[Shefali Singh]
Under Secretary, TPL-IV
Tags :
income tax