The Western Maharashtra Tax Practitioner's Association has called for an All India Protest on 29th January 2021, outside CGST Office in Each District/City of Whole India against the rigid approach of the Central Government, in not extending the due dates for filing GST Returns. Read the official representation letter below:
THE WESTERN MAHARASHTRA TAX PRACTITIONERS' ASSOCIATION
ALL INDIA PROTEST CALL BY WMTPA
On 29th Jan 2021, outside CGST Office in Each District/City of Whole India
To,
Respected
All Tax Consultant Associations,
All Trade Bodies and Professional Associations All Consultants, Professionals 0 CA, CMA, CS, Advocates
In recent past, All professionals and Trade is suffering a lot, due to - Frequent Changes in Law, Complex Portal, Unstable GST and Forced to work on Sundays as well. Government is neither listening to representations submitted by various associations, nor listening to court direction in true spirit. In Covid 19 pandemic, all professionals and Trade, ignoring life and death risk, ensured that, India will stand again, paid taxes in lakh crores but it seems government doesn't recognize us. Therefore, there is high time that, we all should come together, stand united and come onto street, to protest against:
o Rigid Approach of Government against Professionals and Trade
o Unstable GST, Denial of Input Tax Credit, No Revision of GST Return allowed, Mid night rain of notifications, Excessive power to authorities for cancellation of Registration and Blocking of ITC, causing big harassment
o Failed GST Portal, having numerous issues
o Income Tax Utilities not made available on time and changed frequently, Extension of CFSS
We request all association and Trade bodies to come forward and join this All India Protest call by WMTPA, against rigid approach of Government. You have to do protest outside your regional CGST Office on 29th Jan 2021, on eve of "Mahatma Gandhi Punya Smritidin"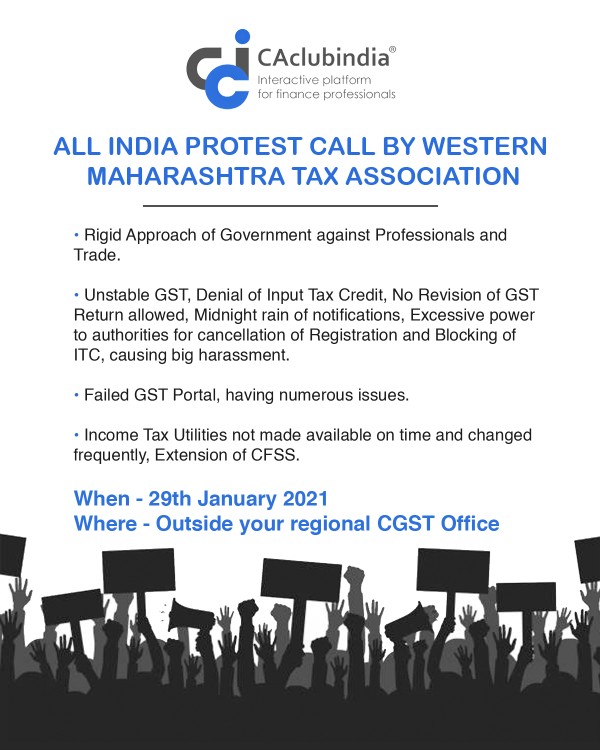 United We Stand, Divided We Fall.
For The Western Maharashtra Tax Practitioner's Associations
Team WMTPA
Tags :
income tax