The due date to file Income Tax Return(ITR) for Financial Year 18-19(Assessment Year 2019-2020) falls on the 31st of July 2020. Due to the outbreak of COVID-19 pandemic the due date to file ITR for FY 18-19 was first extended to 30th June 2020 and later extended to 31st July 2020 from 31st March 2020. It is a matter of fact that the situations have not become any better and the number of cases are shooting up at an exponential rate every day. The COVID tally touches a record high every day. Many states in India are still in lockdown and people have not been able to resume working.
Various tax bar associations requested on behalf of the taxpayers to extend the due date to file ITR(Income Tax Return) for AY 19-20. The Tax Bar Association of Jabalpur took to Social Media and tweeted, " Given the present nationwide contagious situation due to COVID-19, it is earnestly requested to Income Tax Department to extend the date for filing of ITR of AY 19-20 further till 31-08-20 in the interest of the assesses who have yet not been able to file their return, since no more chance shall be available to them."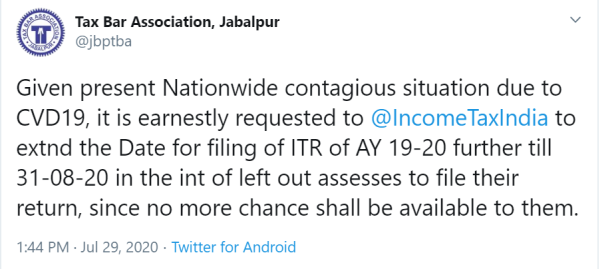 Do you think that the due date to file the Income Tax Return(ITR) should further be extended?
Also Read:
Consequences of filing ITR(Income Tax Return) after the due date
Tags :
income tax
itr