A PIL was filed by Advocate Alakh Alok Srivastav seeking to put stay-on the "Opt-Out" Scheme by ICAI, calling the scheme as discriminatory. The PIL filed by the advocate on behalf of India Wide Parents Association also seeks more Exam Centres and more precautions from coronavirus. The first hearing of the PIL was held on the 26th of June, 2020 led by a two-judge virtual bench- HON'BLE MR. JUSTICE A.M. KHANWILKAR HON'BLE MR. JUSTICE DINESH MAHESHWARI. Upon hearing the Counsel the Hon'ble Court ordered, "ICAI seeks the liberty to place certain facts on record by way of an affidavit, which it intends to file before 29th June 2020 through e-mail. Accordingly, the matter will be listed on 29th June 2020."
The second hearing of the case was held on the 29th of June 2020. Hon'ble Court ordered ICAI to prepare a comprehensive notification addressing all concerns of CA Students and the matter will be next listed on the 2nd of July. After the hearing was held Advocate Alakh Alok Srivastav took to Social Media and tweeted, "I am Grateful to Hon'ble Supreme Court for hearing me in length today in our CA Exam PIL. Upon hearing the parties, Court has directed ICAI to prepare a comprehensive Notification, addressing all concerns of CA Students & to follow MHA Guidelines. Matter was next listed on 2nd July ."
As on the 2nd of July, ICAI sought a one-week adjournment to check whether this Exam can be even conducted or not due to the exponential rise in coronavirus cases. SC accordingly directed ICAI to check if it is possible to conduct this Exam. The next hearing is on the 10th of July
The PIL had been filed on behalf of the India Wide Parents Association seeking to put stay on the Opt-Out Scheme on the 23rd of June. After the PIL was filed ICAI had further extended the last date to avail the option to Opt-Out from July 2020 CA Exams.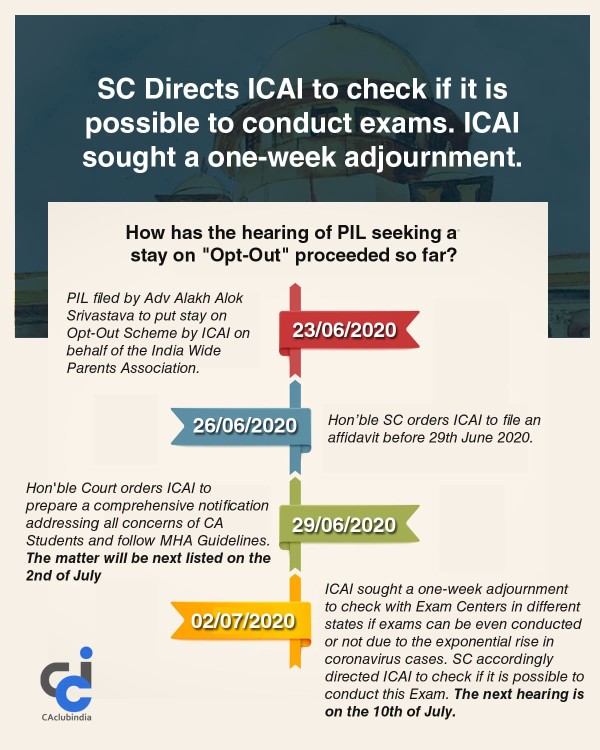 Also Read:
What is Opt-Out Scheme by ICAI?
Tags :
icai
ca students