What is the Event about?
The 33rd Annual International Seminar is organised by the Abu Dhabi chapter of the ICAI, and will be held at a hotel in Abu Dhabi on 25th and 26th November 2021. 'Building Resilience - Emerging Stronger,' is the theme of the event. It is described as "a spectacular event for professional and business networking, knowledge sharing on financial topics, ideas on innovation and integration, motivation and words of wisdom and a lot more".
Why was Sudhir Chaudhary dropped as one of the speakers?
Sudhir Chaudhary, Editor-in-Chief and CEO of Zee News was supposed to be one of the speakers at the event. However, UAE princess and businesswoman Hend bint Faisal Al Qasim opposed this decision and asked the ICAI on Twitter why they were bringing an "intolerant terrorist", "Islamophobe and hater" to the UAE.
Letter by ICAI UAE Members to drop Sudhir Chaudhary
As such, thirty members of the ICAI's Abu Dhabi chapter had written to the organisation's committee members on Sunday, requesting them to drop Sudhir from the panel of speakers. In the letter and a meeting that followed, they accused Sudhir of "manufacturing and spreading fake news, Islamophobia and communal hatred, doctoring tapes," and more.
"Sudhir Choudhary has been accused of manufacturing and spreading fake news, Islamophobia and communal hatred, doctoring tapes etc. Should we, a prestigious professional body, invite and offer a platform and audience to an unprofessional journalist and thereby reduce our dignity and honor", the members wrote in the letter shared on Twitter by the UAE Royal
They further wrote, "UAE is known for tolerance, it accommodates people from all over the world of different faiths and cultures - Should we invite an intolerant person and give scope to pollute such a beautiful feeling, that too when UAE is celebrating its 50th National Day?"
Letter Shared by the Princess
The princess shared the letter in her official Twitter handle and wrote: Sudheer Chaudhary dropped from the panel of speakers at the Abu Dhabi Chartered Accountants.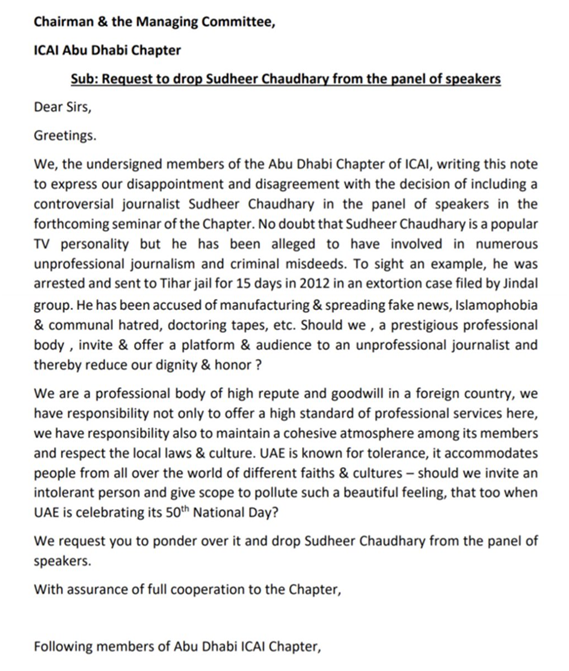 Decision by the committee as per Anonymous ICAI Members
According to the members, their request to disinvite Sudhir was declined as the committee said it was too late and they would not be able to find a replacement. Sudhir's name is also still there on the ICAI's website.
Who are the other panelists?
The panel apart from Sudhir includes UAE minister of state for foreign trade Dr Thani Bin Ahmed Al Zeyoudi, ICAI president Nihar N Jambusaria, HDFC vice chairman and CEO Keki Mistry, Manappuram Finance MD and CEO V P Nandakumar , director and film producer Shekhar Kapur, IPS officer and author Amit Lodha, Avenue Supermarkets chairman Ramesh Damani, and paralympics medalist Bhavina Patel.
Tags :
icai
professional resource