The Institute of Chartered Accountants of India signed an Addendum to the existing MRA with the Institute of Chartered Accountants-Australia and Certified Practicing Accountant (CPA) Australia on September 19, 2014 coinciding with the 3rd Annual International Conference "Australia India: Changing Perspective". The MRA was signed by CA.K. Raghu, President, ICAI, Mr. Alex Malley, CEO, CPA Australia and Mr. Lee White, CEO, ICAA (CA Australia). The event was graced by Hon. Dominic Perrottet, NSW Finance & Services Minister and Hon. Charles Cassucelli, MP. The event was witnessed by 125 delegates, representatives of centers in Perth, Adelaide and Canberra and Singapore & Abu Dhabi Chapters and participants from Sydney.

The landmark MRA renewal by ICAI (CA India) with both the institutes CA Australia – 1 year and CPA Australia 5 years recognizes the qualification, training of each other's registered members in good standing by prescribing a bridging mechanism on principles of reciprocity. All the three accounting bodies strongly believe that the renewal of the MRA will accelerate the growth between the two countries at a new level.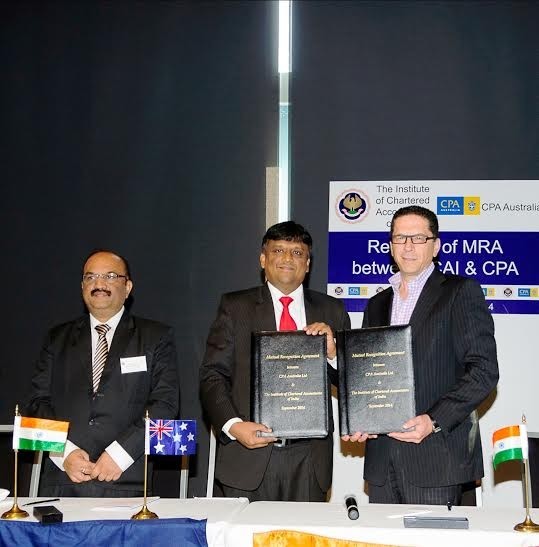 CA. K. Raghu, President, ICAI and Mr. Alex Malley, CEO, CPA Australia
exchanging signed MRA documents in Sydney
A brief introduction of the three institutes:

ICAI (CA India) known as The Institute of Chartered Accountants of India is a statutory body established by an Act of Parliament passing CA enactment of 1949 which monitors the chartered accountancy profession in India operating under the ministry of Corporate Affairs. The ICAI has five Regional Councils and 147 branches covering the entire geographical location and 23 chapters overseas. The main functions of the Institute of the ICAI is to establish and maintain a chartered accountancy qualification an operational framework , arranging practical training for chartered accountant, carrying on activities for development of the profession and regulation and maintenance of status and standard of professional qualification of the members represents the interests of members to government.

About ICAA (CA Australia) The Institute of Chartered Accountants in Australia (the Institute) constituted by Royal Charter in 1928, is the professional body representing Chartered Accountants in Australia. The Institute has more than 62,000 members. Its members work in diverse roles across commerce and industry, academia, government, and public practice throughout Australia and in 107 countries around the world by actively connecting to local and international bodies on public policy, government legislation and regulatory issue.

CPA Australia CPA Australia is one of the world's largest accounting bodies with a membership of more than 150,000 finance, accounting and business professionals in 121 countries across the globe. CPA Australia's core services to Members include education, training, technical support and advocacy. Employees and Members work together with local and international bodies to represent the views and concerns of the profession to governments, regulators, industries, academia and the general public.
Tags :
Others