Dear Professional Colleagues,
In the 2021 report released this month, the United Nations Conference on Trade and Development (UNCTAD) expects the Indian GDP to grow at 7.2% in the year 2021. The UN body also discerns India to outpace all other major economies to achieve the highest growth rate next year, though it shall be slower at 6.7%. It is indeed a healthy recognition of the potential and resilience of the Indian economy. In the bewildering confines of the pandemic, we all have learnt to work our ways around new challenges that transformed our ways of working, living, and getting around with everything.
"One can choose to go back towards safety or forward towards growth. Growth must be chosen again and again; fear must be overcome again and again", said Abraham Maslow. In order to face new challenges posed by the pandemic, the personal characteristics like hard work, perseverance, adaptability, independence, integrity and excellence have been the lifeline for the professionals to respond to new requirements and continue working in all possible aspects. Technology has been truly a great saviour in these challenging times. Businesses, offices, and educational institutions have been able to keep going, all thanks to technology that connects us and enables essential functions to continue despite the obstacles. What has become a vital component of growth for the accounting profession is the shift towards the digital workspace. Accounting professionals have the benefit of ascertaining processes in a seamless way and arriving at decisive results efficiently while assisting other constituents of economy.

Learning how to adapt, accommodate and fine-tune the digital mode of functioning including learning theoretical and practical skills, can ensure that future professionals will have attributes that will be relevant not only to the qualified professionals like CAs but also ensure continuation of services and other essential functions that are primarily based on digital platforms in the face of disruptions. With this, the future professionals will be able to keep pace with both technological and societal challenges. Every challenge is an opportunity to improvise and develop innovative ways of dealing with it and as such we must continue to learn and grow from such events.

This September, ICAI has formally set the ball rolling for ICAI's triennial elections to choose the members of 25th Central and 24th Regional Councils. The elections provide an opportunity for members of the Indian Accounting profession to assert themselves and choose the persons whose priorities and ideas best suit for the profession. I am sure that you are going to vote with integrity and responsibility to elect worthy candidates in the overall interests of accountancy profession and Indian economy.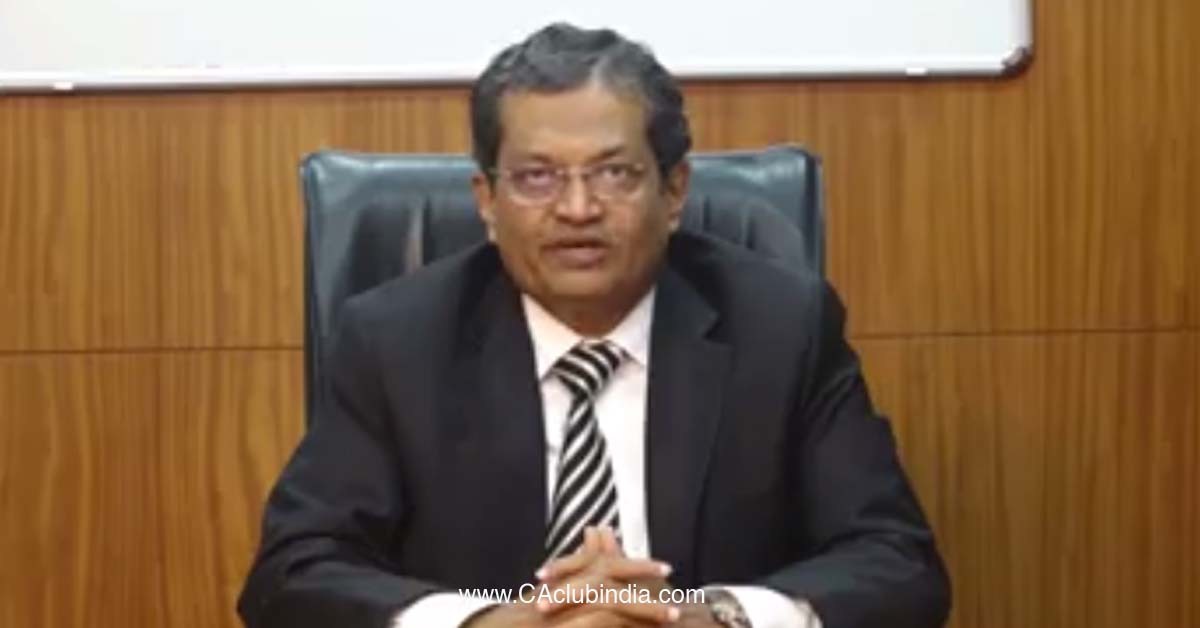 Presentation before Parliamentary Standing Committee
ICAI, as a partner in Nation Building works closely with the Indian Government on various matters to ease out challenges and build a conducive growth ecosystem. Recently, Department-related Parliamentary Standing Committee on Transport, Tourism and Culture, comprising 31 Members of Parliament, headed by Shri T.G. Venkatesh, Hon'ble M.P., Rajya Sabha, invited ICAI as well as industry representatives to hear views/ inputs on the efficacy of the relief and audit measures put in place by the Government of India for various sectors viz., civil aviation, road, shipping, hospitality, heritage and culture, to tackle the difficulties faced on account of the Coronavirus pandemic. A meeting of members holding senior positions in some of the industries was held virtually to discuss the matter and take inputs on the same. Based on these views, I made a presentation before the Parliamentary Standing Committee on 9th September, 2021.
Union Cabinet Minister of Fisheries, Animal Husbandry and Dairying visits ICAI
I am pleased to inform that Union Cabinet Minister of Fisheries, Animal Husbandry and Dairying, Shri Parshottam Rupala visited the Institute and addressed the Council meeting on September 17th, 2021. He complimented ICAI and its Members for contributing to the economic development of the Country and towards nation building efforts. He also launched a handbook on MDP-CAs in Practice- Guidelines, FAQs & Reference Material during his visit. We assured him to provide comprehensive support and contribution in strengthening the process of growth and development in the concerned sectors. Further, discussions were made on the challenges faced by the cooperatives and how the accounting profession can contribute in their functioning and growth. ICAI assured its services and offered helping hand to the Ministry.
Residential Meet of CA Members in Public Service
A Residential Meet of CA Members in Public Service was recently organised in Udaipur which witnessed participation of our Members in Parliament, Judiciary and Appellate Authority, from administrative services like IAS, IFS, IPS, IRS and Others. The Inaugural session was graced by Hon'ble Maharaj Kumar Sahib Lakshyaraj Singh Ji, Mewar of Udaipur. He expressed that Chartered Accountants are the backbone of economy and play a critical role in the industrial development. CA. Suresh P. Prabhu, Hon'ble Member of Parliament & Former Union Minister also graced the occasion with his words of appreciation for ICAI about its increasing role in Governmental policy making and implementation in discharge of justice, ensuring law and order or foreign policy or statutory administration. CA. Thomas Chazhikadan, Hon'ble Member of Parliament, Lok Sabha and CA. Subhash Chandra Baheria, Hon'ble Member of Parliament, Lok Sabha expressed that such Residential Meets help in bringing the profession closer with discussions and suggestions.
Leadership and Positioning the Profession at Global level
In the present challenging times, globalisation has acquired a new, fast, and more comprehensive form, with India emerging as a potentially dominant player. The rapidly growing Indian economy and the efforts taken by the Indian Government to improve the ease of doing business have reemphasised the need for globalisation for Indian accountants. Earlier, the Union Cabinet approved a proposal of the Department of Commerce to focus on 12 Champion Services Sectors for promoting their development and realizing their potential. With accounting and finance services as one of the champion sectors, ICAI has an important role to play. ICAI has been expanding its network and activities to various countries in order to bring new dimensions to collaborative growth. In this regard, I am pleased to inform about the following developments:
Virtual Signing Ceremony of MoU with CA ANZ
We signed an MoU with Chartered Accountants Australia and New Zealand (CA ANZ) at a virtual event on September 10, 2021 for a period of 5 years. With this MoU, the two Institutes shall recognize the qualification, training and admit the members in good standing by prescribing a bridging mechanism and would pave way for enhanced professional opportunities for members at either end.
Approval of MoUs by Union Cabinet
In a further development, the Union Cabinet, chaired by the Hon'ble Prime Minister, Shri Narendra Modi, has approved the MoU between the Institute of Chartered Accountants of India (ICAI) and Institute of Professional Accountants of Russia (IPAR) on August 25, 2021 and MoU between the ICAI and The Chamber of Auditors of the Republic of Azerbaijan (CAAR) on September 8, 2021. Both these MoUs are expected to be signed soon. These MoUs would help in establishing mutual cooperation with the respective Institutes and with these additions ICAI now has a total 23 MoUs/MRAs with global organisations.
Virtual launch of South Africa (Johannesburg) Chapter and Thailand (Ang Thong) Representative Office of ICAI
ICAI inaugurated its 44th Chapter in South Africa (Johannesburg) and Representative Office at Ang Thong, Thailand in a virtual ceremony on August 21, 2021. The event was graced by Ms. Anju Ranjan, Hon'ble Consul General of India to Johannesburg, South Africa; CA. Mahaveer Singhvi, Joint Secretary, Ministry of External Affairs, Govt. of India; Mr. Freeman Nomvalo, Chief Executive Officer, South African Institute of Chartered Accountants (SAICA) and other eminent guests. The Institute now has 44 Overseas Chapters and 25 Representative Offices in 69 cities of the world spanning across 45 countries.
International Research Awards
ICAI under the aegis of the Research Committee organised an Award Presentation Ceremony for the "ICAI International Research Awards 2021" on 31st August 2021 (Tuesday) in the presence of Chief Guest Shri Ramesh Bais, Hon'ble Governor of Jharkhand. Mr. Allan Johnson, President IFAC addressed the awardees through virtual mode. A total of 14 Research papers were awarded in "ICAI International Research Awards 2021".
Promoting Hindi Language
At a time when the whole world is looking at India as a global leader, successor and torch bearer, our language must also be a global beacon. With the government's focus on making India, 'Aatmanirbhar Bharat', it also focuses on us being 'Aatmanirbhar' with our mother tongue and its nationalistic approach. 14th September is marked as Hindi Diwas and this day gives us a message to be proud of our heritage with a focus on language. I believe there should not be a specific day for Hindi, rather, Hindi should be part of our life. This day reminds us of our heritage and linguistic identity. We should be proudly speaking our rajbhasha on any occasion. Realising the power of our mother tongue Hindi, ICAI is trying to incorporate more use of Hindi into its work culture. As part of the professional behaviour, all the employees took the Rajbhasha Pledge to use and promote Hindi in our lives on this day. Members are also encouraged to adopt Hindi language in their work and interactions with other stakeholders.
Hearty Congratulations to meritorious ICAI Students
This month ICAI released the results of Chartered Accountancy examinations held in July 2021. In a brilliant streak, girls swept the top ranks in both old and new courses in final examinations. The achievers proved that success needs just dedication and stern will power. The high percentages secured by these, and other students prove the abilities and mettle of CA students. On our part, we have always motivated the younger generation to give their best in academics so that they can contribute to the success of the country with their honest approach and zeal.
Heartiest greetings on Gandhi Jayanti!
Mahatma Gandhi said "Men often become what they believe themselves to be. If I believe I cannot do something, it makes me incapable of doing it. But when I believe I can, then I acquire the ability to do it even if I didn't have it in the beginning." While life has ups and downs, frustrations and happy moments, it also offers satisfaction and success. For professionals, knowledge, skills, leadership, purpose, responsibility, creativity, discipline, independence, integrity, and excellence are some traits to vouch for to be successful life. As professional accountants, you must imbibe best values and provide the best of the learning to the budding accountants during practical training.
Stay safe, stay healthy. Best wishes.
CA. Nihar N. Jambusaria
President, ICAI
Tags :
icai
students