Minister Piyush Goyal speaking at The ICAI's Residential Meet of Chartered Accountant Members in Public Service.
Unless good people come into politics, we are going to see deterioration over the years, lack of professionalism in politics & governance. Therefore, it is important that CA members in public service encourage more people from our profession to join public service.
The impact one can have on society through public service, on the destiny of more than a billion people, the work you can achieve as a Chartered Accountant through public service, can lead to large dimensional changes in the future of our nation.
I am sure that ICAI with over 3 lakh members there will be many budding professionals who would be wanting top serve the nation.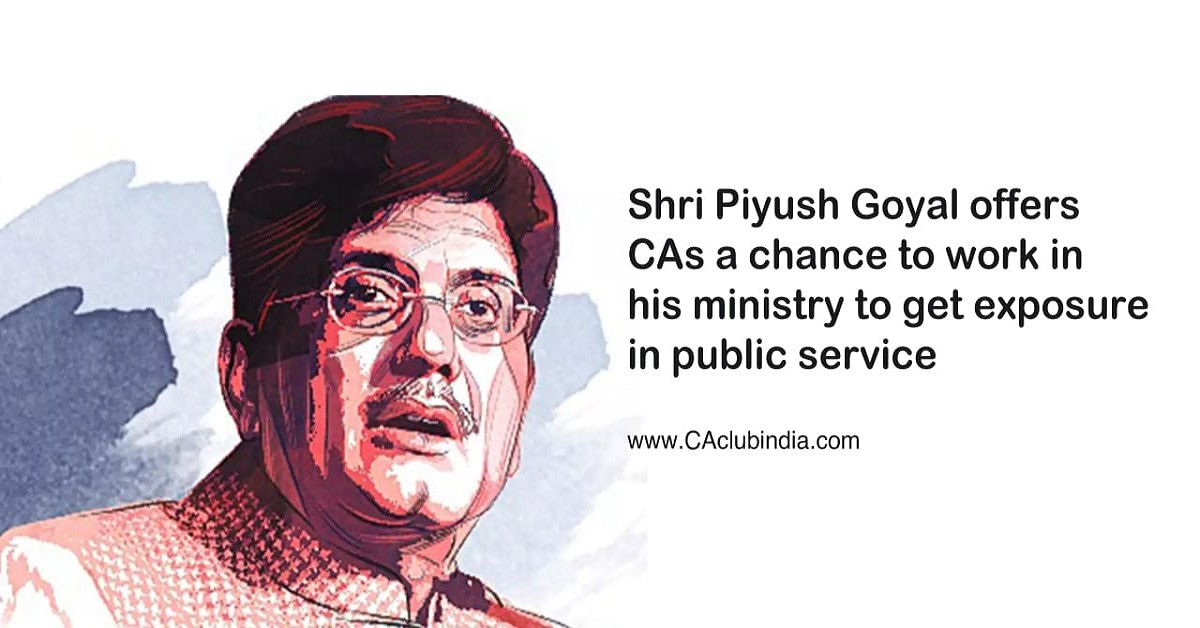 Some exposure of the young Chartered Accountants in public service, will open their mind to the opportunities & possibilities that are available through public service.
ICAI can have subject or course that gives some exposure to budding CAs to public service. I am ready to help them in getting an exposure of what working in Govt is like.
I am happy to offer to take some of the budding CAs under my wings, in my ministries, to help them get an exposure of what working in public service is like. Maybe they would be brand ambassadors of the rest of our profession to consider joining Government service.
The signature of a CA on an audit report carries the power of your commitment to integrity, honest reporting of state of affairs of different bodies.
Dr APJ Abdul Kalam said, "Chartered Accountants are partners in nation building." I do believe that CAs reflect challenges achieved. They are individuals with a clear aim & a 'can-do' attitude to succeed & perform.
Chartered Accountants brothers and sisters should collectively work to bring innovation in our profession.
It is time we looked at the larger vision of this profession, going beyond the small work. The senior members should consider value added services as their primary focus. This will encourage more & more professionals to come into the practice.
I hope to see amongst the person who have done well in the profession of CA, coming into politics, public service & helping India emerge as Aatmanirbhar Bharat & truly become a economic superpower.
Swami Vivekananda had said, "The power of mind is like the rays of sun, when they are concentrated they illumine." I would urge all CA brothers & sisters, help India achieve its rightful place in comity of nation & truly become Vishwa Guru.
In the next 10-15 years, the Chartered Accountancy profession will truly become the foundation of an empowered, economically strong & socially prosperous India.
The CAs can truly become a catalyst of socio-economic reforms, and truly can play a very very powerful role in making India a $5 trillion economy.

Tags :
students