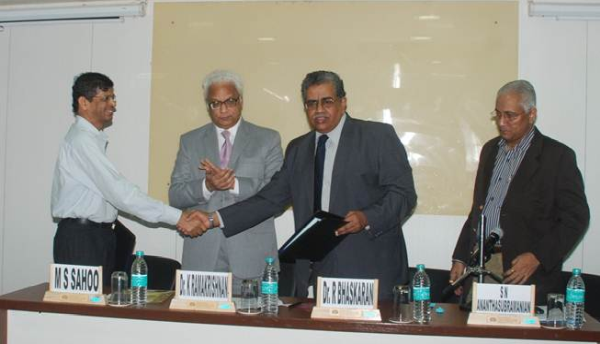 ICSI MOU WITH INDIAN INSTITUTE OF BANKING AND FINANCE: Seen in the photo from L to R
CS M.S. Sahoo, Secretary, ICSI, Dr. K. Ramakrishnan, Chief Executive, Indian Banks' Association, Dr. R. Bhaskaran, Chief Executive Officer, Indian Institute of Banking and Finance, CS S.N. Ananthasubramanian , President, Council of the ICSI
A Memorandum of Understanding has been signed between THE INSTITUTE OF COMPANY SECRETARIES OF INDIA (ICSI) AND INDIAN INSTITUTE OF BANKING AND FINANCE on June 16th 2013 at ICSI Centre for Corporate Governance Research and Training, Navi Mumbai .
The objective of this MOU is to Jointly design, develop, deliver and offer a certification course namely 'Banking Compliance Professional' for the students and members of ICSI and CAIIB ( Certified Associates of the Indian Institute of Bankers) qualified officers working in the banks.,
The Institutes would jointly organize structured coaching classes for ICSI members pursuing the Diploma in Banking and Finance (DB&F) course and jointly develop, offer and hold seminars, conferences, workshops, etc., and will exchange faculties and other resources. The Institutes will extend help and co-operation to each other in developing curriculum of academic and continuing education programmes and developing new certification courses/modules and support each other in development of study materials on the relevant subjects in the syllabus.
Dr. Amita Ahuja
Senior Director
(Corporate Communication)
The Institute of Company Secretaries of India
ICSI House, 22 Institutional Area
Lodi Road, New Delhi- 110 003
Telefax- 011 -24604756, Mob- 9717196255
Email: dprpp1@icsi.edu
Tags :
icsi
Others