The Institute of Company Secretaries of India has requested Shri Rajesh Verma, IAS - Secretary of Ministry of Corporate Affairs to extend the timelines for filings by LLPs, till 31st March 2021. Read the official representation letter below:
MCA: 2021
Shri Rajesh Verma, 1AS
Secretary
Ministry of Corporate Affairs
Government of India
Shastri Bhawan
Dr.Rajendra Prasad Road
New Delhi -110001
Subject: Extension in timelines for filings by LLPs-reg.
Respected Sir,
Amidst the pandemic, it is appreciable that the Ministry of Corporate Affairs (MCA) has been at the forefront in providing relief to the professionals and corporates. The LLP Settlement Scheme, 2020 launched by MCA, extended till 31' December, 2020 has been availed by many stakeholders, provided much awaited relief and reduced the financial burden in the difficult times.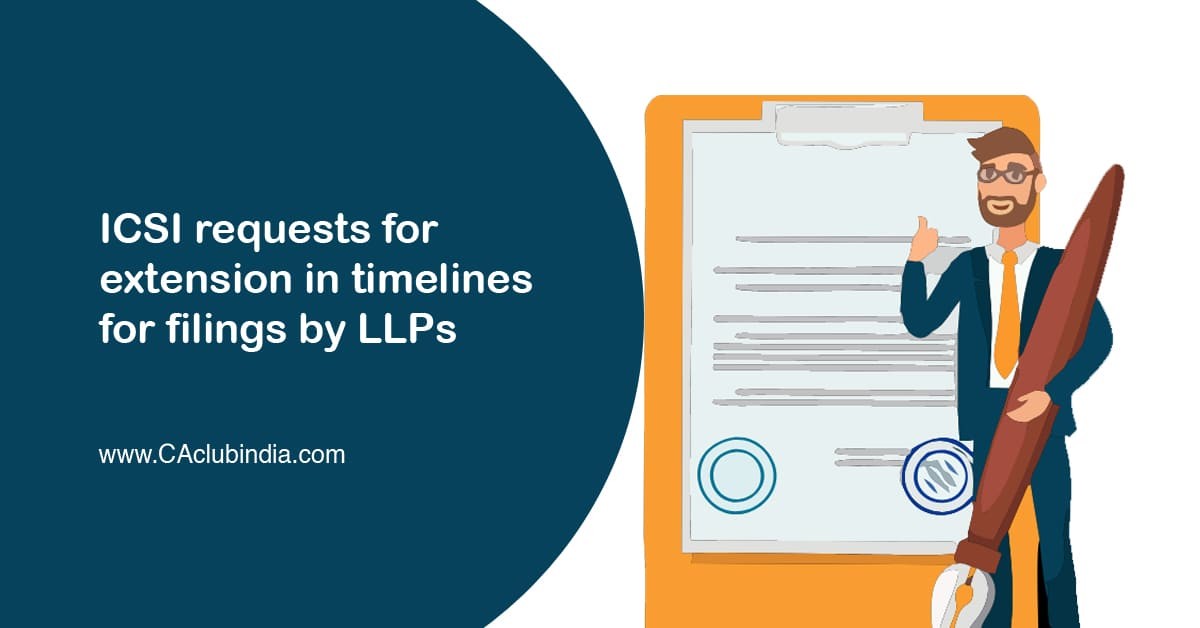 In terms of the provisions of Section 34(2) of LLP Act, 2008 read with Rule 2.4 of LLP Rules, 2009, every LLP shall within a period of 30 days from the end of six months of the financial year, submit the Statement of Accounts and solvency with the Registrar in e form 8. As per Section 35(l) of LLP Act, 2008 read with Rule 23 of LLP Rules, 2009, every LLP shall file an annual. return with the Registrar within 60 days of closure of its financial year in e farm 11.
We would like to draw your kind attention that many of the LLPs which have availed the benefit of the aforesaid scheme, whereas, there are many LLPs who on account of pandemic and challenges related thereto are yet to file the e-form ,P -8 (Statement of Accounts and Solvency) and c-form 1.1,P- ll (Annual Return).
We also would like to state that the timelines for filing of returns by other regulatory regime such as Income tax and GST were also extended upto 31' December, 2020. There are many companies and professionals who have been engaged in necessary filings under the aforesaid schemes and in completing the assignments under other regulatory regime such as Income Tax and GST.
Considering the above and on account of practical difficulties faced by stakeholders during the pandemic we request your goodself to consider providing extension of the timelines for filing of e-form 8 and c-form 11 pertaining to financial year 2019-20 till 31" March, 2021.
We hope that the above submissions shall be considered favorably. We shall he pleased to provide any further information in this regard on hearing from your goodself.
Thanking You,
(CS Asish Mohan)
Secretary
Tags :
mca
corporate law
icsi
llp