HIGHLIGHTS OF THE BUDGET SPEECH DATED 8TH MARCH, 2021 BY HONOURABLE DEPUTY CHIEF MINISTER (FINANCE)
PART I
Healthcare
A project costing about 7500 crore for Construction and upgradation of health institutions is prepared and will be completed in the next four years.
5000 crore will be provided by the government in the next 5 years for quality health services in the Municipal Councils, Nagar Parishad and Nagar Panchayats. Out of this, Rs 800 crore in this year.
Cancer Diagnosis Facility in 150 hospitals
Establishment of New Government Medical Colleges at Sindhudurg, Osmanabad, Nashik, Raigad and Satara. Medical colleges will also be set up at Parbhani and
11 government nursing schools affiliated to government medical colleges in the state will be converted into nursing colleges. Also, in phases, physiotherapy and occupational therapy colleges will be established in all 17 government medical
Post Covid Counselling and Treatment Centers will be set up at every district hospital and government medical college in urban areas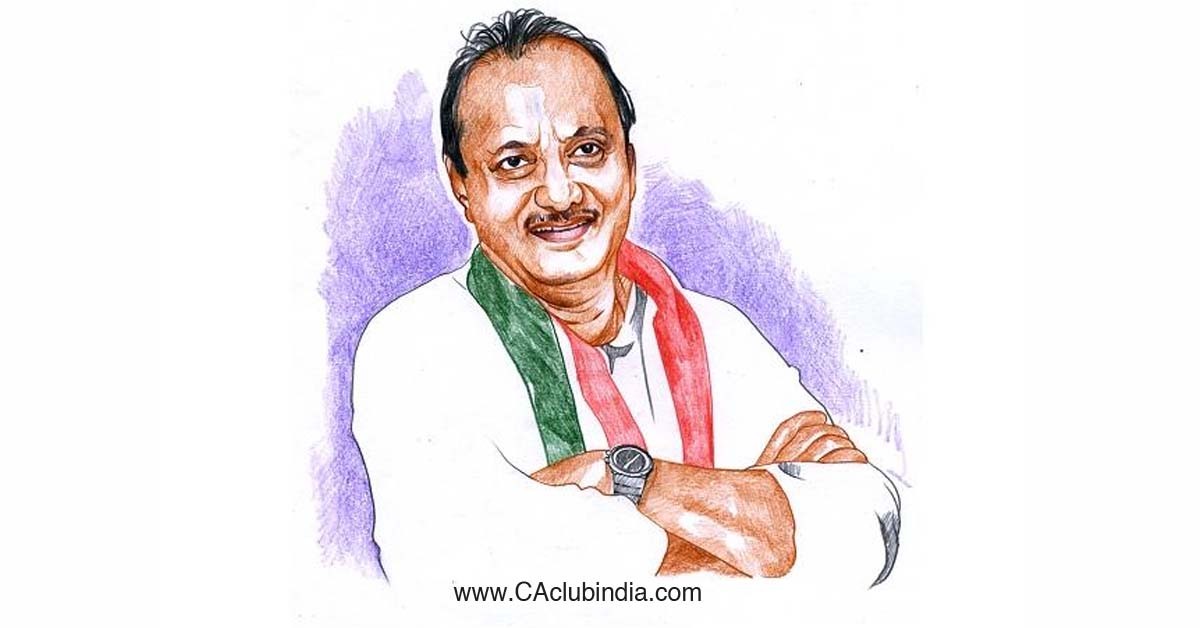 Agricultural development
Zero percent interest crop loans to farmers who take crop loans upto a limit of 3 lakhs and repay in time.
2,000 crore scheme for Strengthening of Agricultural Produce Market Committee (APMC)
To provide electricity connection for agriculture pumps, MSEDCL will be given a share capital of 1,500 crore every year.
33 percent concession has been given to farmers of pending electricity bill and if the farmers pay 50 per cent of the remaining arrears by March 2022, additional 50 per cent of the remaining amount will be waived off. Rs 30,411 crore will be waived off by Mahavikas Aghadi government which amounts to 66 per cent of the original pending bills of 37 lakh farmers.
2,100 crore for the creation of markets and value chain projects under the scheme Hon'ble Balasaheb Thackeray Agrobusiness and Rural Transformation Project
To set up atleast one new vegetable nursery in each taluka, about 500 new Punyashlok Ahilya Devi Holkar vegetable nurseries will be
To provide 600 crore for research in 3 years to four agricultural universities in the state.
Sharad Pawar Gram Samrudhi Yojana, under this grants will be provided to rural beneficiaries for construction of permanent cowsheds, goat rearing or poultry sheds and
Relief and rehabilitation
An outlay of 11,454.78 crore is proposed to Relief and natural disaster help.
Road Development
200 km Jalna-Nanded Expressway Connector to Hindu Hriday Samrat Balasaheb Thackeray Samrudhi Mahamarg is being undertaken at an estimated cost of Rs 7,000
170 km Pune Ring Road will be constructed at an estimated cost of 26,000 crore.
Coastal Highway connecting Revas, Dist. Raigad to Reddy, Dist. Sindhudurg estimated to cost 9,573 crores.
Railway development
Pune Nashik Railway Project is a medium high speed railway line with a proposed length of 235 km, speed of this train will be 200 km per The estimated cost of the project is Rs 16,039 crore.
Old diesel buses of State Transport Corporation will be converted into environmental friendly CNG and electric buses. The bus stands will also be An outlay is proposed of Rs. 1,400 crore for this.
Rural Development Department
6829.52 crore funds have been earmarked for Pradhan Mantri Awas Yojana, Ramai Gharkul Yojana and Shabari Gharkul Yojana.
Human Resource Development
A plan of 3,000 crore has been prepared for the renovation and repairs of dilapidated government and Zilla Parishad school buildings.
"Rajiv Gandhi Science and Technology Park" will be set up at the Head Quater district of revenue It is expected to cost Rs 300 crore.
Maharashtra Apprentice Promotion Scheme (MAPS) will be launched on Maharashtra Day. Around 2 lakh youth apprentices will be covered in the scheme this
Projects for development of Mumbai
Mumbai Trans-harbour Link project will be completed by September 2022. A four-lane flyover is under construction to connect Bandra-Worli sea link to MTHL which will completed in next three
Land acquisition of 126 m.long "Virar-Alibaug Multimodal Corridor" costing Rs. 40,000 Crores is in progress.
"Thane Coastal Road" which is 15 k.m. long and 40 meters wide, parallel to Thane Creek is in progress costing 1,250 crores.
Vasai to Kalyan water transport service will be made available in the first
Internal transport services in Mumbai city
Work of Bandra-Versova sea link, 17 kms long, and estimated to cost Rs. 11,333 crores is in progress. The estimated cost of Bandra-Versova-Virar sea link is Rs. 42,000 crores and the feasibility report is being prepared.
Estimated cost of Goregaon-Mulund link road is Rs. 6,600 crores and the tendering work is in
The Mumbai costal road project is progressing rapidly and it is planned to complete before 2024.
Tourist Attractions in Mumbai
Hindu-Hriday Samrat Balasaheb Thackeray Smarak has been approved for a cost of 400 crores.
Infrastructure Development in Mumbai
Sewage water treatment plants at Worli, Bandra, Dharavi, Ghatkopar, Bhandup, Versova and Malad are being undertaken at a cost of 19,500 crores.
A project for rejuvenation of the Mithi, Dahisar, Poisar and Oshivara river has been
Industry, Energy and Labour
Under the The Chief Minister's Employment Generation Programme, target to fund industrial units has been enhanced to 25 thousand industrial units for this year
Under the 'One District – One Product' programme support will be provided to the local artisans in handicraft, handlooms and food- industry in various districts for enhancing their skills. State, national and international level markets will be made available for their
The Mega electric vehicle charging centres will be started on Nagpur-Mumbai Samrudhi Mahamarg, Mumbai-Pune express highway and Mumbai-Nashik
Woman and Child development
The Rajmata Jijau Griha-Swamini Yojna – Concessions will be given in stamp duty if the registration of the house will be done in the name of the
Krantijyoti Sawitribai Phule scheme includes free travel for girl students in rural areas, from their villages to the schools by the Maharashtra State Transport The state will provide 1,500 environment friendly CNG and Hybrid buses to the State Transport Corporation on priority basis.
Additional special buses for women under the " Tejasvini Yojna" for easy and safe travel of women in metro cities.
To empower women and children it has been decided to reserve 3% funds from the District
To establish the first women battalion of the State Reserve Police Force, in the state.
Labour
Dedicted Welfare fund will be formed for the social security welfare of the unorganised labour under Saint Janabai Social Seurity welfare fund
It is decided to develop a hill station at Jawhar, Palghar.
Construction of an International standard tourist complex on the 14-acre site of Worli Dairy complex in Mumbai, transfer of land and preparation of detailed project report is in
It is proposed to construct a Sugar Museum in the Sakhar Sankul, at Pune at a cost of 40 crores.
The Government has taken up work of conservation and preservation of the ancient temples viz. Ekvira Mata mandir, Karle (Tq. Maval, Dist. Pune), Khandoba mandir, Satara (Dist. Aurangabad), Gondeshwar mandir (Tq. Sinner, Dist. Nashik), Shiva mandir, Markanda (Tq. Chamorshi, Gadchiroli), Dhutpapeshwar mandir (Tq. Rajapur, Dist. Ratnagiri), Kopeshwar mandir, Khidrapur (Tq. Shirol, Dist. Kolhapur), Bhagwan Purshottam mandir, Purshottam puri (Tq. Mazalgaon, Dist. Beed), Aanadeshwar mandir, Lasur (Tq. Daryapur, Dist. Amravati).
For the year 2021-22, an outlay of Rs. 101 crores is proposed for this scheme.
Social justice and special assistance
One school in every district is being proposed under the pilot project to start the C.B.S.E. curriculum from 6th Standard in government residential schools, for the scheduled caste and neo- buddhist
Suitable web application will be launched according to needs of physically handicapped

A new seed capital scheme is proposed for Transgender

Late Gopinath Mundhe Sugarcane Workers Corporation- it is proposed to charge ten rupees per ton of sugarcane crushed as contribution by the sugar factories, the state will also contribute an equal amount to fund the schemes by this
Tribal development
100 government Adivasi ashram schools will be converted into Model residential
It is proposed to start one pilot integrated colony for the Katkari tribe in Jambhulpada, Tq. Sudhagadh, Dist. Raigad.
Other Backward Classes
150 crores will be made available to each of three institutes Mahajyoti, SARATHI and BARTI.
Annasaheb Patil Backward Economical Development Corporation is being provided with additional Rs. 100 crores share capital.
An additional share capital of Rs. 50 crores is being provided for The Shamrao Peje Konkan Other Backward Economical Development
Maharashtra State Other Backward Class Finance and Development Corporation is being provided with 100 crores of additional share capital.
200 crore will be provided to Moulana Azad Minority Economic Development Corporation.
Krantijyoti Savitribai Phule Gharkul Yojana for Deprived castes (A), nomadic tribes (D), Special Backward Classes and Other Backward Classes
Environment
Expenditure of Rs. 3,487.50 crore is expected to reduce pollution in industrial
Pilgrimage development and monuments
Shri Kshetra Parli Vaijnath (Tal. Parli, Beed), Shri Kshetra Aundha Nagnath (Tal. Aundha, Dist. Hingoli), Shri Kshetra Trimbakeshwar (Tal. Trimbakeshwar, Dist. Nashik), Shri Kshetra Bhimashankar (Tal. Khed, Dist. Pune) Special funds will be made available for the development of these pilgrimage sites.
Funds will also be made available for development plans of Shri Kshetra Jejuri Gad (Tal. Purandar, Dist. Pune), Shri Kshetra Birdev Devasthan, Shri Kshetra Nira Nrusinhapur (Tal. Indapur, Pune), Shri Birdev Devasthan, Arewadi (Tal. Kavthemahankal, Dist. Sangli).
Funds will be provided for basic infrastructure schemes at Shri Kshetra Mozari and Shri Kshetra Kaundanyapur (Tal. Tivasa, Amravati), Sant Gadgebaba Nirvana Bhoomi, Valgaon (Tal. Amravati).
Funds will be provided for the development of the pilgrimage sites - Shri Kshetra Saptashrungi Gad (Tal. Kalvan, Nashik), Sant Shrestha Shri Nivruttinath Maharaj Temple, Trimbakeshwar (Tal. Trimbakeshwar, Dist. Nashik), Shri Kshetra Bhagwangad(Tal. Pathardi, Dist. Ahmednagar), Shri Kshetra Narayan Gad and Shri Kshetra Gahininath (Tal. Patoda, Dist. Beed).
Funds will be provided under the "Ashtavinayak Development Program" for the development of Morgaon, Theur, Ranjangao, Ojhar, Lenyadri, Mahad, Pali and
Funds will be made available for the development plan of Shri Kshetra Narsi Namdev (Ta. Hingoli), the birth place of Saint Namdev Maharaj.
In the memory of Saint Basaveshwar Maharaj, a memorial at Mangalvedha, Solapur.
Shri Kshetra Pohardevi (Tal. Manora, Washim) funds will be provided for completion of the development plan.
10 crore added to fixed deposits for Bashastri Jambhekar Patrakar Sanman Yojana.
My office is beautiful to transform all state government offices - The campaign will be implemented and will award the best performing
In the year 2021-22, a provision of Rs. 11,035 crore has been proposed for the district
An outlay of Rs. 1 lakh 30 thousand crore is proposed for scheme expenditure in 2021-22. This includes Rs. 10 thousand 635 crore for Scheduled Caste Sub Plan and 738 crore for Tribal Development Sub Plan.
Revenue collection was expected to be 3 lakh 47 thousand 457 crore in the budget of 2020-21. Due to 14 thousand 366 crore reduction in state share tax received from central government this year, revised target of revenue collection is fixed at Rs. 2 lakh 89 thousand 428 crore. Budget estimate of total expenditure for the year 2020-21 was Rs. 4 lakh 4 thousand 385 crore, the revised estimate is Rs. 3 lakh 79 thousand 504 crore, for the same.
In the budget of 2021-22, revenue collection is estimated at Rs. 3 lakh 68 thousand 987 crore, revenue expenditure is estimated at 3 lakh 79 thousand 213 crore, revenue deficit is pegged at Rs. 10 thousand 226 crore. Provision of Rs. 58,748 crore for infrastructure development. Fiscal deficit is estimated to be Rs. 66 thousand 641crores.
PART-II
Concession in Stamp Duty by 1 percent over the prevailing rate exclusively to Women, provided the transfer of house property or registration of sale deed is in the name of women.
(B) Proposal to increase State Excise Duty on Liquor
Increasing State Excise Duty to Rs. 220 percent of manufacturing cost or Rs. 187 per proof litre whichever is high on branded country liquor only.
(C) Proposal to increase VAT on Liquor
Value Added Tax (VAT) on the sale of liquor as prescribed in Schedule-B of Value Added Tax Act is increased from the existing 60 percent to 65 percent. Similarly, Value Added Tax (VAT) on the sale of liquor as prescribed in Section 41(5) of Value Added Tax Act is increased from the existing 35 percent to 40 percent.
Tags :
union budget