CIRCULAR
CIR/CFD/POLICY CELL/7/2014 September 15, 2014
To
All Recognised Stock Exchanges
Dear Sir(s)/Madam(s),
Sub: Corporate Governance in listed entities - Amendments to Clause 49 of the Equity Listing Agreement
1. This circular is in continuation to circular No. CIR/CFD/POLICY CELL/2/2014 dated April 17, 2014 on amendments to Clauses 35B and 49 of the Equity Listing Agreement. In terms of the said circular, the revised Clause 49 would be applicable to all listed companies with effect from October 01, 2014.
2. The Ministry of Corporate Affairs has issued the following circulars on matters related to Corporate Governance clarifying certain provisions of the Companies Act, 2013: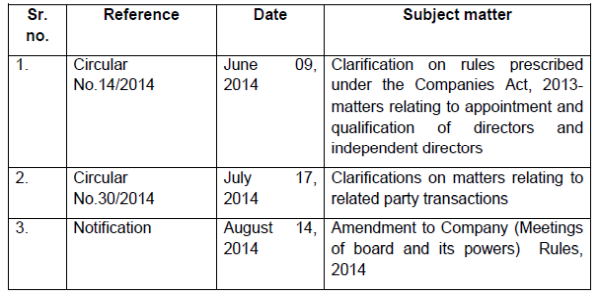 3. Post issuance of the SEBI circular dated April 17, 2014, SEBI vide letter dated August 12, 2014, sought the status of preparedness of top 500 listed companies by market capitalization, for ensuring timely compliance with the revised Clause 49.
4. Meanwhile, SEBI has received representations from market participants including companies and industry associations, highlighting certain practical difficulties in ensuring compliance, seeking clarifications on interpretation of certain provisions and suggesting various options to ease the process of implementation.
5. The aforesaid issues were examined and discussed in the Primary Market Advisory Committee of SEBI.
Detailed information has been attached herewith
Tags :
Corporate Law