GOOD BYE 2010 - PART 1
SHINING YOUTH - FUTURE FACE OF INDIA
So we have come to the end of 2010 and what a finish to it as India thrashed South Africa in 2nd Test at Durban. Simply loved it! .It was most probably the best moment of the year. As we are approaching 2011, I was collecting the memories of 2010 and guess what , to my surprise most of them came through the future of India i.e. Youth.....
So you don't believe me!! Ok so I have to convince you by writing the achievements of youth belonging to different field in 2010. So let's start....
(A) Saina Nehwal (Sports)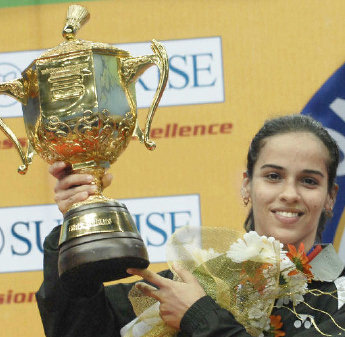 A gr8 example of Woman Power, Saina Nehwal is the best known and most promising female Indian Badminton player at the moment. In 2008, she won the World Junior Badminton Championships, followed by her first super series title in 2009 in Indonesia.2010 has been a dream year so far for her and also for Indian Badminton.She clinched Commonwealth Gold along with 3 super series title. Nehwal was awarded the Arjuna Award last year followed by Rajiv Gandhi Khel Ratna this year and was chosen as one of six-brand ambassadors for the Commonwealth Games.
Her Qualities that we can adopt in our Profession
Her Hard work, determination and her simplicity.
(B) Amit Trivedi (Music Director)
If you love something different in Music then you must be a gr8 fan of Amit Trivedi.
He is a music director in Bollywood who debuted in the film industry by composing music for the film Aamir. He followed it with the super hit music of
Dev D.
The film had 18 tracks of different genres ,the music was unusual and the tracks varied from the joyful to sorrowful, with Rajasthani folk music, rock music, and some aspects of classical music all combining together to give us an unusual and haunting score. He won many awards and nominations for this film and it was very evident that he was going to become a very bright star on the music skyline.
Every new listing of talented musicians seems to have his name in it. 2010 had been a golden year for him. His work in 2010 comprises Aisha , Udaan & No one Ki
lled Jessica. He is in right sense a youth icon. Some of his works are :-
| | |
| --- | --- |
| SONGS | MOVIE |
| Dilli and Saali Re | No one Killed Jessica |
| Emotional Atyachaar , Pardesi | Dev D |
| Ik Tara | Wake up Sid |
| Udaan Kab Talak Yun | Udaan |
| Gal Mitthi-2 Bol , Shaam | Aisha |
His Qualities that we can adopt in our Profession
Not to copy anyone but try something different i.e. You s'd be ready to take risks to achieve success in your life. One s'd also be selective in his work i.e. do that which satisfies you.
(C) RANBIR KAPOOR (Actor)
I know many of you will not agree with me about the abilities of Ranbir Kapoor. But he was indeed the face of youth and a great achiever in 2010. In a multi starer movie like Rajneeti with actors like Nana Patekar, Ajay Devgan and Manoj Bajpai, his work was very much appreciated. Even though Anjaana-Anjaani didn't work at all I simply loved his performance.

He has the charisma, a gr8 screen presence and a clear voice. He is the only actor after Hrithik who is giving a tough fight to Khans. So he is definitely the face of the year.

(D) ANUSHA RIZVI (DIRECTOR) & ALI ZAFAR (ACTOR)
Pakistani singer Ali Zafar made a charming entry into B-town in debutant director Abhishek Sharma's sleeper hit comedy "Tere Bin Laden".

So these were some of the young Achievers of 2010. Due to limitation of words I end it here. I w'd request you to add the names which I forgot to mention. With the help of this Article I wanted to convey an imp. Message that if they can do it so can you.....
With this Article I started a new series " Good Bye 2010" and in other parts I will try to include other remarkable events of this year.
With this I am signing off!!
Pulkit Gupta
pulkit_1988 @ rediffmail.com