14-hr power cuts didn't dim Govind's IAS dream
This son of a rickshaw puller, who graduated in Mathematics chose entirely new subjects in Civils because he could not afford coaching. Here is his story...
ON the pot-holed lanes of India's holy city Varanasi, Narayan Jaiswal used to pedal his rickety rickshaw to make a living and send his children to school in nearby Usmanpura. Sadly, even his meagre means came to a grinding halt when a wound on his foot grew sceptic. Ailing, and with no other source of income, Jaiswal sold off his small plot of land to finance his son's dream.

His son Govind was fighting a parallel battle. Day in and day out the deafening noise of power looms, factory machines and generators around the 12x8 feet rented room shared by his father, mother and two sisters made life unbearable. All the cooking, washing, bathing to studying took place in the dingy room. To add to the misery the scarce power supply extended to almost 14 hours a day. He grew up with cruel taunts from the neighbourhood kids who mocked him for his devotion to studies. But his determination saw him through. "It was impossible to divert me. My family was the saving grace. If someone demoralized me, I used to just picture my struggling family."

Today, Govind Jaiswal is an IAS officer, brimming with confidence. Surprisingly, he doesn't quibble over any inadequacies. "I thank my tough days. Life has no worth without struggle. It made me grow and smell the real world." Govind credits his success to his dad and his sisters, especially the elder one who gave up her studies to look after them when his mother died.

Being aloof paid off
He managed to focus on studies in the hustle and bustle of kids playing just outside his room. What was the trick? He chose to remain quiet, least interacted with kids and adults. He laughs, "I was secretive. They mistook me for being a shy guy. In reality, I am an outspoken person."

Ask this chatty boy the cause of his self-control, he shares, "I was cautious of every act. I restrained myself getting carried away in momentary fun. I didn't allow anyone to intrude my privacy." Up to class 12, he was seen immersed in books. "I used to read a bunch of comic, history books. Gradually I shifted the focus to ideological books."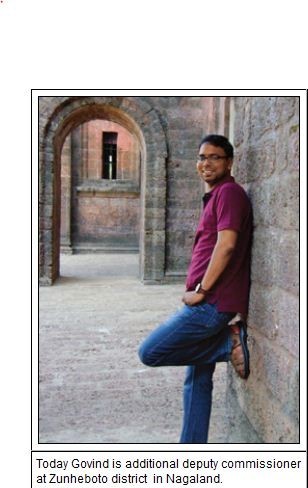 He strongly believes that nothing can hinder you, if you are confident.
Managing studies amidst chaos
At sunrise, the factories in the vicinity burst into activity, making deafening noise throughout day and night. It was natural for anyone to lose concentration during exams. Interestingly, he remained a topper in school because of his well planned study schedule. "I used to finish subjects which required a lot of contemplation by December-January and I used to solve objective papers (Maths) in February."

Ask him about the daily study routine and he responds, "During noisy morning hours, I sat on the staircase practising Maths. Since it's a practical subject, we can bear all chaos around," he says with a smile. As the sound simmers down in the evening, he focussed on the other subjects, Science, History and English.

How did he access books?
He was only in Class 8 when he ventured into the business of tuitions. Maths was a breeze for him. By the time he was in 11, students from Class 8, 9, 10 and even MBA aspirants among others flocked his room for Maths coaching. The income came handy as his father's earning was too meagre and he had to support his two sisters as well. "I used to earn about Rs. 1000 per month. It helped me pay fee and buy books." A modest fee of Rs. 10 in Banaras Hindu University (BHU) aided him easily to acquire his degree. "I strongly feel if you can show that you have the potential to prove then the world will come to help," he says. Indeed, his aggressive attitude to achieve was lauded by all.

The IAS journey
Many suggested him to do engineering after graduation. He once gave it a thought but put it off as he could not afford to buy an application form costing Rs. 500. The other option remained IAS, which was a pauper's friend.

The real struggle happened when he enrolled for IAS coaching - his dad's condition had worsened and he had stopped pedalling his rickshaw. It was an emotionally shattering phase – but Govind managed to pull through. There was no other option, but to move to Delhi for IAS coaching. His struggling father sold the only remaining plot of land for Rs. 30,000 for his expenses in the new city. For IAS Mains, he ped Maths as an optional paper for Philosophy and History. He read them from scratch to understand the basic nuances. "No subject on the earth is tough. You should have the will power to crack it. "
Strategic study plan
His academic journey shows one has to have passion and time management skills to be a winner. He used to re-read and internalise the respective subjects. "I used to shut my book and contemplate over an historical event or a theory. I loved testing my memory. It's important to be honest about what you study." He chose one good reference book instead of depending on ten books on the same subject.

Was language a barrier?
"The problem is not language, it is confidence. My ability to read and express in Hindi made me an achiever. If you are confident enough to articulate your thoughts, then no one can hinder your success. No language is superior or inferior. It's an unwanted perception made by the society. Learning languages is not a big deal – have faith in yourself. Earlier I only knew Hindi, I developed a grip on English at the IAS Academy. Our world is horizontal – it is the people's perception that makes it vertical where they place some people as superior and others as inferior."