CA Ruby Bansal (Finance Professional) 31 January 2019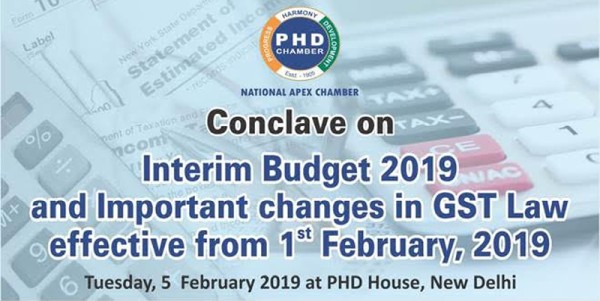 Conclave on Interim Budget 2019 and Important changes in GST Law effective from 1st February, 2019 - Tuesday, 5 February 2019 from 10:00 am - 05:00 pm at PHD House, New Delhi has been organized.
CHIEF GUEST
Shri Pranab Kumar Das, Chairman, CBIC
GUEST OF HONOUR
Dr. John Joseph*, Member (Budget) CBIC
EMINENT SPEAKERS INVITED
Mr. Bimal Jain, Chairman, Indirect Taxes, Committee, PHDCCI
Mr. Mathivanan N, Lakshmikumaran & Sridharan
Mr. Sudipta Bhattacharjee, Advaita Legal
Mr. Puneet Bansal, Nitya Tax Associates
Mr. N K Gupta, Co-chairman, Indirect Taxes Committee PHDCCI
PARTICIPATION FEE FOR TOTAL 9 CONCLAVES (Inclusive of GST)
Rs. 10,000 PER DELEGATE
REGISTRATION FOR SINGLE CONCLAVE
Rs. 1,500/- PER DELEGATE
The payment may be made by cash/ cheque/ Demand Draft in favour of "PHD Chamber of Commerce & Industry" payable at Delhi.
The committee shall be holding these Conclaves every month from 10.00 a.m. to 05.00 p.m. We trust you to find the same useful and these workshops will add immense value for your day to day execution of Indirect Tax assignments. Members are requested to consider availing the facility for registering for the entire series.
FOR ICSI / CMA MEMBERS
Members of THE INSTITUTE OF COMPANY SECRETARIES OF INDIA and THE INSTITUTE OF COST ACCOUNTANTS OF INDIA will be awarded 4 credit hours for each Conclave. Members of the Institute registering for the Conclaves are required to provide their Institute's Membership number for the same.
Please send your confirmation and register for the Conclave at the earliest
Your confirmation may reach us by email at:
mariamma @ phdcci.in/vineeta.mehra @ phdcci.in/shikha.bhatt @ phdcci.in/taranjeet.singh @ phdcci.in