A conversation with


CA Gaurav Deepak Shrawagi


1st Rank Holder, CA Final November 2013


CA exam results are just out and we had the opportunity to interact with toppers and bring to you their success stories and close sneak peek into their motivating secrets.

Meet Gaurav from nagpur, all India 1st rank holder of CA final November 2013. Gaurav is a passionate person and a die hard Sachin fan. He credited his success to his parents and friends. His mantra is to plan properly and focus on execution. He is also a fan of CAclubindia and it was his dream to see his interview here on this page. As he says himself "Dream big and do the required hardwork your dreams will become reality one day".

Let us find out what was his strategy & how he has achieved this: :


First of all, Gaurav many congratulations to you from CCI!!


Thank you so much. I am huge fan of CAclubindia & glad to share that I am registered in CCI.

Thanks Gaurav, to start with my first question, how are you feeling right now and what was your first reaction after you got the big news?


I am on top of the world, it's fantastic. At around 10.45, President of ICAI, Mr. Subodh Kumar Agarwal called me and told me that I am the All India rank No.1 holder in CA Final exam. I couldn't believe it, I thought that somebody was joking with me. I was expecting in top 10 but not rank 1 holder. I was in cloud 9, it was an excitement that I cannot describe in words. I called my mom and dad and they were very happy. I called my Principal Sir and he was very happy for me.

Great, so how did you perform in IPCC?


I secured All India 23rd rank in IPCC.

That's Nice, How big is this achievement for you Gaurav?


I think it is very big as CA Final is something that is really very difficult to crack and to secure All India Rank 1, I feel very privileged to secure that rank.

In this whole journey, who has guided you? Anyone who inspired you, whom would you like to thank?


My mom and dad. In last four to five months it was such a hectic schedule after I took my articleship leave, right from morning to late night they use to take care of me. My mom and dad always supported me. They never expected a rank. They just wanted me to be happy and get a degree with good marks. So, my biggest friends are my mom and dad. I would also like to thanks my friends, and specially my best friend Gaurav. He is too from CA Final and is a great source of motivation for me.

As you said you are a big fan of CAclubindia would you like to share its role & importance in your journey?


From past 3 years when I joined my articleship I am a regular follower of CAclubindia. Queries on DT and IDT that were posted were of great help, there was a good response from all the experts of CCI and special thanks to those motivating stories about how one can overcome their failure.

CAclubindia always helped me to get motivated. Especially the motivating stories that many students posted, thought of the day and interviews of all those toppers that are posted after the result. They are so motivating and I do read all the interviews from last 3 years and I always used to dream that one day I would give interview on this platform. So, it is like a dream come true. It is a big achievement for me.

Coming back to your achievement, can you share your strategy, timetable that you followed before and during the exams?


My first plan was to give equal weightage to all the 8 subjects. You cannot compromise with one subject and give favour to other subjects because all subjects carry 100 marks. So, my first plan was to do all the 8 subjects in 1 day. When I took my articleship leave in July, I used to dedicate one and a half hour to each subject. So, if you take one and a half hours for each subject, 12 hours a day, it's not a big matter and the rotation of subjects in 1 and a half hour for one subject, you can put better concentration on that subject, otherwise if you go on studying one subject the whole day, it doesn't sounds good. So, I always gave only one and a half hour for each subject, each day so that I do not lose any one of the subjects and I was confident that all the 8 subjects are under my control. So, that was my first plan to go through all the 8 subjects concurrently and one should not compromise for other subjects.

During the exams?


During the exams, don't try to leave anything; you have only 20 hours to revise the whole content. One should go through all those subjects which you have read at least twice or thrice. Don't go for a new book or content for that only one day or 20 hours, you are not going to get much out of that new book. Go through the short notes and highlight all the important portions because for subjects like DT, SFM, you have really very short time to prepare. So, you have to chop down important points so that you can recollect all those points in exam time.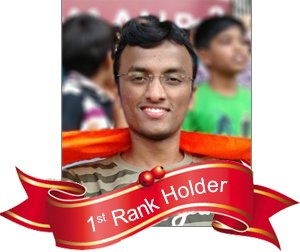 We all know those three hours of exam stress, any special strategy while attempting the exam?
I always used to do those questions which I was very confident of. I didn't follow the questions serially. I used to start with only that question which I was very confident of because once you start writing question it helps saving time and in solving those other questions later. So, I used to start with those questions that were very easy for me.
What is the importance of articleship in one's career?
Articleship plays a very important role in CA student's life because I got much benefit in subjects like DT, IDT because there you can get practical exposure in office. It was something very brilliant especially in Direct tax, IDT. So, articleship plays a very important role.
Any hurdles or challenges you have faced?
I was practically from Science Stream from 11, 12. Then I shifted to commerce stream from 12 so the CPT Part was a bit difficult. I couldn't understand what was Db, Cr., etc. It was all was alien for me. So, CPT was tough to crack comparative to CA Final, at least for me, especially the Account part. So, in IPCC I gave special focus on Accounts as it was my weakness so I just overcame that weakness in IPCC.
What is your next plan now as you got rank in IPCC and now first rank in CA Final, any plans for higher studies?
I am not looking for higher studies; I am very much interested in the field of taxation so I just wanted to study in that field further along with my job. I am looking for a good job in taxation field so I would be studying in the taxation field along with my job.
As you are a member of CCI, you must have heard about online classes from CCI Online Coaching, so what is your view on the benefits from this kind of service for a student?
Flexible learning is very helpful especially for those who are doing articleship. As you are not sure of attending the class due to workload so these online classes helps you to shift that office load and you can complete all your classes in your profile. I am a big fan of online classes. I did take a few classes and that was a very good experience for me.
Apart from studies, what are your other hobbies?
I am a big-big fan of cricket and Sachin Tendulkar. He is my idol. I was so disheartened when I missed that match of India Vs Australia in Nagpur which was held on 31st October. I was very disheartened as it was a fabulous match. I just love cricket.
Anything personal about you or your family that you can share with us?
I just want to thank my mom and dad for their continuous support. There was a time when all my family members, my friends lost faith in me but my mom and dad always kept faith in me. They were sure that their son will do something good in his life. So, I am very thankful for their unconditional support.
Any message for the aspiring CA students, members of CCI?
Yes, dream and do the required hardwork to convert those dreams into practical life. One has to keep dreaming to keep himself motivated. So, "Sapne dekho aur mehnat karo, apka har sapna pura hoga"
Very true, Gaurav!! So, now I think parties and celebrations are on the cards?
Yes, celebrations are still going on (smiles).
Great!! It was wonderful talking to you Gaurav. Thanks for giving your time for CCI and thanks for supporting us!!
Thank you very much!