A conversation with


Dhruv Jain


2nd Rank Holder, CA Intermediate(IPC) Examination, November 2013


Dhruv was close to getting caught in the prank by the ICAI President, when he found out that he is the 2nd Rank Holder in IPC this year. Here is sharing with you his joys and inspiration , in an exclusive interview with CCI.


First of all Dhruv, many congratulations to you from CCI!!


Thank you very much Sir.

How are you feeling right now?


On top of the world!!

What was your first reaction when you got the news?


The President of ICAI, Mr. Subodh called me up at 3:10 pm. He enquired if I had appeared for both the groups and in order to scare me he told that either I have passed or failed, to which I got pretty nervous. But, eventually, he told that I have secured 2nd rank. So, overall, it was a good experience talking to him.

So, what was your parent's reaction on hearing this news?


My mother and grandmother were sitting beside me when I got the news from Mr. Subodh. They were surprised as well as happy. My grandmother was very happy and there were tears in her eyes. When I got this news, I first called up my father who was in office. He was very happy. And then I called all my friends and told them that results would be declared within 10 to 15 minutes. At first, they didn't believe my words but when I said that Mr. Subodh called me up and informed that I have secured 2nd rank, and then they finally believed in me.

How big is this achievement for you now that you have secured 2nd rank in IPC?


This is really a very big achievement for me. I was not expecting a rank at all. I wasn't even expecting a rank in top 50's. Just 15 days before, CA Final results were also declared. As, the overall result of CA Final was not so good this time, so I got a bit frightened and started thinking if I could secure a position in the top. But when Mr. Subodh informed me about my result, I was very happy and excited.

Expectations now, are indeed very high as I secured All India rank in IPC. But, I shall not be pressurized by this and will continue my routine and schedule myself for CA Final in the same way as I did for my IPC exams.

Great, would you like to give any special mention of faculty or anyone who have guided/helped you to get achievement in this?


Yes, first all, I would like to thank my parents and grandmother who have always supported me, my faculties who had the firm belief in my ability, my well-wishers and also my friends.

Would you like to share your strategy with us, the time-table that you have followed before and during the exams?


Yes, definitely, I would like to share my strategy with others so that they too can follow these steps in order to score well. First 2 to 3 months, I didn't study anything and I wasn't aware that the IPC syllabus was so tough and vast. Then, I started my schedule at the end of March and made a routine in a systematic manner as to which subject should be studied in which month and how much time to devote for each subject. I devoted maximum time to those subjects which I felt were a pretty hard for me like – Business Laws and Corporate Law. I decided to finish up the portion by the month of October so that I could get the time to revise those subjects again. I focused much on Theory subjects – like ITSM which I used to revise again and again. I didn't focus much on practical subjects because I found them to be easy and used to clear my concepts in the class itself so that I could devote my maximum time to the theory subjects.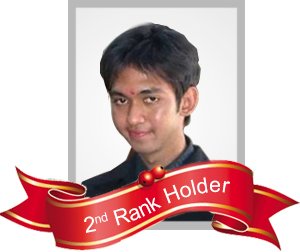 And what was your strategy during the exams?
I have already prepared a planned schedule for myself which I used to maintain in my diary. My exams started from 6th Nov and we got a gap of one and a half day before each exam. After the exams got over, I used to return home by 6 and then sit for study from 6 to 11 PM. I had already planned what topics I have to go through from each subject on an hourly basis during each exam and this is how I have retained my strategy.
And according to you what is the most important thing to keep in mind during the exams?
One shouldn't panic during the exams as this can lower your confidence. Proper sleep is a must as one shouldn't take his/her health at stake. I have seen some of my friends who didn't use to sleep or take rest during exams and ultimately this affected their other incoming exams and their health too. So, I would suggest – don't panic, take proper sleep and then study well.
So, now as you have secured rank in IPC, so what is your strategy for articleship?
I have completed my CPT and IPC from Surat and wish to complete my CA Final from here itself. I would also like to do my articleship from here as there are many scopes in Surat. There are good firms for articleship and the exposure level is also good. So, I would like to work under these firms.
As you will have to attend classes also during your articleship period, so what is your viewpoint on e-learning coaching / online coaching?
I have never taken online coaching but for students who go for articleship and also attend classes, for them it gives the flexibility to study from anywhere and anytime. So, online coaching is indeed very helpful.
What are your other hobbies?
Yes, besides studies, I like playing outdoor games like cricket, table-tennis, football etc. I like to watch TV and MS Dhoni is my favourite.
Any help you have received from CCI during IPC?
Yes, I went through the interviews of the Toppers of May'13 and Nov'13 examinations that were posted in the site which was inspirational and the strategies they suggested to follow also proved to be very helpful for me. It gives guidance to the students who wish to secure a rank or to attain good marks in the examination. I am very thankful to them.
Would you like to give any special message for the CA aspirants and your juniors?
I would suggest them to go through the topper's interviews that are posted on CCI site which will help them to follow proper strategies. Having said that, one needs to work hard in order to attain success.
Dhruv, thank you for giving your time to CCI and wish you all the best for your CA Final preparations and once again many congratulations to you from CCI!!
Thank you very much!!