With the objective to recognise and encourage excellence in preparation and presentation of financial information, the Institute of Chartered Accountants of India (ICAI) through its Research Committee, organizes the annual competition 'ICAI Awards for Excellence in Financial Reporting'. This year, the function shall be organized on Feb 6, 2016 at Kolkata. Shri Tshering Kezang, Auditor General of Bhutan shall grace the occasion as Chief Guest and CA. K. Rahman Khan, Member of Parliament shall be the Guest of Honor.
For the competition this year i.e. 2014-15, a total number of 175 entries were received across the 13 categories in which the competition was held. A meticulous evaluation process is followed and unless the stringent criteria/minimum threshold norms are met, no entity is recommended for an award. The emphasis is on going beyond the normal reporting requirements. Thus, the awards are bestowed only upon those select few who have gone the extra mile in their financial reporting requirements.
At the final level of evaluation process, the Jury selects the awardees for the year. A Jury Meet for selecting the awardees for the year 2014-15 was held on January 20, 2016 at Mumbai. The Jury was chaired by Shri M. Damodaran, Former Chairman, Securities and Exchange Board of India (SEBI). Other members of the Jury who attended the meeting are:
1. CA. Amarjit Chopra, Chairman, National Advisory Committee on Accounting Standards (NACAS) & Past President ICAI
2. CA. A. C. Chakrabortti, Past President, ICAI
3. Shri Ashish Kumar Chauhan, MD & CEO, Bombay Stock Exchange Limited
4. CA. D. Sarkar, Former CMD, Union Bank of India
5. Prof. Devi Singh, Former Director, Indian Institute of Management, Lucknow
6. CA. N. Rangachary, Former Chairman, Central Board of Direct Taxes & Insurance Regulatory and Development Authority (IRDA)
7. CA. Nilesh Shah, MD, Kotak Mahindra Asset Management Company Ltd.
8. CA. Sushil Agarwal, Group Chief Financial Officer, Aditya Birla Group
9. Shri Chandra Shekhar Ghosh, MD & CEO, Bandhan Bank
This year a total of 12 awards i.e. one gold shield, 7 Silver Shields and 4 plaques would be given at the award function to be held on February 6, 2016 at Kolkata to honor the awardees.
The awards presentation ceremony was preceded by a Technical Workshop on observations of the Shield Panel arising out of their review of the entities which participated in the competition and a Panel Discussion on "Moving Ahead: Excellent Financial Reporting".
The names of the awardees are mentioned below.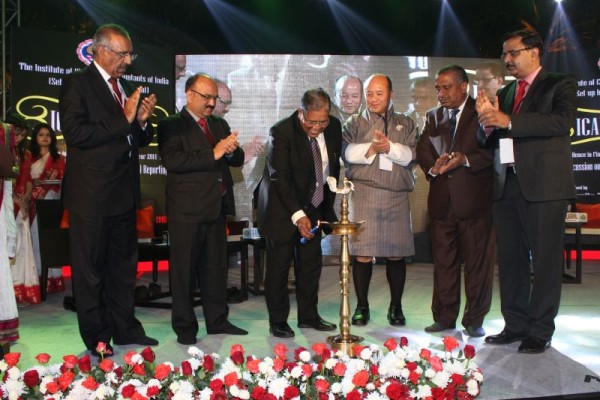 CA. K. Rahman Khan, Hon'ble Member of Parliament, Rajya Sabha lighting the lamp in the presence of Shri Tshering Kezang, Hon'ble Auditor General of Bhutan, CA. Manoj Fadnis, President & CA. M . Devaraja Reddy, Vice-President, ICAI, CA. Subodh Kumar Agrawal, Chairman & CA. Sanjiv K. Chaudhary, Vice-Chairman, Research Committee of ICAI.
ICAI Awards for Excellence in Financial Reporting for the competition for the year 2014-15
Category

Award

Name of the Entity

Annual Report and Accounts for the year ended

III

Insurance Sector

Gold Shield

HDFC ERGO General Insurance Company Limited

March 31, 2015

Silver Shield

HDFC

Standard Life Insurance Company Limited

March 31, 2015

Plaque for commended Annual Report

ICICI

Prudential Life Insurance Company Limited

March 31, 2015

V

Manufacturing Sector (Turn over equal to or more than Rs. 500 crore)

Silver Shield

Jointly to ACC Limited

Asian Paints Limited

Abbott India Ltd.

December 31, 2014

March 31,2015

March 31,2015

VI

Manufacturing Sector (Turn over less than Rs. 500 crore)

Silver Shield

Kewal Kiran Clothing Ltd.

March 31, 2015

IX

Service Sector (other than financial services sector) (Turn over equal to or more than Rs. 500 crore)

Silver Shield

Zensar Technologies Limited

March 31, 2015

Plaque for commended Annual Report

Mindtree Limited

March 31, 2015

X

Service Sector (other than financial services sector) (Turn over less than Rs. 500 crore)

Plaque for commended Annual Report

Alphageo (India) Limited

March 31, 2015

XI

Not-for- Profit Sector

Silver Shield

Vidya Dairy

March 31, 2015

Plaque for commended Annual Report

Swami Vivekanand Youth Movement

March 31, 2015
Tags :
icai
professional resource