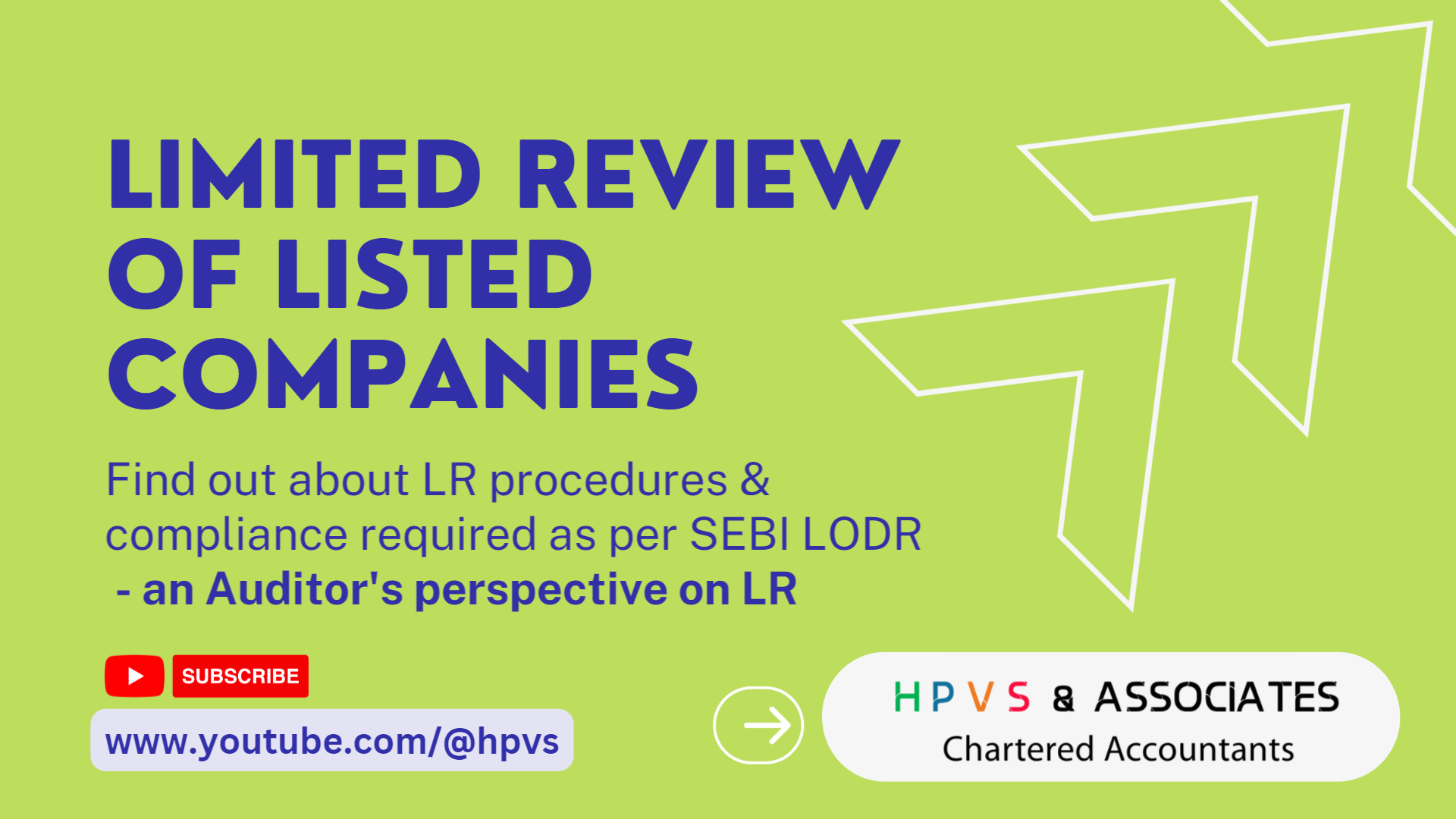 Understand the procedures about how listed companies are required to prepare the financial results on quarterly and annual basis
Do you have confusion between Audit & Limited review?
What is Limited Review? To whom is it applicable? What is an Auditor's perspective on Limited Review of Listed Companies as per SEBI LODR Regulations?
What period is to be reported in the Financial results?
Are any Additional reporting requirements?
Who should do the Limited Review?
What is expected out of limited review?
Which auditing standards are applicable to LR?
What are the limited review procedures?
Understanding limited review report
What should be Documented for limited review
Click here to know about All these questions will be answered in this post
Links to SEBI LODR regulations & Format of Results
SEBI LODR Regulations (SECURITIES AND EXCHANGE BOARD OF INDIA (LISTING OBLIGATIONS AND DISCLOSURE REQUIREMENTS) REGULATIONS, 2015)
https://www.sebi.gov.in/sebiweb/home/HomeAction.do?doListing=yes&sid=1&ssid=3&smid=0
Quarterly / Annual Financial Results & Limited Review Report of listed Non convertible Securities
Jul 29, 2022 - SEBI/HO/DDHS/DDHS_Div1/P/CIR/2022/0000000103 https://www.sebi.gov.in/legal/circulars/jul-2022/lodr-single-operational-circular-for-listing-obligations-and-disclosure-requirements-for-non-convertible-securities-securitized-debt-instruments-and-or-commercial-paper_61345.H T M L
Quarterly / Annual Financial Results & Limited Review Report of Equity listed entities
Jul 19, 2019 - CIR/CFD/CMD1/80/2019 https://www.sebi.gov.in/legal/circulars/jul-2019/procedure-and-formats-for-limited-review-audit-report-of-the-listed-entity-and-those-entities-whose-accounts-are-to-be-consolidated-with-the-listed-entity_43616.H T M L
ABOUT US
HPVS & Associates (HPVS) is a single window professional service firm rendering excellent quality services in the areas of : Audit & Assurance, Taxation, Financial and management consultancy, Regulatory compliances Due diligence Goods and Service Tax (GST)
YouTube channel link is www.youtube.com/ @ hpvs
ABOUT THE AUTHOR
Mr. Hitesh Khandhadia, is a FCA and DISA qualified from the Institute of Chartered Accountants of India. He has rich experience of over 10+ years, and possesses sharp analytical skills and has expert knowledge on Assurance service, Corporate Law, SEBI regulations, NBFC compliances and Indirect taxes.
Thank you