Sreenivas Rachamalla 09 December 2019
HI,
I would like to transfer my PF account from one company to other company,
Previously i worked in Hyderabad(Telangana) this is my 1st company, which is access to get PF amount, 4 years i was worked there,
in there 4 years, PF amount was credited to my EPF account , I can able to access also. Everything is fine,
Now i am in Bangalore(karnataka) joined in MNC company, Now i would like to transfer my account to Present company to credit my PF Amount.
Steps:
1) I login my EPF Account, and press the online servie->Transfer Request
2)Here it is showing my Present company details ,Here my details are correct like
Name(First and last name),Mobile name, AAdhar No, Address everything is same,
3)Here it is asking my PF Account No.(Trust) : I am giving my present company P.F.Account No (In Edit Box)
4) Select details of previous accounts (which are to be transferred)
I selected Present Company (Radio button)
Member ID / UAN : (Edit box)
Note: If i give Member id : then error is coming like Present & Previous member ID's must be different.
If i give UAN NUMBER :: Details of previous account are different than present account. Hence claim request cannot be processed.
When ever i press the Get Details Button, after give the Input details.
Service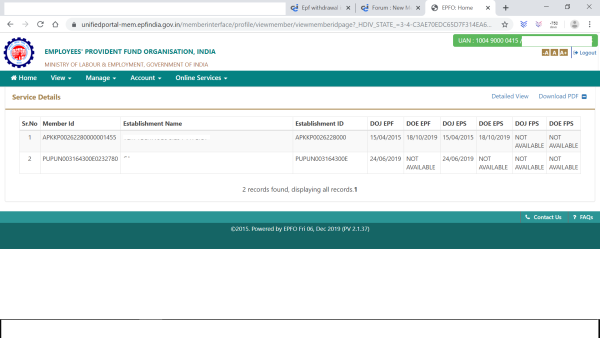 Any Help appreciated.