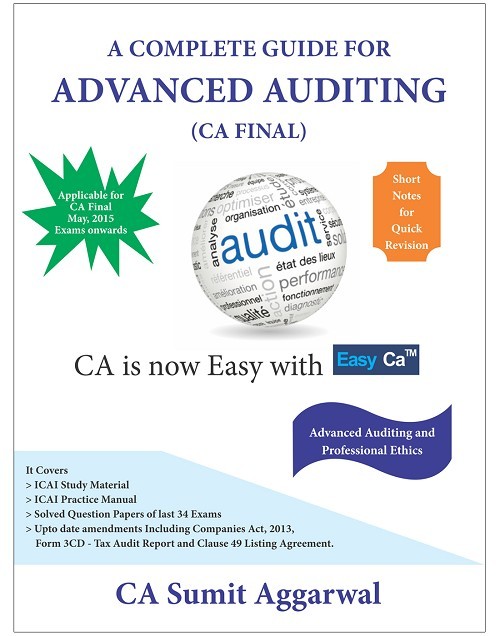 Before buying any book for CA Final (Audit), just compare it with other books available in the market and then decide which one is the best book. You will find it bestselling book to secure maximum marks in minimum time frames in CA Final – Audit Subject.
This book has been written after considering all the books available in the market, Institute study material, Institute practice manual, Solved Question papers for last 34 Exams etc.
This book cover entire Syllabus in less than 600 pages including Shorts Notes for Quick revisions & Solved Question Papers for last 34 Exams. This Book is written and designed in such a way that, student reading first time can study whole syllabus in just 2 weeks and revise whole syllabus in just 2 days.
For more detail give a missed call at 040-39363939
To view Sample Chapter: /share_files/ca-final-advanced-auditing-for-may-2015-exams-onwards-65295.asp#.VKdU9tLF-Sp
https://www.slideshare.net/SUMITAGGARWALFCA/advance-auditing-professional-ethics-by-sumit-aggarwal
Specimen Copy: /share_files/specimen-copy-of-ca-final-audit--65482.asp#.VKs7zdLF-So
Flipkart.com: https://www.flipkart.com/complete-guide-advanced-auditing-ca-final-english/p/itme2hwchbggjhmr?pid=9789351964339
Amazon.inhttps://www.amazon.in/Complete-Guide-Advanced-Auditing-Final/dp/9351964337/ref=sr_1_3?s=books&ie=UTF8&qid=1420459740&sr=1-3&keywords=ca+final+audit
Bank Detail: https://www.slideshare.net/SUMITAGGARWALFCA/bank-detail
30 Days Return Policy with flipkart.com & amazon.in