Court :
High Court Of Karnataka
Brief :
THIS APPEAL IS FILED UNDER SECTION 260A OF THE INCOME-TAX ACT, 1961, ARISING OUT OF ORDER DATED 11.09.2015
Citation :
I.T.A. NO.119/2016
IN THE HIGH COURT OF KARNATAKA AT BENGALURU DATED THIS THE 04TH DAY OF OCTOBER, 2021 PRESENT THE HON'BLE MRS. JUSTICE S. SUJAT1IA AND THE HON'BLE MR. JUSTICE RAW V. HOSMANI I.T.A. NO.119/2016
BETWEEN:
1. THE PR. COMMISSIONER OF INCOME TAX, CIT(A) C.R.BUILDING, ATT.AVARA MANGALURU-575 001.
2. THE ASST. COMMISISONER OF INCOME-TAX CIRCLE-2(1), C.R.BUILDING BANGALORE-560 001.
APPELLANTS
[BY SRI. E.J. SANMATHI, ADVOCATE A/W SRI. K.V.ARAVIND, ADVOCATE (PHYSICAL HEARING)]
AND:
M/s. KARAVALI HOUSING NO.9, CITY POINT, KODIALBAIL MANGALURU-575 001. PAN: AAGFIK 2974D.
(BY SRI. MALHAR RAO K., ADVOCATE (PHYSICAL HEARING))
RESPONDENT
THIS APPEAL IS FILED UNDER SECTION 260A OF THE INCOME-TAX ACT, 1961, ARISING OUT OF ORDER DATED 11.09.2015 PASSED IN C.O. No.59/BANG/2014 FOR THE ASSESSMENT YEAR 2011-2012.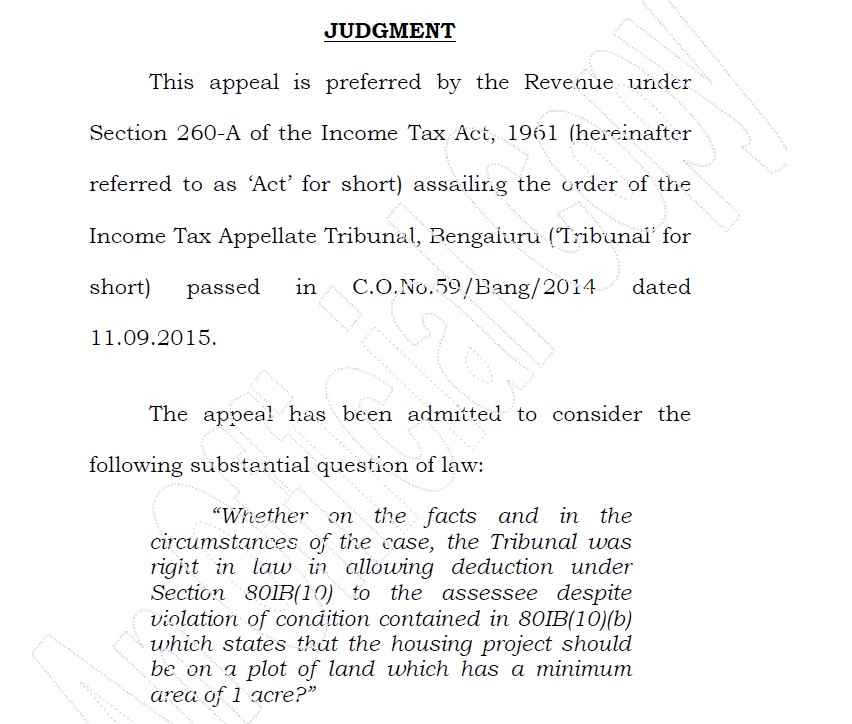 Please find attached the enclosed file for the full judgement.