Court :
High Court Of Karnataka
Brief :
THIS INCOME TAX APPEAL IS FILED UNDER SECTION 260-A OF INCOME TAX ACT 1961, ARISING OUT OF ORDER DATED 19.06.2015
Citation :
I.T.A.No.624/2015
IN THE HIGH COURT OF KARNATAKA AT BENG ALURU DATED THIS THE 1ST DAY OF OCTOBER, 2021 PRESENT THE HON'BLE MRS.JUSTICE S.SUJATHA AND THE HON'BLE MR. JUSTICE RAVI V. HOSMANI I.T.A.No.624/2015
BETWEEN : PR. COMMISTONER OF INCOME TAX-VI, CENTRAL REVENUE BUILDINGS, QUEENS ROAD, BANGALORE-560 001.
APPELLANT
(BY SRI JEEVAN J. NEERALGI, ADV. A/W SRI T.N.C.SRIDHAR, ADV. FOR SRI E.I.SANMATHI, ADV.)
AND : M/s SUBEX LTD., RMZ ECOWORLD, DEVARABISANAHALLI, OUTER RING ROAD, BANGALORE-560 037. PAN: AABCS 9255R.
(BY SRI CHYTHANYA K.K., ADV.)
RESPONDENT
THIS INCOME TAX APPEAL IS FILED UNDER SECTION 260-A OF INCOME TAX ACT 1961, ARISING OUT OF ORDER DATED 19.06.2015 PASSED IN ITA NO.689/BANG/2014, FOR THE ASSESSMENT YEAR 2008-2009. PRAYING TO DECIDE THE FOREGOING QUESTION OF LAW AND/OR SUCH OTHER QUESTIONS OF LAW AS MAY BE FORMULATED BY THE HON'BLE COURT AS DEEMED FIT & SET ASIDE THE APPELLATE ORDERS DATED 19.06.2015 THE ITAT, 'C' BENCH, BENGALURU IN ITA NO.689/BANG/2014 FOR ASSESSMENT YEAR 2008-09.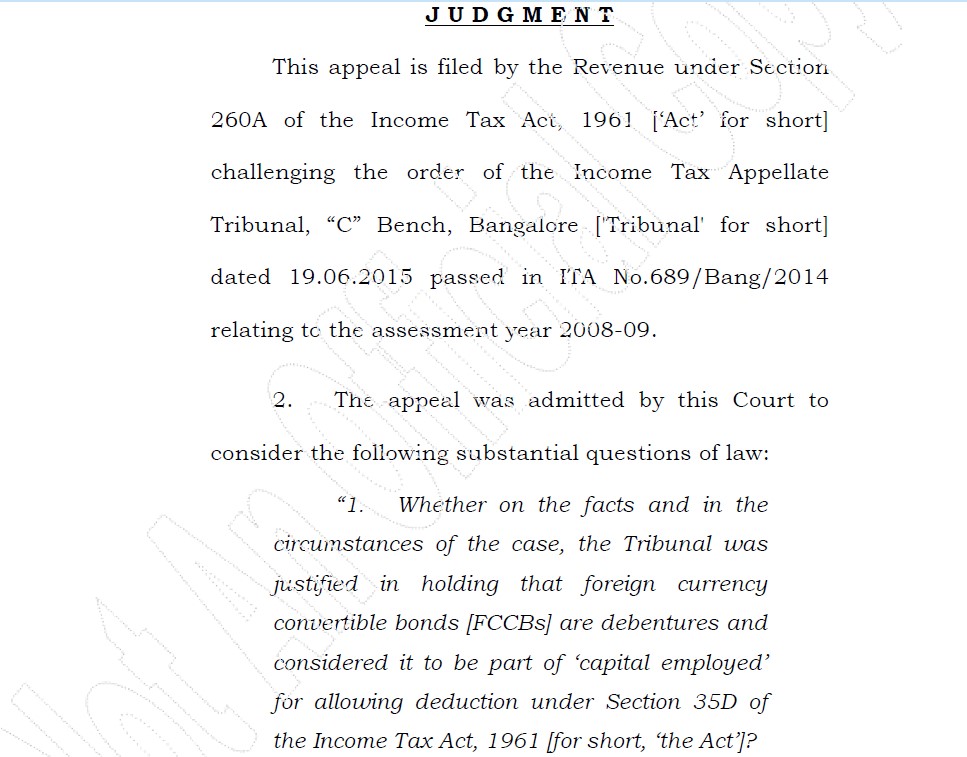 Please find attached the enclosed file for the full judgement.